'India has got a unique opportunity to get more and more business from outside as India is cost-effective and reliable.'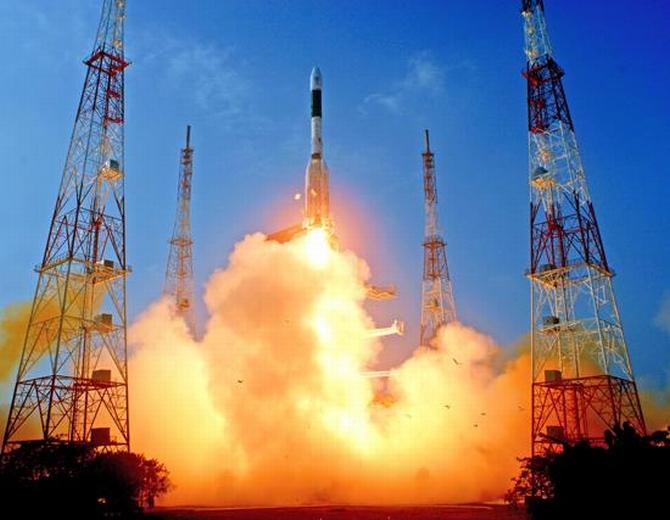 Former chairman of the Indian Space Research Organisation G Madhavan Nair speaks to Rediff.com's Shobha Warrier about where ISRO is headed after the successful launch of eight satellites in two different orbits by the Polar Satellite Launch Vehicle C-35 rocket last month.
The PSLV launch was hailed as a complex mission. Is it because the PSLV C-35 rocket launched eight satellites in two different orbits?
We have proven earlier that we can launch more satellites and we have launched as many as 20 satellites, but the most important thing that was done this time is that we have put them in different orbits.
We did this for the first time.
Also, this was the longest launch mission operation. After lifting off, it lasted for nearly two-and-a=half hours. Normally, everything would be over in 20 minutes.
So, this is a very unique feature and we have proven the capability to survive in space for a long duration.
Was it only the European Space Agency's Vega rocket that launched satellites in different orbits, or have other countries also done this?
The Russians have been doing this earlier too.
Normally for the geo-synchronous orbit, we go for the two-step mode; we put it in an elliptical orbit first and then use the separate rocket engine to circularise the orbit, that is, how to stabilise an independent of the launch mission at 36,000 km.
But the Russians have attempted this at one stretch; the launch and finally the apogee rocket fired after five hours or so to see that the geosynchronous orbit is achieved. That is perhaps the advanced version of what we have done.

'The most important thing that was done this time is that we put the satellites in different orbits. We did this for the first time. Also, this was the longest launch mission.'

The three main countries doing these kinds of missions are Russia, the United States and the European Union. The Chinese also have attempted this. Now, we have also attempted this. These are the major players in this area.
Basically, we have now shown our capabilities that we can do such operations in any orbit we want.
How many satellites can be launched to different orbits from a single rocket? Are there any limits to it?
Theoretically, there are no limitations. It is decided by the weight of the satellite. The total carrying capacity of a PSLV or the GSLV (Geosynchronous Satellite Launch Vehicle) is fixed, so within that we can carry whatever number of satellites you can carry.
Nowadays, small satellites have become popular. Universities and research institutions are concentrating on starting from nano satellite, micro satellite, etc.
The smallest satellite would be less than a kilogramme. The medium size would be of 100 kg or so.
You can launch 50 to 100 satellites in one mission without a problem.
It was reported that the heaviest rocket -- the GSLV Mark III -- capable of taking 4 tonnes of communications satellites will be launched soon.
Yes. Today we can launch 2.5 tonnes into the geo-transfer orbit. But when the GSLV Mark III comes, we can take about four tonnes and the heavy satellites for communication etc can be launched with it.
It is a new development that has been going on for the past several years, and perhaps by the end of this year, it will take place.
This time, the PSLV launched three satellites from India, three from Algeria, and one from Canada and the US each...
The PSLV has evolved as one of the most reliable launch systems in the world today. It is quite unique that all the 40 missions are successful and very accurately positioned into the orbits.
When you say it has achieved within a few kilometres of what we have targeted, it is remarkable.
After the launch, the mission director said the PSLV had the flexibility to suit customer demands. What exactly does it mean?
Previously, if we have a main satellite going into the 600-km orbit, the other satellites launched along with that had to be in the same orbit. But now we have shown that even if they are in different orbits, we can launch them.
For example, some may be in a 600-km orbit, others could be in a 900-km orbit and with a different inclination. And any such requirement can be met with by the PSLV rocket.
With this achievement, do you see many more countries use India's PSLV to launch their satellites?
Certainly. But it all depends on our marketing effort. Though Antrix Corporation, the agency which was entrusted the responsibility, was handicapped in between, they have now come out of the cloud and catching up on the global market.
As a private player, India has got a unique opportunity to get more and more business from outside as India is cost-effective and reliable.
Almost all the satellites launched this time were weather satellites. How much would it help us in more accurate weather predictions?
The biggest problem we have today is the correct prediction of the onset of the monsoon, heavy rainfall in some regions, etc.
With this, we will have a more precise observation and with that our research and predictions will be much better than what it is today.
If we are able to forecast at least 48 hours before such events, it will be a big breakthrough.
The sactrometre in the satellite is a very unique instrument that helps us in observing the ocean continuously and this instrument can help us predict cyclones all over the world.
So we will be able to contribute not only to our country, but can share the data with those countries that need it.
After this mission, where do we stand globally in our space programme?
We have established ourselves as a space power now.
But my worry is the Space Vision which was set for 2020 has not taken off even today.
It had elements like manned space flights, much higher payload capability rockets, communication connectivity to whole area etc, which were identified several years ago.
Unfortunately, that kind of a vision document is yet to emerge. We are living with what we have planned 7 to 10 years ago.
When the whole world is changing, we cannot live on such past vision documents.
It is high time the ISRO came out with a vision document for the next 10 years.
Who do you attribute India's success in its space programmes to? Do you think it all started with Vikram Sarabhai?
Dr Vikram Sarabhai gave us the first space vision. He was a visionary scientist who envisaged that knowledge of space could do a lot of good for the country and we should achieve self-reliance. Unfortunately, he didn't live to see it come alive.
The subsequent leadership at ISRO built upon Dr Sarabhai's dream and vision. During the time of Satish Dhawan, most of the research and development establishments required for rockets, satellites, etc were set in motion.
Dr U R Rao continued what he did and contributed tremendously for the technology development which was critical for the launches.
Dr K Kasturirangan also contributed significantly and, afterwards, I had the opportunity to head ISRO.
I could more or less write the closing chapters for Dr Sarabhai's vision, development of the GSLV and PSLV rockets, etc.
If you look at our history, we have continued and built upon where the previous chairman had left.
This kind of visionary leadership is what made ISRO what it is today.
The kind of work culture we have developed at ISRO and the personnel we have trained are the corner stones of what the space agency is today.
The 15,000-strong team is highly dedicated and motivated and if you place good leadership on them, we can be better than the best in the world.
How essential is political will in India's success in space programmes?
Very essential. We went through a dip in the previous regime though the government doesn't come into the day-to-day affairs at ISRO.
UPA 2 (United Progressive Alliance) was the worst time. They put a brake everywhere.
On a mistake by an audit clerk, the government took a panicky decision and derailed the space programme to a great extent. We lost five to six precious years.
I am hopeful that we will catch up if the right leadership is given. The present chairman A S Kiran Kumar is showing signs of that by motivating the team and getting things done.
But what is missing is the next vision document, as only a long-term vision can drive space programmes.