'In every society, you have differences when it comes to culture, income.'
'There are differences in the way people live in different cities here. So, we have adopted a local approach.'
'When you go to Hyderabad, the home furnishing is different - homes are bigger, whereas in Mumbai, you have smaller homes.'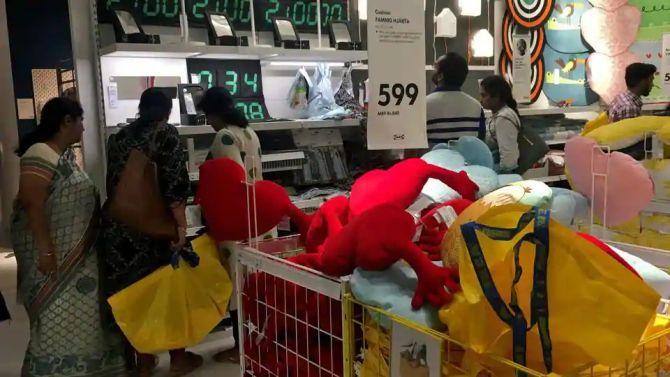 Two months after the launch of its first store in the country, Swedish furniture retail giant IKEA says it has seen some surprising behaviour from shoppers and is tweaking its business model.
Peter Betzel, bottom, left, chief executive of IKEA India, speaks to Bibhu Ranjan Mishra & Alnoor Peermohamed. Edited excerpts:
You were running Germany, the biggest market for IKEA globally. What do you find different in India?
It (Germany) has been the largest (market) for us from a turnover perspective; we have 54 stores there.
But, that country has only around 80 million people, as compared to the 1.3 billion in India.
So, there's no way not to be in India. It's a colourful country; the culture here is open and friendly.
In every society, you have differences when it comes to culture, income.
There are differences in the way people live in different cities here. So, we have adopted a local approach.
When you go to Hyderabad, the home furnishing is different - homes are bigger, whereas in Mumbai, you have smaller homes.
How has been the experience in Hyderabad?
We are adapting to the way people shop there.
When it comes to the local range in India such as idli maker, chapatti maker, it is fantastic to see how people are appreciating those.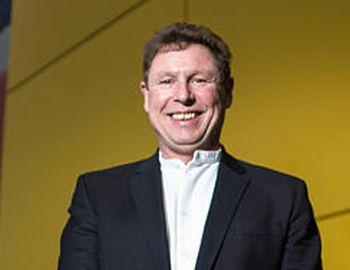 Besides, people in Hyderabad spend more time in the store as compared to IKEA stores in any other part of the world.
We were expecting people to spend two-three hours in the stores but we see them spending seven-eight hours.
This means you have a lot of people in the store at any point of time.
Your plans to broadbase the sourcing base in India?
We have 55-60 suppliers in the country and are working with different state governments to expand the base.
There are a lot of raw materials available, such as bamboo, which we would like to use responsibly, as we are an environment-friendly organisation.
We have suppliers for sofas, mattresses - we are making mattresses with a special coconut inlay, specially made in India, for India.
We're now looking for more sofa and furniture suppliers.
We recently started a supply in Karnataka for bookshelves, and we're open to developing a lot of new products.
We take this (identifying of suppliers) very seriously and select on various parameters.
These include where they are sourcing the raw materials from, working conditions for people at their factories, environmental impact, quality of the product, and affordability.
Because of these, the developing of suppliers is a long-term process, as we're not simply buying stuff off the shelves.
Is the idea of setting up smaller stores in cities that house bigger ones something you have devised only for India?
We customise our model for a lot of bigger cities in the world but this is especially important here in India, since the country is at the forefront of urbanisation.
Earlier, the biggest city I looked at was Berlin, which has a population of four million.
Here (in Bengaluru), we already have nine million; in Mumbai we have around 24 million. So, a lot of people are moving into the city.
Then, we have a lot of traffic here. While not everyone has a car, and not all cities have great public transport.
So, because of these, we need to build centres where the people are, while also building the big stores like the one we are setting up here (in Bengaluru).
When do you plan to start selling online in India?
In summer 2019, we will open our store in Mumbai but maybe a little before that we'll start selling online in the city. Then, we can launch it in more markets.
India has already seen a few smaller players tapping the online furniture market. Where do you fit in?
We still believe we're a small firm in India. There are many others with much more experience. So, we're quite humble.
India is not an organised market but I have respect for that as well.
People go to local carpenters and build up the stuff, which is brilliant.
We are increasing the market for home furnishing and everybody who is working in this industry will benefit from that.
Photograph: Subrat Patnaik/Reuters