'What we need is right skilling, re-skilling and up-skilling.'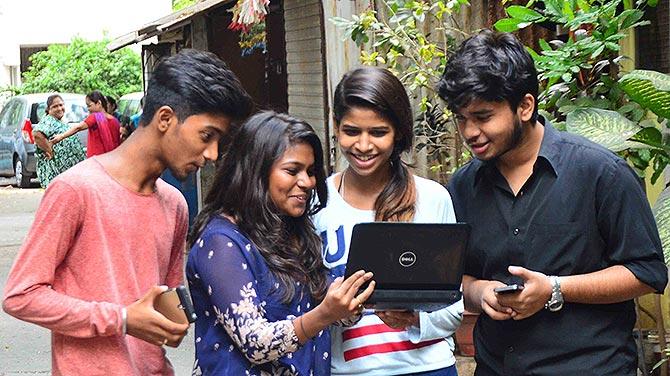 One thing experts working in the field of employment talk about the most is the need for fresh graduates to have new skills. They also say it is important for the employed to re-skill themselves as technology is changing very fast.
It is with this mind that Ma Foi, founded in 1992 by K Pandiarajan and his wife Latha Rajan as a recruitment agency which later transformed to a business consulting house, started the Ma Foi Academy.
The academy plans to train, develop skills and provide placement opportunities to students in tier 1 and tier 2 cities.
"We have miles to go in terms of developing new skills," Ma Foi Co-Founder Latha Rajan, below, tells Rediff.com's Shobha Warrier.
The talk is that thousands of jobs are going to be lost very soon because of automation, Artificial Intelligence, digitisation, etc, and re-skilling is what is needed to avoid such a situation.
Is it because of this that you have started skill development programmes at the Ma Foi Academy?
Though we in India have been talking about skill development for the last one decade and started many initiatives, there is a huge gap in the way technology has evolved and how skills are imparted.
From the data that has been floating around, it is clear that we have done very little in the field.
We have miles to go in terms of developing new skills.
You mean we lag behind when the world is moving ahead acquiring new technologies?
Yes, we are lagging behind in training people in new skills.
It is a dire need when you have a huge population and that too a young population but unskilled.
We have to make them skilled for two reasons.
One, it is needed for the economy to grow, and the other reason is for society to be peaceful.
If you have a huge young unemployed population, we will be inviting social unrest.
So, if you look at it as a social issue, it will create a huge problem for the country to have so many unemployable and unemployed young people.
We talk about new technologies, but our schools and colleges even today teach outdated ideas...
Yes. If you look at the way the world has changed in the field of technology and the pace at which it is changing, and our school curriculum, we will see that there is a huge gap here.
Our curriculum has not been changed for decades. We teach the same old theorems and algorithms even today.
With the pace at which technology is changing, we have to also teach students openness to learn new things. They have to be taught to have creativity and critical thinking.
Our education system has to be tuned in such a way that they should be open to new skills as it happens and not remain stuck.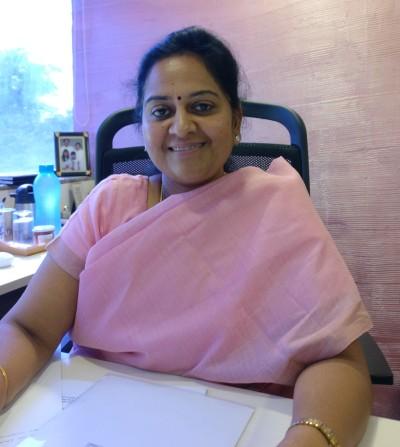 IMAGE: Latha Rajan. Photograph: Shobha Warrier/ Rediff.com
The Nasscom chairman said in an interview that the IT sector with a revenue of $150 billion will be the driver of the Indian economy.
According to you, which sector can provide the maximum employment now?
I would say that IT itself is getting redefined and it is no longer the typical software development.
All the sectors that are growing -- like retail, e-commerce, education, banking and other financial services, etc -- are driven by technology.
If you look at the job market now, the maximum demand is from the e-commerce companies because it is one sector that is growing very fast. It was not so 10 years ago.
The sector needs people in customer service, in logistics, in the knowledge of products and that too with the help of new technology.
So, critical understanding of digital technology is very important for those working in the e-commerce companies.
Ten micro finance institutions got a banking licence recently and this will lead to the setting up of many rural banks and will result in the demand for thousands of people to work in rural banks.
For example, the Ma Foi Foundation and the Tech Mahindra Foundation have got into a pact to train graduates from semi-urban areas who haven't got a job in banking related work.
Started 6 months ago, we have already placed 150 students.
Though our plan was to train BCom graduates, we got the most applications from engineering graduates. That's why we want to train the thousands of unemployed engineering graduates in Tamil Nadu in new technology areas.
We see healthcare as one sector that would be growing at a faster pace with several multi-specialty small hospitals coming up in all the cities.
You look at any FMCG company today, technology is that drives their work.
So, understanding the needs of these sectors, we have already started certification programmes at college level in business analytics, digitisation, etc.
Today, one of the highest paid jobs is that of a data scientist. Data is the huge resource today.
10 years ago, somebody who had studied maths or statistics found it difficult to get a job easily. So many such students used to register with us for a job then.
But today, there is a great demand for a person with a maths and statistics degree because over the last 20 years, all the companies have accumulated so much data that they want to make use of it now.
They are in need of people who are creative enough to analyse the data into inferences so that they can use the data for the growth of the company.
You interact with students from the cities and small towns. What is the difference you see in them?
The biggest difference I see today in the rural areas of Tamil Nadu is that 46% to 47% of the students who pass out of the 12th standard go to college while our national average is 15% to 16%.
But in the rural areas, the perspective and exposure of students is a little low compared to the urban students though social media is playing a very critical role in bridging the gap.
Recruitment -- which used to be very high even in tier 1 and tier 2 towns -- was pathetic last year after the IT majors stopped recruiting in very large numbers.
The complaint industry has is that students coming out of various colleges are unemployable.
Yes, that is why we plan to train and empower not just students but faculty too, of tier 1 and 2 towns.
We know that we will not be able to fill the gap in a short period; it has to be a long term plan. Ideally, the change or the re-orientation has to start in the school curriculum itself.
The criticism is that though the economy is said to be growing at 6.5% and 7.5%, it is jobless growth. As a recruiter, do you feel that way?
Yes, there is definitely a gap between the number of people coming into the market and the number of jobs available.
There is also a huge mismatch between the kind of people who are coming out and the kind of jobs that are available.
When the service industry, online marketing, etc are growing, we do not have people trained in them. There has to be an internal alignment.
It is mainly because graduates who come out are not trained for the demands of the industry.
As a country, we have to think globally.
When there is a shortage of 48% in manpower globally, we have 56% extra manpower in India.
Every month 10 lakh young graduates enter the job market while ageing countries like Japan suffer from shortage of human resources.
Our government can look at this as an opportunity and train our young people in the areas these countries are short of hands and then sign pacts with them so that we can supply skilled manpower.
I think China is doing well on this account.
For example, you can identify the skills sets Japan as a country needs and then train our young people in them. In fact, you can start teaching Japanese at the school level itself.
Not just Japanese, but other languages too as there are many countries that need skilled young people.
Remember how we supplied engineers to the world to tide over the Y2K crisis.
Do you see a gloomy picture ahead?
I don't consider it gloomy. I see so many things happening.
But what we need to be done quickly is reorient ourselves. Then, we will be able to accommodate so many of these youngsters.
The problem is, we lag behind the world at least by a decade.
When we started Ma Foi in 1992, we used to say we, as a country, has 10 years to catch up. The gap still exists.
When this government came up with so many schemes, we thought things would move fast but in the last one year, it has become quite slow.
Yet I am quite hopeful. If we can reorient the students a bit, we can change the entire employment scenario.
The three words that are critical for a change are: Right skilling, re-skilling and up-skilling.
Kindly note that the main image has been posted only for representational purposes. Photograph: Sahil Salvi