'After that, volumes and prices would move up.'
Godrej Properties has lined up over a dozen new housing launches and wishes to buy distressed projects from other developers.
"When a sector is going through a bad period, it is not so bad for companies which have a good track record,"
Pirojsha Godrej, bottom, chairman, Godrej Properties, tells Raghavendra Kamath.
You recently talked about scaling up the business and increasing the market share. How do you plan to do that?
More than half the real estate market in the country is in four cities we are in -- Mumbai, Pune, NCR (National Capital Region) and Bengaluru.
The market is so fragmented, with 10,000 developers in the country; individual developers's share is very small.
Our main goal is that in the four cities we are in, we want to add more projects in micro markets and, by doing that, take up our market share. We don't want to do it by entering new cities.
Any tweaking in your borrowings or finances in the one-and-a-half years since the ILF&S issue came to the fore?
We are seeing it for the opposite side because for most players in the industry, the cost of funds have gone up and the ability to raise it has been challenging.
But our cost of funds has been the same, at 8%.
We believe it is an opportunity to grow the company, to take over projects from other players. We have strengthened the balance sheet to do that.
We did a QIP (Qualified Institutional Placement) in the first quarter of the year and raised Rs 2,100 crore (Rs 21 billion).
It was to gain the firepower and acquire new projects.
You talked about investing Rs 5,000 crore (Rs 50 billion) in the next two years. Could you tell us more?
It is a logical thing we believe. Real estate is a cyclical industry and adjusting the supply of projects is not very easy, unlike in manufacturing.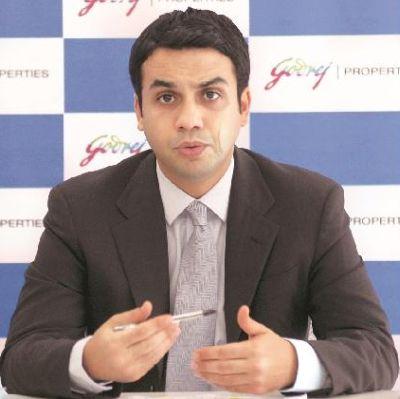 In real estate, you have to buy land, design the project, get all government approvals and launch these, and so on.
When things are good, many developers launch projects and you get into a position of oversupply.
When things are bad, like now, you can't get into oversupply -- the number of developers launching new projects is almost zero, as they are sorting out their own financial problems, liquidating assets and so on.
In our view, that counter-cyclical investment strategy when others are not investing makes a lot of sense.
When a sector is going through a bad period, it is not so bad for companies which have a good track record.
The absolute growth and market share of the top ten players is quite decent.
What are you doing to get buyers who are sitting on the fence?
We have been realistic on pricing.
The markets are not in a state to absorb price rises.
We are trying to enter the right projects, avoid markets with oversupply and maintain appropriate pricing.
Are you looking, in the current market condition, to change the perception that you are a premium developer?
Project by project, we always look at what is the right pricing, but, at the same time, we would like to be at a premium to the market.
With the kind of brand we are, the investments we are doing, the quality and so on, we do believe there should be some premium for our projects.
How many new launches in the remainder of the year?
Thirteen, fourteen. It includes new projects and new phases in existing projects.
That would be the highest in the history of the company?
Yes.
Your take on the fund announced by the central government for stalled projects?
I don't think the fund is so large that it will change the situation overnight.
Of course, Rs 25,000 crore (Rs 250 billion) is a good amount of money.
But, at the same time, Godrej Properties's sales in the past four-five years would be that much.
If you look at the market as a whole, it is not that much.
Even so, the government has taken a good step.
A lot of customers are suffering out there and it is important that the sector is brought back to life.
Do you think the real estate market will go from bad now to worse?
It is going to be worse before it gets better.
It will be six to 12 months before it bottoms out.
Has the liquidity scenario for developers in general improved, after the NBFC liquidity crunch?
No, it is still pretty bad.
The economy is going through a tough patch and until that starts showing some signs of recovery, the sector will not come out of problems.
You cannot de-link the sector from the economy.
Where are housing prices headed?
Prices have been quite flattish for 12 months.
My sense is that it will continue to be flattish for another 12 months.
After that, if my expectation of the market going up is correct, volumes and prices would move up.