'It is not simply demonetisation or GST, it is this government's failure to manage the financial sector crisis.'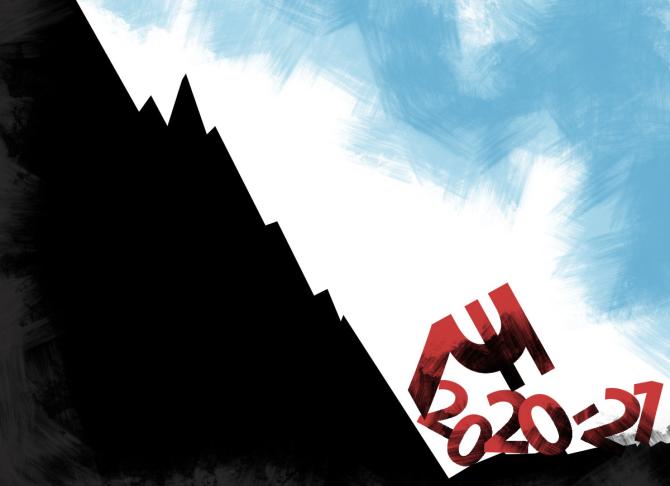 "Many, many, people are looking at this as a COVID-related issue. We need to see how the economy has behaved since 2016-2017. There has been a continuous downward slide," former Union finance secretary Dr Avind Mayaram tells Prasanna D Zore/Rediff.com.
What does a GDP contraction of 24 per cent tell you about the state of the Indian economy?
It's a first quarter (three months of a financial year in India beginning April and ending in June) contraction. Obviously, it only shows that in this current year's first quarter, the economy has shrunk by close to 24 per cent.
Therefore, we need to look going forward what happens in the next three quarters. But the manner in which things are happening (the economy is being managed by this government) I don't expect anything very dramatic happening going forward.
There is no question that it will be better than what it is in the first quarter because of the lockdown.
The economy will close in the current financial year (beginning April 1, 2020 and ending March 31, 2021) at something like a contraction of 9 to 10 per cent, which is negative growth (If India's GDP growth was Rs 100 in the FY 2019-2020, then in FY 2020-2021 it will grow by Rs 90, that is Rs 10 less than the previous FY, instead of adding to it), which is, of course, the worst that we have seen since 1947.
The problem is that many, many, people are now looking at this only as a COVID-related issue. We need to see how the economy has behaved since (FY) 2016-2017 (demonetisation began on November 8, 2016 and ended December 30, 2016). And there has been a continuous downward slide.
In fact, even before COVID-19, the last year's print for growth, that is (FY) 2019 20, is sub-5 per cent, close to 4.8 per cent, which is again the worst in the last 45 years.
What I'm trying to explain is that what we are seeing as a contraction of 24 per cent is not purely the impact of COVID-19 over here, but the pandemic has only worsened it.
While COVID-19 played a role in the huge demand crash, could this four-decade record contraction also be blamed on demonetisation and later the sloppy implementation of the equally politically loaded Goods and Services Tax?
Demonetisation has been a terrible disaster as far as the Indian economy is concerned. The poorly designed and implemented GST has further put the last nail in the coffin if I may use that metaphor.
Those two have been fairly bad, but there are other issues. For instance, the government has not been able to really come to grips with the problem of the financial sector.
If you look at the NPAs (banks's non performing assets) or you look at the non-banking finance financial companies crisis, or crisis of the mutual funds -- the entire financial sector has been in a grip of a terrible crisis.
This government has failed to find any kind of resolution of that. Therefore, it is not simply demonetisation or GST, but it is its (this government's) failure in being able to manage the financial sector crisis.
If you look at it closely, then there has been a continuous decline in the gross capital formation in the economy. Or if you look at the gross investment rate in the economy, they have all continuously fallen.
Take exports now. Right from 2014 onwards, exports have really done very poorly.
While it is not just domestic issues (why exports have failed to pick up), there are, for instance, trade war issues, the protectionism in various countries, etc.
Having said that, I think there also has been a kind of a policy paralysis.
And so, therefore, the government has not been able to come to grips with it on all economic policy parameters.
Are you surprised by the 3.4 per cent growth in the agri-sector? What explains this growth?
I'm not surprised because the agriculture sector growth of between 2.9% and 3.5% is the normal average growth every year. It is not spectacular growth.
What it means is that the rain gods have been kind and therefore agriculture has done as well as it has done in any average year.
What we are thankful to is that the rains didn't fail us and, therefore, agriculture production did not decline.
Do you see this sector then offering a ray of hope for the entire financial year considering that we have had a good monsoon till now?
Once again, you must remember that if you get average agricultural growth in the forthcoming season, which is the kharif season, then there is nothing to celebrate about it. It's not something which is spectacular. So it's not going to really change the fortunes of the Indian economy.
Do you see the financial sector crisis worsening further given the expectation that there will be industry-wise loan defaults from MSMEs, SMEs, coupled with retail borrowers defaulting on their loan commitments further fueling the NPAs in the banking sector?
It will, it will, because there has been no demand side response from the government.
Despite the RBI cutting interest rates by 1.15 per cent...
(Interrupts) That is the supply side, which means that the entire Rs 21 lakh crore of the so-called Aatma Nirbhar (Bharat Abhiyaan) package, barring the Rs 1.5 lakh crore, which we can say is the fiscal part, rest of it (the Aatma Nirbhar Bharat Abhiyaan) is all loan driven. That is simply (taking care of the) supply side.
Now the question is if there is no demand in the market, if consumption has flattened, then who is going to produce, who is going to buy and if there is no buyer, then there is not going to be any production.
And if there is no production, there will be no jobs. And we have already seen the destruction of jobs which has continued.
According to the CMIE (the Centre for Monitoring Indian Economy), whatever jobs which have come back into the economy are in the non-formal sector, and primarily driven by MGNREGA and the agriculture-sowing season.
Could MNREGA have helped the 3.4 per cent growth witnessed in the agriculture sector?
No.
MNREGA would have because it permits use of labour days for small and marginal farmers on their own farms.
When they do work on their own farms, kind of improve the land, etc, that is counted and they can book it as MNREGA wages.
To that extent (MNREGA may have contributed), but it's very difficult to quantify how much of it (the 3.4 per cent growth) is actually contribution of MNREGA.
Would agricultural growth have been far worse if there were no MNREGA related employment-wages for people in rural India?
Yes, in the sense that the employment position and hunger of people in the rural economy would have been much worse, because whatever little consumption is happening in the (rural) economy is only because there is certain sustenance in the MNREGA wages in the rural areas.
MNREGA is fueling the (growth) in the rural economy because of the wages they are able to generate from this employment.
Can one say then that given the 24 per cent growth contraction in the GDP in the first quarter of this year despite the Modi government's equivalent-to-10 per cent-of-the-GDP-stimulus-package has failed? That it has neither revived demand nor has it helped boost growth?
It is not a 10 per cent stimulus package. It's an optical illusion.
For the simple reason that fiscal stimulus would have meant that 10 per cent of GDP actually was pumped in as cash into the economy. But which is not what has happened.
It is basically provision of loans which they have made, whereby people can go and borrow from the banks.
But if there is no demand, who is going to borrow?
Why would you borrow when you are not able to repay your earlier loans?
Why would you take more debt on your head and not be able to repay?
Do you believe that the economy is showing a V-shaped recovery as mentioned by Chief Economic Advisor Krishnamurthy Subramanian?
It depends upon how you look at it. While it (the contraction of India's GDP in the first quarter) is minus 24 per cent and in the second quarter, suppose it goes down to minus 15 per cent (a smaller contraction in the GDP compared to minus 24 per cent), you can call it a recovery, wouldn't you?
So, you can call it a V-shaped recovery or whatever else you want to.
At the end of the year if you notch minus 10 per cent growth (for the entire FY), then you can always say that look from minus 25 per cent (growth in the first quarter) we have brought it down to (minus) 10 per cent.
It's a recovery; it is rhetorical.
Recovery means when the economy comes out into the black; when it is no longer in the red.
When do you see that happening?
Real recovery will happen only in 2022; next year we will come out of the red (negative growth). But in the sense of a recovery or in the sense of getting back into the growth of any respectable number we should be looking at (FY) 2022-2023.
Given the lockdown across the country and role it played in the collapse of consumption, investment demand, what could be some of those booster doses to revive the economy in the case that a vaccine is found and people start engaging in economic activity without any restrictions?
The simple question is you need to have money in your hands.
If 80 per cent of MSMEs -- as we have seen in Bengaluru as per the statistics I was seeing -- have shut down, then who goes out to work?
I think the best and the fastest way was to put cash in the hands of the people.
If they (the Narendra Damodardas Modi government) had done the cash transfers to the poor, just given 5,000 rupees a month or 4,000 rupees a month, for six months or eight months, the people would have been induced to spend and there would have been a virtuous cycle.
If they had given certain financial assistance to the MSMEs for maintaining their wage bills (for paying wages to their employees), people would not have been retrenched from work and they would have then again spent money and consumption would have come back.
There were several ways that could have been used for this (financial assistance to the MSMEs). But that obviously requires a policy initiative and we know there is a policy paralysis (in this government).
Given the contraction now, would you believe that this government will actually start giving cash into the hands of the people to stimulate demand?
I don't know.
Wouldn't that be a prudent way of bringing demand back in the economy?
We haven't seen government thinking on those lines, so it's difficult to predict.
Do you expect another major fiscal stimulus or stimulus package coming from the finance minister?
I hope so, but I don't think that will happen.
Also, when you say another fiscal package or stimulus package, where was the first one?
I don't see that happening because as it is (this government is not) even (paying the) GST compensation that ought to have been paid to the state governments.
The central government has now said that the state governments should go and borrow. It is a travesty because this is actually like reneging on a sovereign promise.
The state governments gave up their powers under the Constitution to collect taxes to the central government with this understanding that they will be compensated by the central government (for the shortfall in their revenues under the new GST regime).
But the central government is now refusing to do so. So this (contraction of GDP by 24 per cent) is actually due to a major crisis of confidence and trust.
Which state government will now believe in the central government's word?
With this kind of an indication, I don't think the central government is thinking of any fiscal stimulus or 'another' stimulus package as such.