'I feel now we have a leader who is non-corruptible.'
'But he needs time as corruption is deep-rooted in our society, and people have no shame about being corrupt.'
'It will take at least 7 years to make some real progress.'
Illustration: Uttam Ghosh/Rediff.com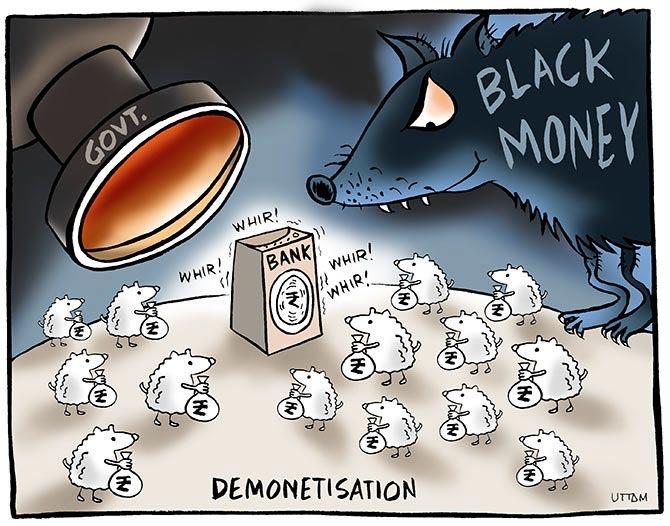 Ramgopal Agarwala, former chief of the World Bank resident mission's economic unit in Beijing, is now the chairman of the Delhi-based Pahle India Foundation.
Agarwala joined the World Bank in 1971 and worked in senior positions across several countries in Asia and Africa.
After retiring from the World Bank, he worked as a Distinguished Fellow at Research and Information System for Developing Countries in New Delhi and also as a consultant for the Asian Development Bank, World Bank and the United Nations.
An author of several books -- his latest book Demonetization: A Means to an End? discusses the 'cash crunch' and its impact on India -- Agarwala, bottom, left, spoke to Rediff.com's Shobha Warrier.
Nobel Laureate Paul Krugman, one of the critics of demonetisation, said recently that the damage to the economy was not as bad as some of them had expected. Do you agree with him?
Yes, I do agree that they overestimated the damage demonetisation would do to the economy.
Yes, it was not as bad as some people had apprehended.
Why did economists from outside India misread the situation?
Many economists in India and abroad misunderstood demonetisation.
Many took it as a monetary experiment, but it was actually designed to curb corruption.
They also did not handle the effect of demonetisation well because they only looked at the withdrawal of money supply of the economy which, I think, was a partial view.
First of all, demonetisation was not withdrawal of money, but change of money supply; it was notebadli and not notebandi.
So, the effect on the economy because of note badli was not that bad because new money was coming in and the informal sector in India has lot of flexibility or jugaad, which not many foreigners understood.
They also did not understand the meaning of black money or the nature of the initiative which was notebadli.
In India, many said people would not support Prime Minister Narendra D Modi as demonetisation caused a lot of pain to the public, but they voted for his Bharatiya Janata Party in subsequent elections.
Why do you think people trusted him while the intellectuals opposed the action completely?
The problem with intellectuals is that they live in an ivory tower.
They study and draw their inspiration from the literature of the Anglo-American world.
Their understanding of the Indian situation is very poor as they draw their inspiration from magazines such as The Economist.
They cannot accept a desi man, Narendra Modi, as prime minister. So they look for opportunities to malign him.
Intellectuals and the English media, both deficient in knowledge of real India and with bad intentions, were exposed after demonetisation.
The government withdrew 80 per cent of the currency in the market to end corruption? Do you think it served the purpose?
The purpose was not fully served because the black money holders proved very resourceful in doing money laundering.
Basically, the corrupt people in India showed that they had plenty of resources, and the objective of demonetisation could not be achieved because of the money laundering practices they followed.
But our country cannot surrender to corruption.
So, this experience only underlines the need for stronger action by the government to curb corruption.
And the public fully accepts that and if we give a longer-term mandate to the current leadership, it can be achieved.
How deep-rooted is corruption in India?
It is very deep rooted.
I lived for 40 years outside the country and the first shock I had after coming back was knowing that it was impossible to live honestly in India as we encounter corruption at every step.
People seem to have no shame in engaging in corrupt practices. I would say corruption is the cancer that is hurting Indian society and economy very badly.
Why is India one of the most corrupt in the world?
I have written a chapter in my book on why India became so corrupt when our great leader, a person like Mahatma Gandhi, wanted an honest society.
Indira Gandhi's regime was the starting point of a big decline in honesty. Corruption increased during that period.
Historically, there are many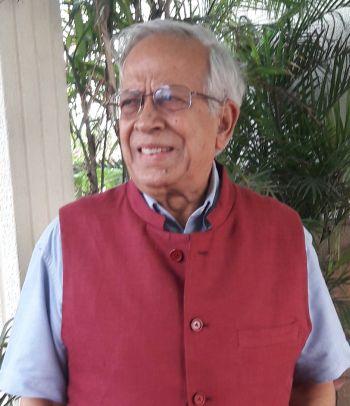 factors like the excessive taxation the Indian government had introduced, the license raj, political parties openly supporting corrupt people, etc.
I feel now we have a leader who is non-corruptible.
Do you feel Mr Modi will root out corruption from Indian society if he gets a long-term mandate?
Of course.
But he needs time as corruption is deep-rooted in our society, and people have no shame about being corrupt.
Basically, they do not want to follow rules.
I feel it will take at least 7 years to make some real progress.
He is the best man to make India corruption free because we cannot become a prosperous country with this level of corruption.
But we need to take many steps.
Do you feel demonetisation was the first step towards making India corruption free?
I won't say it is the first step, but demonetisation is a major step which really shook up the country.
More importantly, the public has given a clear verdict by supporting the government in its mission.
That way, demonetisation is a great catalyst for the fight against corruption.
When I interviewed Swaminathan Gurumurthy, he said that high denomination notes, which was Rs 1.4 lakh crore in 2002, had become Rs 15.5 lakh core in 2016 and would have touched Rs 34 lakh crore by 2020.
Mr Gurumurthy said it would have been an end to the Indian economy.
Do you agree?
High denomination notes are only one part of the corruption issue. The real big issue is corruption itself.
High denomination notes facilitated corruption, but even without that, corruption would have continued.
You mean in real estate, gold and stock market?
Yes, black money was flowing into real estate and it had created a huge bubble in the realty market.
It was more expensive to buy an apartment in Delhi than in Washington, DC.
Demonetisation already has an effect on the real estate market. Prices are coming down.
The effect on gold is not fully there, but with bonds etc, the emphasis on gold has to come down, but it will take time.
In the stock market, some adverse effect was coming indirectly from abroad when black money went out and came back in the form of promissory notes.
You said demonetisation was the first major step to curb corruption. What other steps should the government take to stop corruption?
I have mentioned seven points in my book -- steps the government should take (to curb corruption).
One is the need to push digital accounts.
Tax reforms are urgently needed as the emphasis on income tax is overdone here.
There is a need to initiate reforms in direct taxes and there should be a direct tax reform commission to supplement GST by making income tax lower and rely on financial transaction tax as a major source of revenue.
It is very difficult to evade financial transaction tax unlike income tax.
You can also have a carbon tax.
The governance issue has to be tackled by reforming the civil service.
The Administrative Reform Commission has, in fact, come out with very good recommendations.
I feel the government is in a strong position to implement these recommendations.
Another area that needs reform to curb corruption is political finance.
Political parties now depend on black money.
We shouldn't look at the American system in political finance which is very corrupt; we should look at European practices like in Denmark, where public funding of elections and political parties take place.
There also has to be a moral dimension in fighting corruption.
Again, the prime minister can take a position that 'Honest Bharat' is essential for 'Samruddha Bharat (prosperous Bharat)' .
This is like bringing a little bit of spiritual dimension into the system.
What does spiritual dimension mean?
In Denmark, when a law is enforced, the first thing people do is obey it.
But in India, the moral dimension has become so bad that the first thought is, how to evade the law!
Since the cancer is so deep, is it possible to cure it completely?
I refer to Singapore. In the 1960s, it was no different from India.
Under the strong leadership of Lee Kuan Yew, they managed to create a relatively clean Singapore.
In the case of India, I give 7 years to create a different India.
By 2025, in the diamond jubilee of our Republic, we should become as corruption free as Singapore was in 2015.
Can Narendra Modi be the Lee Kuan Yew of India?
I think so. I feel he has all the qualities to be the Lee Kuan Yew of India.
The public needs to support him. But I think one should stop bickering about him.
The international environment is not friendly to us now with China wanting to dominate us.
If we remain weak, we will get dominated and we will lose our independence.
That is why we need a strong leader like Lee Kuan Yew in India.
Is it economic freedom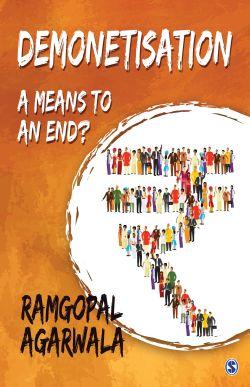 that is needed to be strong in today's world?
Freedom is only one part, nurturing is the other part.
In my opinion, copying the American mindset will not work.
What we need is the Scandinavian mindset.
The need of the hour is freedom in the economic sphere and nurturing in the social sphere.
Freedom in the economic sphere is, good infrastructure, good education, housing and development in all fields.
It means the government has to do a lot of work. It is not just liberalisation, but nurturing is more important.
Because of the lull in the economy and non-performing assets, private investment is not coming.
So, the way to go forward is public investment.
I argue strongly that the Reserve Bank of India's policy on interest rate is wrong.
Do you expect the economy to grow at 7 per cent or 7-plus per cent in the coming quarters?
If no additional measures are taken, the growth may remain below 7 per cent.
If there is reduction in the interest rate, action on NPAs (non performing assets), public investment in infrastructure, the economy will grow at 7% or more.
After demonetisation, everybody expected the government to invest in infrastructure so that the investment cycle would start moving and the economy would be back in action. But we have not seen any action so far. Why?
This again is because of the bad influence of our ivory tower intellectuals.
The whole thing about fiscal deficit has been overdone.
They are borrowing a foreign concept and imposing it in India.
The proper fiscal policy should recognise that when the government increases physical or social investment, it adds to the capital.
Then, borrowing is ok.
Our fiscal deficit approach, including the new N K Singh report, is totally misguided.
The government is still too much under the influence of these intellectuals who are calling for tight monetary policy, but what we need is flexible monetary policy and expansion.
Unless we liberate ourselves from the Western ivory tower economists, our economy will grow at a slow pace.
Do you foresee India as an advanced economy in a decade or so?
Not in a decade, but in a generation, our economy can be advanced.
In fact, the last chapter in my book talks about this.
If the right policies are followed, we can become a developed economy by 2050, surpassing China.
I mentioned 7 points to make India corruption-mukt (free) and 10 points on how to become a developed economy within a generation.
The most important thing is to build physical and social infrastructure, that is health, education, housing and social security as social infrastructure initiatives, and roads, airports, ports, etc as physical infrastructure initiatives.
The Indian economy needs double digit growth -- 10 per cent in the next 10 years.
It is possible if we follow the right policies.
I have seen with my own eyes how China achieved 10 per cent growth for a generation.
If they can do it, we also can.
More than manufacturing, our future lies in human resources.
The cutting edge will be provided by human resource development professionals like doctors, engineers, nurses, and accountants.
Are you optimistic?
Honestly, right now, I will give 50:50 chance to India. If the public gives a strong vote of confidence to Modi in 2019, our chances of success will become more than 50%.