'Our focus will be on introducing new technologies to improve passenger comfort.'
'We are planning to introduce closed-circuit television and wi-fi facility on every train and in every station.'
Illustration: Dominic Xavier/Rediff.com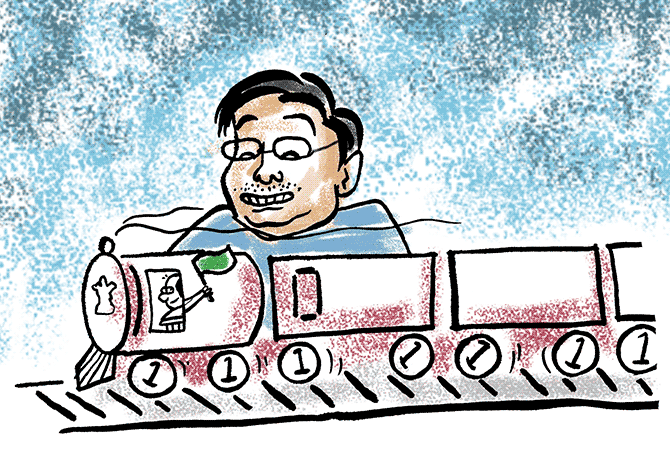 As Indian Railways undergoes a major transformation, the Union Budget has unveiled its largest ever capital expenditure plan, with Rs 73,065 crore earmarked for safety-related initiatives alone.
Against this backdrop, Minister of Railways Piyush Goyal, below, spoke with the media about his privatisation plan, safety road map and innovation strategy. Shine Jacob reports:
This year the gross budgetary support to the Railways has been cut compared to last year -- from Rs 55,000 crore to Rs 53,000 crore. Do you think railway expenses could be met with that?
Money is not a constraint for any of our projects, including safety works.
I want to ensure the safety of travellers.
I have been saying that we are changing the rules of the game.
For example, earlier we used to start work even when land was not in our hands.
Now, we are planning things like elevated tracks, for which land is not required. Similarly, we are revamping things like signalling, which are in our control.
You have set a revenue target of Rs 2 lakh crore. Is that realistic?
Of course. We are looking at more effective utilisation of our time and tracks.
I have been meeting consultants in this regard to rewrite the existing time-table, which itself will unlock a lot of capacity.
Now, 12,000 passenger trains and 8,000 freight trains are all handled manually.
We will bring in more technology for effective usage of this capacity. We are going to lower tariff with improved efficiency.
Are you worried about over-weightage of certain commodities like coal in your freight basket? What is the road map ahead?
I am working on some new schemes in this regard.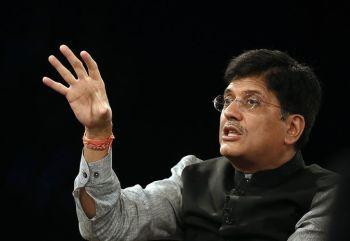 For instance, the private sector might be allowed to set up their own line.
We need more private involvement in the sector.
You mentioned overhauling of signals. Please give us more details about the project.
Once the system of trains talking to each other is in place, we will not require the traditional signalling model between tracks.
Every train will know where the next train is, which means that trains will run at a difference of six to seven minutes.
India is going to follow the signalling rules of the world.
The European Train Control System that we are going to introduce is available only on 60,000 km across the world.
At one go, we are going to invite tender for 60,000 km and that would be awarded to one party, so that our cost of implementation is less.
You mentioned introduction of new technologies. Can you elaborate?
Our focus will be on introducing new technologies to improve passenger comfort.
We are planning to introduce closed-circuit television and wi-fi facility on every train and in every station.
We are going to make track checking more efficient with the use of spur cars.
For track inspection, we will introduce ultrasonic technologies.
Indian Railways today indicated that the Rs 17,000 crore-Bengaluru suburban railway project will be set up through a unique model through partnerships with the state, the private sector and through asset monetisation.
A new 160 km suburban network is planned in the city to help reduce congestion and reduce commuting time of passengers.
We will look for a change in the transit-oriented policy for this and make it a 50:50 joint venture with the state.
What is your overall assessment of Budget 2018-19?
I haven't seen any government with its term-end coming up unveiling such a fiscally prudent Budget.
In case of the Railways, out of the Rs 73,000 crore given for safety, track renewal target has been set at 4,300 km.
We want our organisation and stakeholders to be at comfort.