'If we don't get our acts together in five years, it is going to be tough for the country'
'There is plenty of evidence that shows that disgruntled youth turn to crime, naxalism, etc. So what could be a dividend can become a liability. If not treated well, it can also become a threat'
'The farmer's ownership should not be taken away and every time the price appreciates, he should get a share of it'
Krishnamurthy Subramanian, professor at the Indian School of Business, speaks to Shobha Warrier/Rediff.com.
Like China, India should not be a low quality, low cost manufacturing destination. Instead it should follow Germany and be a good quality, low cost manufacturing base, says Krishnamurthy Subramanian (bottom, left).
Subramanian, a specialist in finance, is a professor at the Indian School Business. After graduating with top honours from the Indian Institute of Technology, Kanpur, and the Indian Institute of Management, Calcutta, he did his MBA and PhD from the Booth School of Business, University of Chicago.
In this interview with Shobha Warrier/Rediff.com, he talks about the economic policies of the Narendra Modi government and whether achche din is really coming.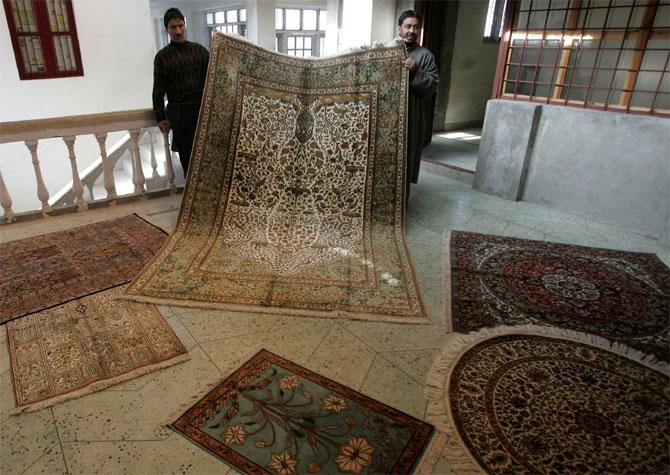 Image: Kashmiri workers display their work at a carpet factory in Srinagar. Manufacturing forms just 15 per cent of India's GDP while it is 25 pc for China, points out Krishnamurthy Subramanian. Photograph: Danish Ishmail/Reuters.
Do you think acheche din is here for the Indian economy?
There are good signs and bad signs. The bad sign -- there is more noise than action. Take for example, the Swachch Bharat and Make in India campaigns. From an economic perspective, the Make in India campaign is very important as it has the potential to have a positive impact on the manufacturing industry. Manufacturing forms just 15 per cent of India's GDP while it is 25 per cent in China and we have a long way to go. What has been described as a demographic dividend can be a demographic liability.
How can it be a liability?
In India, the working group between the age of 22 and 40 years forms the largest section of the population. There is a vast pool of potentially skilled labour, which can come into the workforce. This is the demographic dividend. But if these people do not get the jobs, there is plenty of evidence that shows that disgruntled youth turn to crime, naxalism, etc. So what could be a dividend can become a liability. If not treated well, it can also become a threat.
In that context, growth in the manufacturing sector is quite important.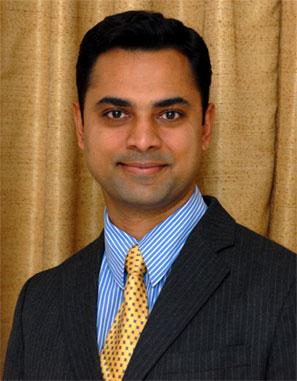 How important is growth in the manufacturing for India's GDP?
Very important. Until 2008-09, we were growing at 8.5-9 per cent despite not doing that good in manufacturing. We can grow at high rates with services contributing a lot. But manufacturing is much more important as far as job creation is concerned.
Budget 2015: Complete Coverage
Back to the question on achche din, the good signs are that the results of the efforts to think big will not show immediately. Even the Swachch Bharat campaign will show results after 10-15 years. But these good decisions are that of a visionary and they will not bring votes for Narendra Modi or the Bharatiya Janata Party. I see a leader who think of the nation and not just votes.
But Make in India campaign can bring in votes, if it translates into jobs. It is something that may not have an impact on the stock market but can transform the country provided there are changes in the labour laws.
They are trying to put the ducks in line for the transformation to happen. This is a government that means business while the United Progressive Alliance was the most impotent, most corrupt and most incapable government I have ever seen. Compared to that, this is a breath of fresh air.
On one hand Modi started the Make in India campaign, on the other the huge Nokia plant in Sriperumbudur, Tamil Nadu, closed down. What signal will this send?
I will not read too much into the Nokia plant closing down. In a capitalist society, it is the survival of the fittest. In India, we have the problem of too many living dead. If you are not good, you should close down. You can't keep the living dead on ventilator support all the time. Plants getting closed are not bad news at all.
Do you feel we should take the PSUs also off the ventilator?
That should happen and I advocate closure of all sick companies whether they are in public sector or private sector, more so in the public sector as the number of living dead is more there.
I say, all power to those who close down sick companies. I connect this with the comment the Reserve Bank of India governor made. According to him one of the biggest problems in India is that the big promoters, here, borrow money and do everything not to repay. The big promoters are like leeches, sucking resources from the system. The signal that should go out is, you cannot suck blood like leeches from the system. If there is a leech in the system, it should get killed.
The perception all over the world about products from India is not that good when you compare them with what is made in China, for example…
If you ask me about the perception of Chinese goods, I would say, cheap and below quality.
But Chinese products are sold all over the world...
Yes, they are there all over the world. When you read Made in China, you don't infer it as a good quality product, it is inferred as a low-priced product.
So, that is not what India should be doing. The reason why Made in China became ubiquitous was because they provide a really low cost manufacturing base, right from setting up a factory to labour. That is why everybody is setting up manufacturing base there. China gets five times more foreign direct investment than India.
Budget 2015: Complete Coverage
I don't think it is a good idea to be a low quality, low cost manufacturing destination. We can become a good quality, low cost manufacturing base, the same quality that Germany produces but at a lower cost, and that is what we should be aiming at.
The cost of manufacturing should be low for people to come to India.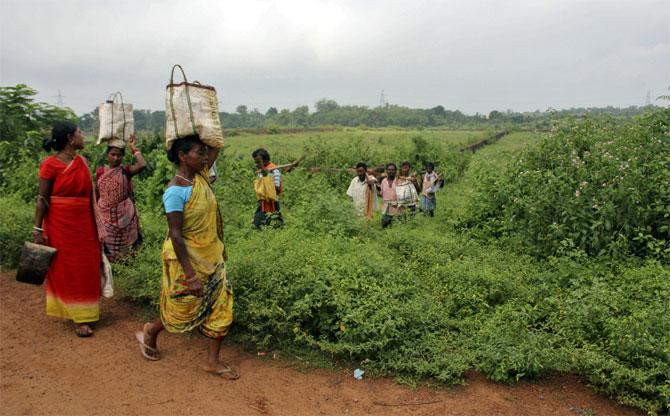 Image: Farmers' ownership of land should not be taken away, says Subramanian. Photograph: Reuters.
In India, the most controversial aspect of setting up a factory is land acquisition…
In the case of land acquisition, the farmer should have the share of the upside. Without the land, an industrialist can't do anything. Without the industrialist, the value of the land will not go up. The land needs both. That is why the farmer should get the upside.
Whatever price an industrialist gives, there will always be a feeling of injustice. So, the farmer's ownership should not be taken away and every time the price appreciates, he should get a share of it. The share should be such that the farmer gets the upside, an equity kind of payoff and not a debt kind of payoff. This is a good way to acquire land.
This is what I have been advocating and I have written quite a few articles on this.
Are you happy with the single window clearance the government is talking about?
The worrisome part about single window clearance is how well the Cabinet committee, bureaucrats and common man will work in tandem to enable investment. The problem is, even if the Cabinet clears it, the guy at the bottom of the pyramid asks for a share. As a result, the projects cleared at the higher level do not get ground-level clearances. The single window clearance is not only at the level of the Cabinet but should reach the last inspector who has to sign the document. Only then, it really becomes single window.
For this, all the officials associated with a project should come together and give clearance to the industrialist. This is the second obstacle that needs to be cleared to make Make in India a reality.
Third is finance. If financing has to be provided, fiscal deficit has to go down. As of now the government is the biggest borrower. If there is Rs 100 to lend, and the government is going to take away Rs 45, the private sector is left with only Rs 55. If the government reduces its fiscal deficit and borrows Rs 35 instead of Rs 45, then the extra Rs 10 will go to the private sector.
If that Rs 10 is lent to an unscrupulous promoter, it all goes to waste. So, governance of the public sector banks should be proper so that the money gets deployed in good projects.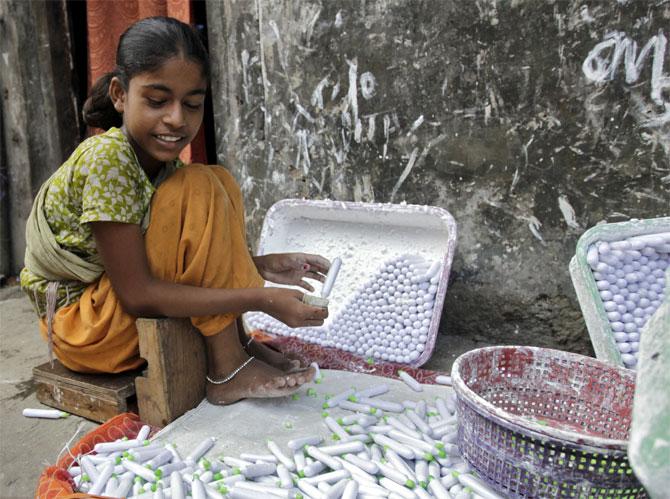 Image: A young girl packs lime paste tubes outside her house in a slum area in Mumbai. Laxmi said she earns around Rs 60($1.40) a day packing nearly 4,000 lime paste tubes. Photograph: Danish Siddiqui/Reuters.
What changes you want in Indian labour laws?
Eighty-five per cent of the jobs are in the unorganised sector, and that is because of the draconian labour laws. Politicians must realise that they need to stop listening to the unions, who are just 15 per cent of the workforce from the organised sector. They just want to preserve their privileges.
Budget 2015: Complete Coverage
Labour laws need to be made a lot simpler. The argument that labour laws are for workers is wrong. They don't help workers, they only hurt them. They help only the incumbent workers.
You need to bring down wages to include a lot more workers. Wages should be directly proportionate to your skill level. You should be paid according to how much you contribute to the economy.
If these things -- land acquisition, single window clearance, change in labour laws and financial distribution -- are followed well, they will create the necessary environment for corporates to manufacture in India.
The brand of Make in India will not change overnight. If you change the enabling conditions, the manufacturing sector will see a change, as our manufacturing sector is pretty okay.
Will manufacturing be the driving force in the economic growth of the country?
It can if the four things I said are taken care of. It has the capability and the potential and only needs a good environment. After all, we have the Tatas, the Birlas and the Godrejs who supply to the world but today, many of them are setting up base in China because it is low-cost there. We need to provide the environment so that they invest and create jobs in India.
While the large corporates are efficient, the small and medium are very inefficient. Inefficiency affects the cost.
For Make in India to be really successful, apart from the four things I have mentioned at the macro economic level, the SME sector has to become more efficient. It shouldn't be a high margin but a high volume sector.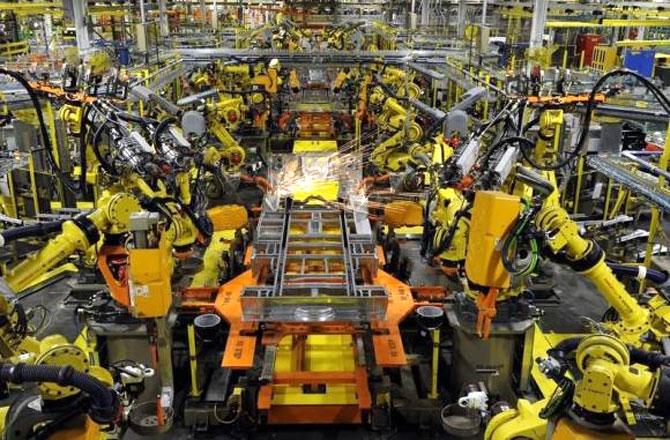 Image: If manufacturing grows at 10 pc, India can hit very high growth rates. Photograph: Dave Kaum/Reuters.
Which sector has to grow for India to achieve a growth rate of up to, say, 8 pc? Is it manufacturing?
I would say agriculture, manufacturing and services have to grow and not just one. If I have to choose one, I will concentrate on manufacturing now because that is the one that will create jobs. The first priority should be on manufacturing. If manufacturing grows at 10 per cent and not at -1 pc, India can hit very high single digit or even double digit growth rate, that is, if we take care of the problems.
Yes, our agriculture sector is really stagnated. It has to grow; however, the services sector is doing fine.
For a country of more than a billion, is there anything like an ideal growth rate?
Researches show that developed countries like the US, Europe, etc cannot grow at 10 per cent. But the level of growth we are in, irrespective of our population, in the next 20-25 years, we can grow at close to eight-nine per cent. We have the potential to do so. If we grow at six per cent, we will be doubling incomes in, maybe, 15 years comfortably. If we grow at eight per cent, we will double incomes in the next eight-nine years.
In what way will falling oil prices help India's economic growth?
A significant part of our imports is oil. So, our imports become cheaper. At the same time, some parts of our exports also relate to oil. So oil-based exports get hurt.
Still, we should benefit from low oil prices. Our fiscal deficit should come down.
Where do you see India in the next five years?
It is a hazardous job to predict the future. I see an optimistic and also a pessimistic scenario.
The pessimistic scenario happens when tough calls are not made, and harmony doesn't prevail and there is only noise and no action. If we don't get our acts together in five years, it is going to be tough for the country.
This year's Budget will be a path-breaking one where you expect the government to remove many bottlenecks so that the initiatives like Make in India become a reality. If that happens and also reforms in the labour laws, we may achieve more than 6 per cent growth in the next year and 7 per cent or so two years later and maybe in another year's time, we may see 8-8.5 per cent growth and stay there till the fifth year.
Though I am cynical on many things, I am an incorrigible optimist. When Jawaharlal Nehru initiated the process of social economy, he spent a lot of time in communicating to the masses on why we need to do that. Somewhere down the line, our politicians have stopped communicating with the people, maybe because they were not as smart as Nehru. They only communicated through symbols.
What we need now are difficult decisions but they need to be communicated to the people. And politicians need to understand economics very well to communicate it to the masses.