A rare interview in which Adi Godrej talks about his wife, Parmeshwar, whom he married in 1965.
Parmeshwar Godrej, designer, fashion icon and philanthropist, passed into the ages on October 11.
This interview is part of Gunjan Jain's must-read book, She Walks, She Leads: Women Who Inspire India.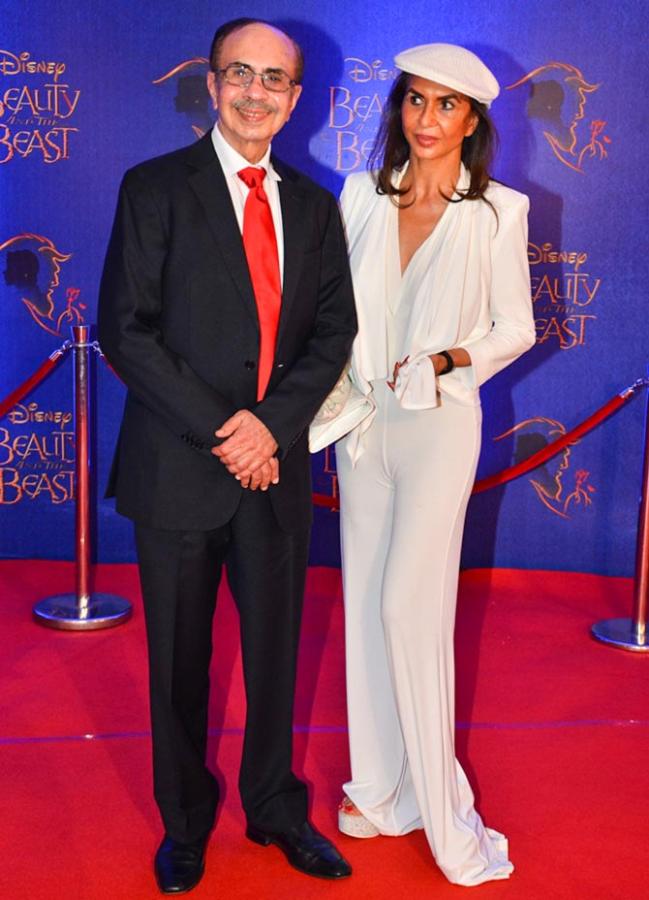 IMAGE: Parmeshwar and Adi Godrej arrive for a screening of Beauty And The Beast. Photograph: Pradeep Bandekar
Once upon a time he encouraged her to fly and be liberated; she came back to open his eyes to a wonderful exotic world beyond science, logic and dry commerce; and they were captivated forever.
The fire lit by the fairy-tale romance between corporate titan Adi Godrej and style diva Parmeshwar Godrej, more than 40 years ago, glows as bright and strong today.
The chairman of the Godrej Group takes us through his life of sheer joy and happiness with Parmeshwar, talking about her innate sense of style and aesthetics, her business acumen, her unwavering passion for and commitment to philanthropy, her flair for friendship, her wonderful parenting and, above all, their essential companionship that has helped the two of them remain each other's greatest strengths -- happily ever after.
How did you meet Parmeshwar, and what was she like in your early years together?
I got to know Parmesh when both of us were very young. We met through her brother while she was studying at the J J School of Arts.
Parmeshwar was very dynamic and an engaging conversationalist -- that was her approach to everything.
She had and still has a great sense of aesthetics and style.
Shortly after we started dating, Parmesh asked me my opinion on the job of an air hostess. I told her I thought travelling was very liberating and educational and that was enough encouragement for her to join Air India despite her parents and other friends advising her against it, having thought poorly of the profession.
I even remember taking her to the airport for her first flight and picking her up on her return.
But having missed her a great deal I asked her to give it up after her very first flight! She, however, did fly for a few months before we got married.
Parmeshwar is celebrated for many things but is, above all, an icon of style, both in fashion and design. How do you view her professional journey?
Design is embedded in her DNA and it reflects in every aspect of her personality. It is inherent in Parmesh and natural to the way she engages with the world.
I don't think she has ever had to work on it.
As she used to paint, she has a great sense of art as well and has collected a very impressive portfolio for us across our homes and offices.
Parmesh's parents had only her paintings hung on their walls and my mother, having also liked what she painted, hung quite a few of her paintings in our house as well. Parmesh is very creative and international in her outlook.
Her professional journey has been remarkable as she has leveraged her sense of design to set standards of excellence in design and innovation in all her business ventures that she has taken up, be it in fashion, interiors, architecture, advertising or our property business.
That has added great value and profits to both her private businesses and our consumer goods and property businesses.
When we were first married, Parmeshwar borrowed money from me to start her garment business. She actually paid me back the money she borrowed very quickly as her business did extremely well!
She opened a boutique called Dancing Silks at the Oberoi and then exported her designs all over the world. Her designs were very well received and were displayed on the designer floors in the stores. The business did very well both domestically and globally.
Parmeshwar is very drawn to architecture and started her interior design business, which was hugely successful and attracted many clients in India and abroad.
Simultaneously, she started working in advertising and marketing in our Godrej consumer goods business where she worked for many years, but decided to pull out once we started our joint venture with Procter and Gamble, and moved to Godrej Properties, where she continues to work till today.
Philanthropy has specially been a passion of hers for the past two decades and she has done remarkable work.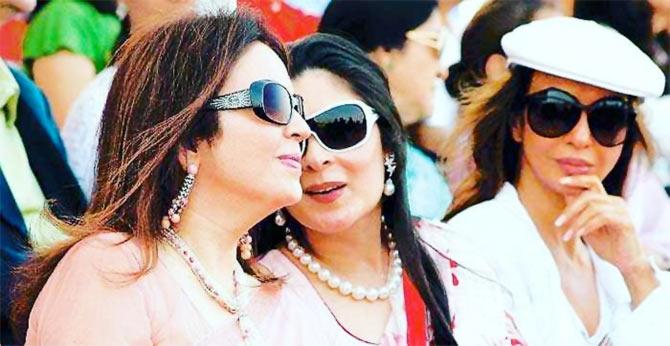 IMAGE: Nita Ambani, Anuradha Mahindra and Parmeshwar Godrej. Photograph: Kind courtesy The Nita Ambani Fan Club/Twitter
Tell us a little bit more about Parmeshwar's role in the Godrej family business.
Parmeshwar started by first working with us in advertising and marketing in our fast-moving consumer goods business. Her role expanded when she joined our property business and that has added great economic value and contributed immensely.
Some of our most memorable and iconic ads were her doing. She roped in major stars from the sporting and movie fraternity, and made compelling campaigns which people still recall. She did an excellent job.
I especially recall the time Parmesh launched one of our brands of soap called Ganga, despite being advised by our research agency to shelve it, as the name, and the product made with water from the Ganga, would be very controversial. The agency gave her a presentation of the 40 negative points that the research had thrown up.
She, however, was very convinced that the soap would do very well and persisted with her decision to go ahead. She went with her gut feeling and extensively researched all the points the agency had thrown up and addressed each of them by finding a solution. She went on to launch the soap with overwhelming results.
After our joint venture with Procter and Gamble, Parmesh stopped working in our advertising. Parmesh was furious with the P&G marketing team as they were unable to comprehend the intangible value of Ganga and what it meant to the target audience.
P&G began to market the soap in terms of the content of the perfume and cream in the soap. Despite the Ganga soap having been extremely successful, the product died out due to their wrong marketing strategy.
Her vision for Godrej Properties is very ambitious.
In her relentless pursuit of excellence she believes in setting standards in design that give meaning to our customers in their everyday lives and are also a great enabler of value creation.
Her performance is guided by her ongoing quest for perfection, she has invested the same time and creative energy in our property business and has delivered differentiated projects to satisfy customer needs that emotionally touch and excite our consumers. This has added immense economic value for us and the customers.
Her goal is to not just be the biggest, but the most admired real estate company in the country, and one of the best globally.
IMAGE: Parmeshwar Godrej with Hollywood star Richard Gere -- who was in India to increase awareness about AIDS -- through a red light area in Mumbai, December 2, 2003. Photograph: Roy Madhur/Reuters
How do you view her philanthropic work?
Parmesh has been very focused and taken on her philanthropic work very passionately.
Over the years, Parmesh has lent her time, energy and heart's conviction to the causes she truly believes in and has done a great deal of commendable work, with special emphasis on delivering results.
She has been a powerful agent for change in the attitudes towards HIV/AIDS and the stigma and discrimination that accompanies it, by using the power of communication and advocacy.
Her strategic and out-of-the-box thinking and her creative initiatives have attracted global attention and she has been consulted and been requested by various organisations to partner with them.
She partnered with Richard Gere and launched the Heroes Project, and focused on preventing the mother-to-child transmission of HIV/AIDS.
Over the years, she has also supported Avahan, run by the Gates Foundation and various other NGOs.
Whenever she pledges her support to any issue, she does everything in her power to make it a success. And the reason behind that is her passion and focus for whatever issue she takes up with a strong purposeful emphasis on achieving results.
What, in your view, has been her greatest triumph?
Her greatest achievements are having raised three extremely capable children and her greatest tragedy was when she lost a baby when eight months pregnant!
Parmeshwar is a legendary host and an integral part of Indian and international power circles...
It is in her nature and I believe that, because she is so accomplished, people from all walks of life and from different cultures and societies are drawn to her. They enjoy meeting her and when like-minded people come together, they have a way of connecting and stay in touch.
Parmesh has always had an international mindset and has made great friends across the world. She enjoys people, and she is a wonderful person to know. I think it is quite remarkable.
Parmeshwar connects people, which is a rare accomplishment.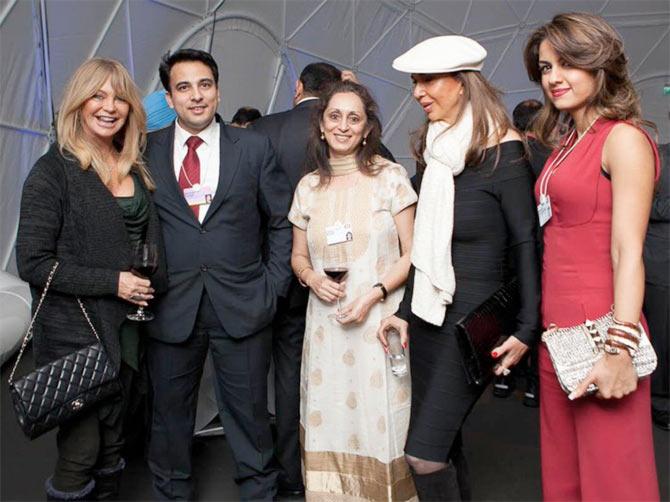 IMAGE: Hollywood actress Goldie Hawn, Pallavi Kotak, Parmeshwar Godrej and Natasha Poonawala with Abhinav Kumar, CMO, TCS Europe. Photograph: Kind courtesy: Abhinav Kumar/Twitter
Please tell us what she is like as a homemaker.
A very exacting one, who pays great attention to details. Parmeshwar has run multiple homes for us over the years and each one is impeccable, both in how it looks and how it functions.
She is not the type of person who runs into the kitchen all the time, but she is an excellent planner, who organises dinners and events with great skill.
Parmeshwar has said in an interview that she is very proud that all her children are doing very well. Is she a hands-on mother?
Yes very, which is something people don't seem to expect of her, but she has always been extremely dedicated to our three children -- Tanya, Pirojsha and Nisa.
What I have found really wonderful about her as a mother is that she strikes a balance between being encouraging, caring and very supportive, without being controlling.
She has let each child develop on their own, and when they went away to their respective universities abroad, she visited them often and stayed in touch without suffocating them.
Whenever they need her, she is there for them! I think that has worked very well for the family.
How much of their mother do you see in your children?
Quite a bit, but in different ways in each. They've all inherited her good taste and her social skills. But each is their own person, so I don't see myself or Parmeshwar in them in any major way.
That said, I think they've picked the best from both of us and added a lot of their own ideas, skills and experiences to their lives.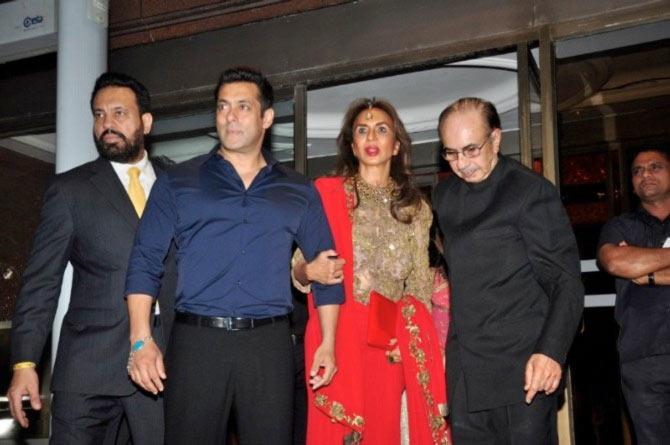 IMAGE: Parmeshwar and Adi Godrej attend the wedding reception of Salman Khan's youngest sister Arpita last year. Photograph: Pradeep Bandekar
The Sunday Indian once referred to Parmeshwar as the 'backbone of Adi Godrej.' How has she supported and inspired you, both personally and professionally?
Tremendously. To start, she is a very outgoing person and I am not, so she complements me in this and many other ways.
Secondly, my outlook is very scientific, and earlier in my life, I did not pay much attention to the arts, culture, etc. Parmeshwar has inspired me to look at the world in a way that did not automatically come to me.
She opened my eyes to a lot of things. I've taken her opinion on most important decisions in my life, be it personal or professional.
She is emotional, and has so much flair, that she has brought openness into my life.
Parmeshwar has opened my mind to the fact that there is much more to life than business and science, which has helped me a lot, personally and professionally.
Ordinarily, people may think that people as different as she and I cannot get along, but I think we have built a wonderful marriage and a wonderful life together.
In my view, the most significant factors that have helped us remain each other's greatest strengths is the fact that we complement each other in our interests and character.
What are your favourite memories together, as a couple and a family?
So many of them -- just being together and our holidays; when each of our children was born.
When the children were growing up, we took them to a new country on each holiday, on African safaris or on cruises. Parmeshwar liked to do that, and it was a great time for all of us.
When our children graduated, it was a proud moment filled with happiness. Again, when each one of them got married and later, when we had our grandchildren.
I have always admired how beautifully she keeps our home. When we were first married, we lived with my parents while waiting for our first apartment to be ready. Parmeshwar did a wonderful job of designing our first home.
Later, we bought a house in Juhu -- which we still own, though we don't live there and use it only for entertaining -- and she has designed it so well that people from around the world admire it.
Our current home is on the waterfront in Walkeshwar; it's a small home, but again, very elegantly done.
Parmeshwar has many tremendous attributes that I admire -- for example, she attracts friends from all disciplines, and people like to stay connected to her.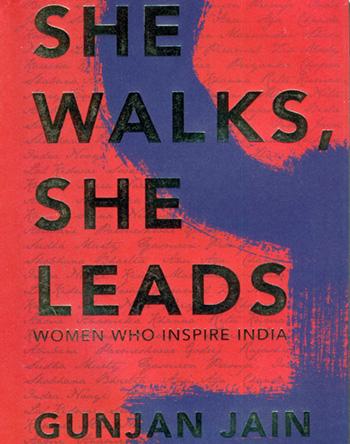 Of course Parmeshwar has achieved very much in every aspect of her life and, as her husband, what makes you most proud of her?
How she has used her skills, her taste, her sense of design in every way, especially to help people. She adds value to life in many commendable ways.
Apart from her many contributions to our consumer products business and Godrej Properties, she dedicates her energies and resources to charity, to philanthropic causes and most of all how she has managed her time as a wife, mother and entrepreneur brilliantly. All of this is praiseworthy. I could only describe her life as a big triumph.
Going forward, what are your hopes for her?
I believe that Parmeshwar will continue to devote herself to pursuits that interest her. Of course, right now, her focus has shifted from our children to the grandchildren.
Our two youngest are less than a year old and she delights in them. I think she will continue to enjoy life tremendously and I wish for her to have fun.
In your opinion, what lessons can young Indian women draw from Parmeshwar Godrej?
That it is very important to be your own person -- to own and build on your inherent strengths, and do what comes natural to you.
To not get pressured into just being a wife or mother or running a home, or only have a career, and not pay attention to your personal life.
Parmeshwar has never done that. She has achieved and continues to achieve a lot personally, and professionally, but never at the cost of the family.
Excepted from She Walks, She Leads: Women Who Inspire India by Gunjan Jain, Rs 799, with the permission of the publishers, Penguin Books India.
You can buy a copy of the book here.