'Even if you are aping the West, if you customise the idea for the Indian market, localise it based on the Indian ethos, it will succeed.'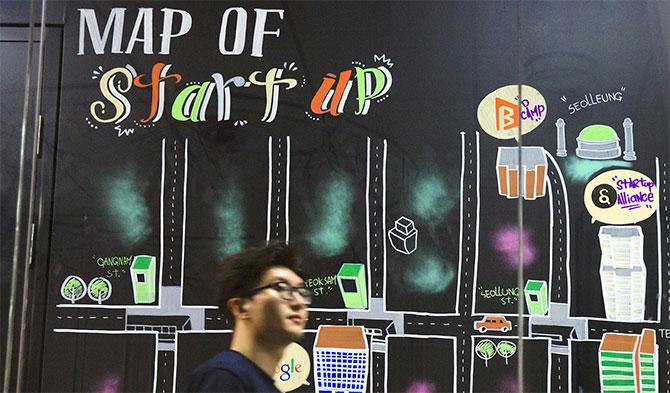 IMAGE: According to Shalini Prakash, pictured below, innovations in India are coming because more and more smart people are identifying problems that are pertinent to the country.
And some of them can impact the global scene as well.
Photograph: Thomas Peter/Reuters
500 Startups is a Silicon Valley-based venture fund and seed accelerator launched by veteran Silicon Valley angel investor Dave McClure in 2010. In the last four years, they have invested in over 60 start-ups in India.
In conversation with Rediff.com's Shobha Warrier, Shalini Prakash, 500 Startups's India head, puts the growth of India's start-up ecosystem in perspective.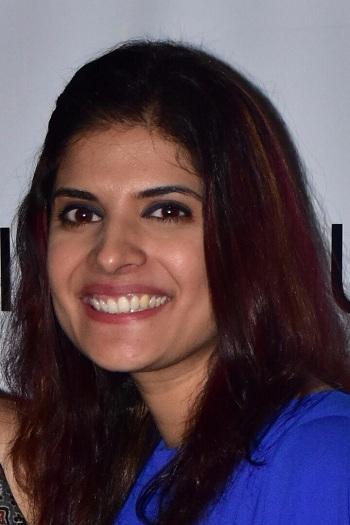 From 2010 onwards, 500 Startups has invested in over 1,000 start-ups. Are they mainly in the United States or all over the world?
They are spread all over the world, but more so in the US. We started investing in India from 2012.
What do you look for before you invest in a start up?
The philosophy is simple, and it remains the same from the beginning till today.
We look for interesting entrepreneurs or passionate entrepreneurs who will solve problems and impact consumers.
How different are the ideas behind start-ups from different parts of the world?
As consumers and their behaviour are different in different parts of the world, the problems are also different.
Naturally, the way you solve the problems is also different.
So, what necessarily works in the US may not work in Europe or here in India.
Our way of living, affordability and behaviour are totally different from the consumers of say, the US.
We have our own set of problems, and they need different kind of solutions.
So, there is no common denominator.
The US start up ecosystem is a lot more mature as they have been wading the wave much longer. We are nascent in that aspect.
Because of the exposure, consumers also are much more open to new ideas in the US.
Experts say as the Indian market is huge, Indian start-ups are looking more at the Indian market than the US market.
In the last four years that you have been in India, what differences in approach and ideas have you noticed?
Ten years ago, Indian start-ups -- mainly the technology start-ups -- were not much bothered about what worked in India and what did not.
But in the last 3, 4 years, you notice a lot of changes in the ideas they come up with.
Now that there are a lot of reference points on how consumers behave in India, the new entrepreneurs realise that they do not have to create something for the West, but customise it for the Indian market.
For example, Flipkart started an e-commerce venture in India like Amazon, but it was built on the cash on delivery model for the Indian market, and it worked in a big way.
Even if you are aping the West, if you customise the idea for the Indian market, localise it based on the Indian ethos, it will succeed.
We are seeing more and more such ideas in the last 3, 4 years, not just for urban India, but for rural India as well, which is quite huge.
All of us are on the lookout for the next wave of companies that will come up with ideas that can solve problems pertaining to India.
It has to be beyond consumer products and solving day-to-day problems.
What do you find exciting about the new start-ups in India?
Each idea and each company is different and unique in terms of what they offer.
What is exciting in the last one year is most of the start-ups we meet are not just solving the problems, but they are using deep technology.
These deep-tech start-ups are very product focused and create unique IP to solve the problems.
They are not building something very basic, which is very exciting.
For example, a company called Niramai will revolutionise the way breast cancer is detected.
These are the kind of innovations and products we are looking to find in India.
I am sure more such innovations will come out of India in the next few years.
Do you think initiatives like Start-up India and Digital India have anything to do with such innovations?
It is very encouraging that the present government has come out with such initiatives.
From the investors' point of view, we feel it helps improve the start-up ecosystem.
I would say, baby steps have been taken, and it cannot be a short-term effort.
We will have to see how it turns out in the long run, how it impacts in the ease of doing business, solving problems, etc.
But these innovations are coming because more and more smart people are identifying problems that are pertinent to India.
Some of them, like Niramai, can impact the global scene as well.
You have invested in over 1,000 companies globally from 2010. But in the last 4 years, you have invested in only over a dozen in India.
Is it because you find it hard to get exciting ideas?
The number is not over a dozen; we have invested in 60 companies.
It is not that there are not enough great ideas; there are.
We are all the time on the lookout for exciting ideas.
In fact, in the last 5 months, we have closed seven companies.
I would say we are one of the most active serial investors in India.
As an investor, what do you tell a young entrepreneur with an idea?
When you are building a product, you have to be very customer focused, to the point of being obsessed with the customer -- what the customer wants, what the customer thinks, how will the customer behave, how will he consume the product, etc.
I would say you have to be super obsessed with the customer when you are starting off.
You have to know your customer well as you are catering to his needs.
Only then will your product work.
What we look for in a start-up is the team, the technology and the problem they are going to solve.