'The finance minister has told the BJP's core voters we are hearing you and we are sensitive to your aspirations.'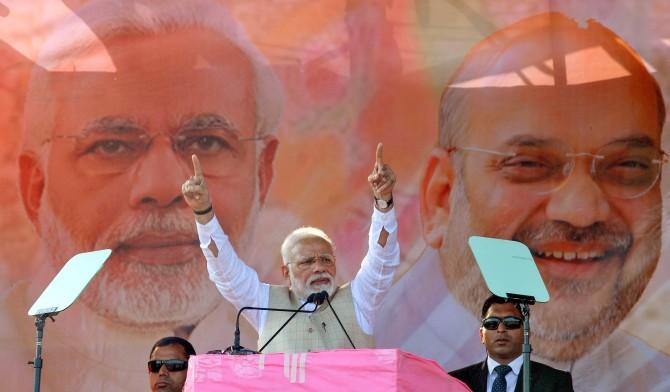 It is the final Budget of the Narendra Damodardas Modi government, a kind of do-or-die situation for the party that has antagonised its core supporters.
M R Venkatesh, lawyer, chartered accountant and political commentator who had been extremely critical of the Modi government's earlier Budgets, finds the latest one a very good political exercise.
"The other issue is the Ram mandir which has been bugging the BJP's core supporters. The Budget cannot address this issue. I am sure in the next couple of weeks, mandir building will start whatever be the outcome of the Supreme Court decision," Venkatesh tells Rediff.com's Shobha Warrier. "Then the mood will change to that of ascendency and euphoria."
P Chidambaram, the former finance minister, remarked that it was not an Interim Budget, but a Budget speech.
Strictly speaking, there is no interim government. There is no Interim Budget and there is also no interim finance minister.
In fact, this was debated during the Kargil war. When the Kargil War happened, the (Atal Bihari) Vajpayee government had fallen. The question was whether we would have to wait for an interim government to take a decision or wait for a final government.
At that time, I recall that Vajpayee, no less, said there was nothing called an interim government in the Constitution and he was entitled to take all decisions in the best interests of the nation.
That is exactly what Piyush Goyal was doing by introducing certain changes so that they could give some immediate benefits to the people. In short, he was only presenting yet another Budget.
Is this Budget an attempt to win the disgruntled middle class, farmers, the MSME sector, etc. Is it a populist Budget or a smart one?
There was definitely a visible drift of core supporters away from the BJP on two grounds. One was the Ram mandir and the second was on certain economic issues. This Budget was the best chance for the BJP to address these economic issues.
Giving rebate on IT up to Rs 5 lakh will eliminate almost 3 crore (30 million) assessees in one go.
This must be the direct tax largesse in recent times to the tax-payer. There will roughly be a loss of Rs 30,000 crores (Rs 300 billion to the exchequer).
So, you are distributing Rs 30,000 crores to three crore families who are in the lower and middle-income group, which is a very big growth nutrient.
Now they are going to spend this money on buying motor cycles, refrigerators, computers, cell phones, microwaves, etc. So, all these household items are going to be in greater demand.
This is the aspirational class and they are going to spend not only buying things, but also on petrol, cinema and in restaurants.
I would say the Rs 30,000 crores is going to be well utilised by these three crore families and increase demand.
To me, this is the best thing the finance minister has done.
Yes, it is populist. You have to understand that the finance minister is also a politician; he cannot be oblivious to the political economy when the polls are just 100 days away.
He has to make a political Budget. In a way, all Budgets are political, more so in a poll- bound year.
Likewise, for small and medium farmers, he has placed a new scheme of Rs 75,000 crores (Rs 750 billion) which the government will directly transfer into their account, thereby eliminating middlemen and touts.
Remember, in a poll year the FM cannot antagonise the middle class, which was already feeling a bit of alienation. So also the farmers.
So, he has chosen two big ticket items to satisfy these two sections.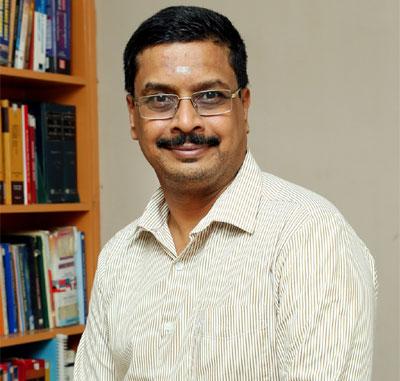 Rahul Gandhi said the government is insulting farmers by giving them Rs 500 a month...
You can always criticise a scheme by saying more has to be done.
Economics is probably beyond the comprehension of people like Rahul Gandhi.
If I were to give Rs 5,000 instead of Rs 500, what I need is Rs 750,000 crores (Rs 7.5 trillion) and not Rs 75,000 crores.
Where is the money? That means more taxes or borrowings which will lead to higher inflation.
What the government, unfortunately, is not talking about is that inflation has come down to 4.1%.
Despite the spike in diesel prices, the price of none of the food items has gone up drastically in the NDA regime.
Inflation is the worst tax, especially for the poor. Because inflation is low, the poor are benefitted. Rahul Gandhi does not seem to talk about this at all.
Also, theoretically speaking, if food prices are higher, farmers will be happy, but the poor will be unhappy.
If the prices of food grains are low, while the poor will be happy, the farmers will not be.
Unfortunately, in a country like ours, farmers and poor cannot be simultaneously be happy.
What the government has done is an income augment scheme.
It is not that the government is asking the farmers to stop farming and live with this money. They are asking the farmers to work while they would also give some money to augment their income.
While many sectors like retail, services and to a small extent manufacturing, are performing well after globalisation, agriculture is one sector that has been consistently doing badly.
Is it not because governments after governments are only talking about loan waivers, farm loans and subsidies?
Everybody in the North Block (which houses the finance ministry) -- including this Budget -- does not have any long-term agriculture policy.
If you ask 100 people who the agriculture minister is, 99 of them will not know. Even those reading this also will not know. That is because it is the most de-glamourised ministry.
You will never find a glamorous minister taking charge of this ministry. You will never see a Sushma Swaraj or a Jaitley as the agriculture minister.
Having said this, last year we had a bumper crop of 275 million tonnes. There was a phenomenal growth in food grain production. It means our problem is not production.
Our problem is two-fold. There is a scarcity of water.
Then, the difference in the price between the price the farmers get at the farm-gate and the price the consumers pay at the retail end. It is probably one of the highest in the world.
For example, to transport a kilo of potatoes from Ooty to Chennai, you spend much more than the cost of potato.
These two problems cannot be solved by ad hoc measures or in a single Budget. The agriculture sector is suffering from a terminal problem and we are not addressing it in a comprehensive manner.
The policy-makers think that a mere bandage will cure cancer.
Do you feel this should have been a 2018 Budget rather than a 2019 Budget?
I agree. But I think what Modi is doing is like Dhoni, hitting sixes in the slog overs so that there is more thrill.
Jaitley was more concerned about fiscal consolidation. Piyush Goyal could give all these concessions because the government has collected more tax and the base laid out by Jaitley.
They would not have been able to give this largesse had the tax base not expanded. So, you have to give them credit that they have taken the brickbats till now and delivered when it mattered.
I was also criticising them. I think they did it in the end.
Do you think Piyush Goyal understood the numbers better than Jaitley because he is a chartered accountant?
We chartered accountants understand the pains of the tax-payer.
For example, under Section 54, he has extended the capital gains benefit to two houses. He has also exempted self-occupied houses from tax.
These are practical issues we deal with regularly. You have to live in India to understand certain difficulties like your family or parents live in one city and you live in another because of work.
The pain points are well known to a chartered accountant. That way, Piyush Goyal is not a theoretician, but a practitioner.
A chartered accountant as a finance minister brings about a touch of realism.
Do you think Piyush Goyal made a difference to the bleak image the BJP had just before the election?
I won't use the word bleak. But one core constituency which was very much upset was the middle class and the lower middle class.
So far, the BJP had not addressed the pain points of its core supporters. In 2018, many of us had given the feedback that this was not the Budget the party's core supporters wanted.
Between 2018 and 2019, GST has more or less stabilised and the pain points have been more or less addressed.
To that extent, today the middle class is not that angry due to GST. Some issues like filing GST returns have been smoothened.
Secondly, the Rs 5 lakhs IT limit will bring in a tectonic change. You are going to eliminate 3 crore tax payers in one go.
These two things will change the mood of the people as far as economic issues are concerned.
The other issue is the Ram Mandir which has been bugging the BJP's core supporters. The Budget cannot address this issue.
I am sure in the next couple of weeks, mandir building will start whatever be the outcome of the Supreme Court decision. Then the mood will change to that of ascendency and euphoria.
As far as addressing the BJP's core issues, the Budget will get 11/10.
In a political year, the political side of the Budget was very good as it made its core voters happy.
All these years, you have only been criticising Arun Jaitley's Budgets and now you are saying you will give 11/10!
I gave 11/10 for the political content of the Budget.
No Budget can satisfy everybody and no economist can say this is an ideal Budget because there is nothing called an ideal Budget.
Through this Budget, the finance minister has told the BJP's core voters that we are hearing you and we are sensitive to your aspirations. So, the core voters are enthused.
So you feel this last Budget of the Modi government will serve its purpose because it is more political?
I am very sure this will not be the last Budget of the Modi government; this will only be the last Budget of the first term of the Modi government.