Efforts by Indian activists to challenge the Biotechnology Regulatory Authority Bill, now pending in Parliament, may get a boost from a controversy that has broken out in the US

Agricultural activist groups in India and abroad have long opposed genetically modified organism (GMO) crops on broadly two grounds.
One, that not enough is known to establish that they are safe for humans. And, two, that since contamination of adjoining fields during field trials of GMO crops is inevitable, they could endanger biodiversity.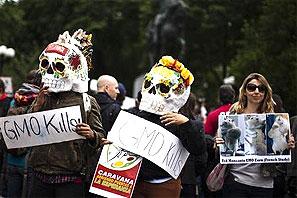 That these concerns are shared by policy makers in many countries has been reinforced by a recent case of "rogue wheat" reported in the US.
In a report titled "The Search for Monsanto's Rogue GMO Wheat" Bloomberg recently described the case of genetically modified white wheat plants being found on a farm in Oregon – where they had not been planted but had drifted to and taken root. Tests by the United States Department of Agriculture (USDA) found that to be a genetically modified strain of wheat created by Monsanto many years ago.
According to the report by Bill Donahue, Japan has cancelled a tender offer to buy US western white wheat. Other major wheat importers like South Korea, China and the Philippines are said to be closely monitoring the situation. The European Union has ordered member states to test imported wheat for contamination.
Why is this such a big deal? First, because in most of Europe people don't want to unknowingly eat GMO foods.
Secondly, this case reinforces the difficulty of isolating either commercial planting or field trials of GMOs. It is difficult, if not impossible, to quarantine plants once they have been introduced into open fields.
Proponents of GMOs, led by biotech companies, continue to argue that such doubts are baseless and that scientific debate has established that GMOs are safe.
A large amount of money is at stake. In 2012 the Indian biotech industry as a whole was worth about $4.3 billion and is projected to grow exponentially in the coming years. The agro-industry section of this sector is counting on GMOs to be a large part of this growth.
However, the claims and counter-claims about the safety of GMOs are not likely to be settled soon. The introduction of the Biotechnology Regulatory Authority of India Bill, in Parliament during the budget session this year was a victory for proponents of GMOs who claim that the bill will promote the safe use of modern biotechnology by enhancing the effectiveness and efficiency of regulatory procedures.
But opponents wer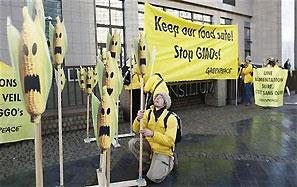 e quick to reject the bill. The Coalition for a GM-free India, an activist network, rejected it on the grounds that "it is a wrong Bill drafted by the wrong people for the wrong reasons."
Last month this coalition launched a campaign with support from virtually the entire political spectrum – from the Communist Party of India (Marxist) to Rashtriya Swayamsevak Sangh and Aam Admi Party.
According to this coalition this particular Bill will serve the interest of biotech seed companies like Monsanto by enabling them to avoid deterrent liability mechanisms or public scrutiny.
Therefore the coalition is lobbying for the setting up of a National Bio-safety Protection Authority which would have the primary mandate of protecting the health of people and ecological balance. The proposal goes on to say that this body should operate on a precautionary principle rather than rushing ahead with risky technologies.
Above all, this coalition which consists of a wide variety of food and agriculture activists, wants to ensure that there is no conflict of interests in the regulation and decision-making regarding bio-technology. And this can only be possible if there is full disclosure and transparent functioning of the regulatory body.
It is not clear if the controversy over the case of 'rogue wheat' recently found on that farm in the US will directly impact this struggle within India. But the reaction to it from other countries may give more people cause to pause and think more deeply about the issue of GMOs.