''Air India's privatisation is acceptable as long as its control does not pass on to a foreign entity,' says A K Bhattacharya.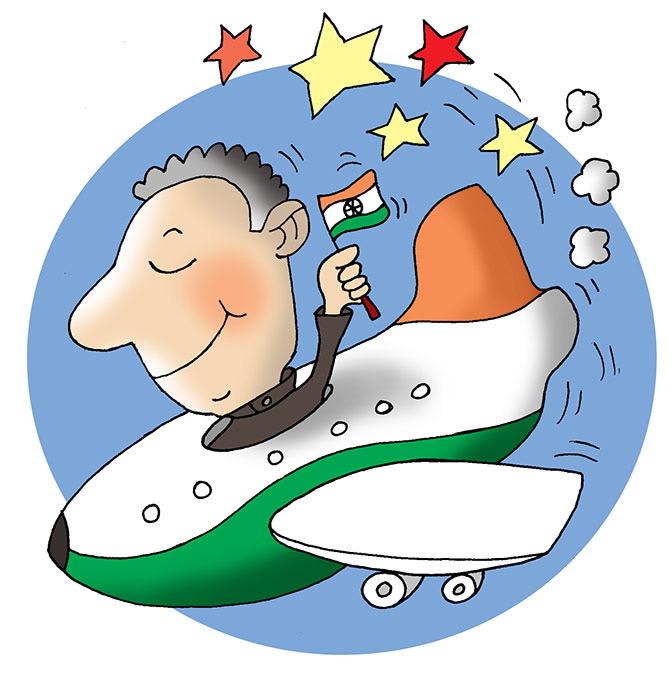 The Union government's decision to invite preliminary bids for the sale of 100 per cent equity of the State-owned airline, Air India, raises several issues, whose implications for economic policy in the country need to be fully understood.
There is no doubt that the release of the Preliminary Information Memorandum for the sale of shares in Air India shows Prime Minister Narendra Damodardas Modi's commitment to the idea of privatisation.
But what kind of privatisation has Mr Modi chosen for Air India?
There is a mistaken notion that Mr Modi, by deciding to privatise Air India, has adopted a bold stance in the face of doubts and questions raised on this issue by the Rashtriya Swayamsevak Sangh.
The RSS, a Hindu nationalist organisation providing ideological sustenance to the Bharatiya Janata Party, has always opposed the privatisation of Air India.
But it is important to remember that its opposition is highly nuanced.
The RSS is principally against the idea of foreign ownership of India's national airline.
Its chief, Mohan Bhagwat, was reported to have said at a public meeting that it was not advisable to allow more than 49 per cent of Air India's ownership to be controlled by a foreign company.
Even Germany did not allow more than 49 per cent foreign equity in its airline, Mr Bhagwat was reported to have stated in support of his arguments.
Now, take a closer look at the PIM on Air India privatisation, which was released recently, and the foreign direct investment policy that governs the civil aviation sector.
Foreign airlines or foreign investors can invest only up to 49 per cent in Air India.
In addition, the policy stipulates that substantial ownership and effective control of Air India will always be vested in Indian nationals.
This policy was announced in January 2018 and there has been no change in this, even though proposals to relax this norm have been under the government's consideration.
Not without reason did Finance Minister Nirmala Sitharaman announce in her Budget on July 5, 2019, that the 'government will examine suggestions of further opening up of FDI in aviation, media (animation, visual effects, gaming and comics) and insurance sectors in consultation with all stakeholders'.
The FDI guidelines for all these sectors mentioned in the Budget have been suitably amended in the last few months, except aviation.
The Modi government's message is clear.
Air India's privatisation is acceptable as long as its control does not pass on to a foreign entity.
Compared to the failed attempt at Air India divestment in 2018, the latest PIM has introduced many relaxations.
The share of equity to be sold earlier was 76 per cent and now it is 100 per cent.
Earlier, the net worth for eligible bidders was Rs 5,000 crore, and now it is Rs 3,000 crore.
The lock-in period for the acquirer was three years in the earlier round of bidding, and now it is only one year.
Similarly, earlier the acquirer was not allowed to merge its business with that of Air India, and now such a merger is allowed.
But there is no relaxation in the policy on FDI in Air India.
This is the RSS impact on the government's economic policy.
Those who believe that Mr Modi has taken on the RSS by selling 100 per cent of Air India are completely mistaken.
The Modi government has accepted the RSS view that Air India's ownership should not be transferred to a foreign national.
Thus, privatisation is acceptable and Air India's ownership could change.
But its management and ownership control would always vest with an Indian company or an Indian national.
A foreign entity or a foreign airline could hold only up to 49 per cent equity in Air India even after privatisation.
Which foreign airline will agree to invest in Air India without having management control of the airline?
It is another way of saying no to a foreign airline.
It is also a form of swadeshi privatisation, where the new private owner would always be an Indian national.
A similar approach may have influenced a key provision in the PIM on how Air India's bilateral flying rights and code-share arrangements would be dealt with after its privatisation.
The PIM notes that existing bilateral flying rights and code-share arrangements would vest with Air India for six months after privatisation.
Any decision on how those rights and arrangements would be distributed will be decided in accordance with the relevant rules and regulations of the government.
Ideally, bilateral flying rights should belong to the Union government.
These should be unequivocally returned to the government after Air India ceases to be a State-owned airline.
The government should be free to decide on offering these rights to the airline it chooses.
There is no reason why such issues should be left unresolved even after six months of the change in Air India's ownership.
A company that buys Air India will obviously want to retain those lucrative flying rights.
It would appear that the government is more inclined to let Air India retain these bilateral flying rights even after its privatisation.
That consideration might have influenced its decision to shut out foreign airlines from gaining substantial ownership and effective control of Air India.
It is possible that these issues may be decided once the preliminary round of bidding is over.
Civil Aviation Minister Hardeep Singh Puri has clarified that the government is still open to tweaking the terms of Air India's sale at a later stage.
Not all bidders may like such a possibility.
Prospects of a revision or refinement of terms after the bids are submitted can lead to uncertainty and it may even become controversial.
The sale of India's national airline can hardly afford them.