Revamping Indian Railways will need bold thinking, and lots of money and time. And all three may be scarce, points out T N Ninan.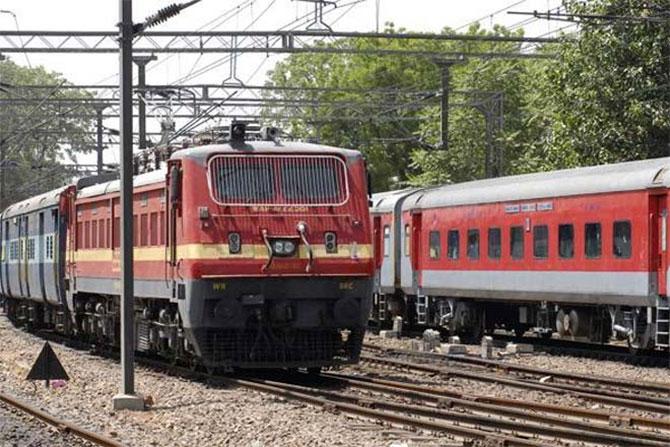 The railways have long prided themselves on being the economic backbone of the country.
There was a time when a railway strike could cripple the economy in no time, for it would cause shortages of foodgrains, diesel and other essentials; today, in a transportation picture that has changed dramatically, it is the railways that look crippled.
Their business model is broken, and re-inventing it will need bold departures in thinking, not to speak of a tonne of money and loads of time. All three may be in short supply.
How did we get here? The short answer is that rivals have steadily stolen a march over the railways, which have lost massive slices of both freight and passenger traffic.
Freight movement by road is now twice as much as by rail -- helped by the fact that truckers now operate 40- and 50-tonne trucks, compared to the 10-tonners of old.
The railways lost their petroleum product traffic long ago to pipelines, while new power stations and steel plants that are near their raw material source or adjacent to ports generate much less demand for moving coal, iron ore and the like.
Non-bulk movers barely look at rail, and it will take a lot of persuasion to make them do so -- especially given the slow speeds of freight trains (an abysmal average of about 25 km per hour).
As for passengers, on the long distances the price gap with airlines has shrunk rapidly, while on shorter inter-city routes deluxe buses are cheaper. Besides, India has become a country of car-owners.
A passenger vehicle seating four could cover the Delhi-Jaipur distance at much less than the cost of four Shatabdi tickets, plus offer mobility at the destination. Then there is the air travel revolution.
This year, passenger traffic on Indian Railways has grown so far by about 1 per cent, after declines in the three previous years, while passenger air traffic grew 23 per cent in January-October.
The explanation is converging fares. Although these vary widely depending on when you book, India has the cheapest tariffs in the world: an average of Rs 3.10 per km on a low-cost airline like Indigo, but going down to Rs 2 if you plan your trip carefully. Rail fares can vary, too, by class and because long distance fares are lower per km.
On the Delhi-Mumbai Rajdhani, travel in a 2-tier air-conditioned coach is only about 15 per cent cheaper than the cheaper air tickets. Less premium trains cost less, but air travel has the obvious time advantage, while the overall experience of rail travel, even on a premium train service, is not to be recommended.
We have reached an inflection point: air traffic is now more than 250,000 passengers daily, and growing rapidly; that beats the number of passengers in upper class coaches on the railways!
On shorter inter-city runs, the competition with bus travel is severe: on the Delhi-Jaipur run, a seat in a deluxe bus is about 25 per cent cheaper than the Shatabdi train fare. And here's the thing: both the airlines and bus services make money, whereas the railways lose massively on passenger fares.
The railways could score against bus on speed, but slow freight trains on the same tracks that run passenger services mean that even the "super-fast" trains cannot do better than an average of 70 km per hour.
This could change if the bulk of freight traffic is moved to the new dedicated freight corridors that are being built, for it would free up track for faster passenger services of 100 km per hour and more -- which buses would not be able to match.
Unless oil prices go through the roof again, it will be hard for the railways to compete on cost alone. The selling points have to be speed, by separating freight from passenger traffic; quality of travel experience for passengers -- hygiene, terminal services, and contemporary coaches; and flexible options for higher-value freight movers. They say all this is work in progress; seeing will be believing.
Photograph: Arko Dutta/Reuters.