Vanita Kohli-Khandekar analyses why the rising tide of conservatism will not help India's ambition to have a world-class media industry.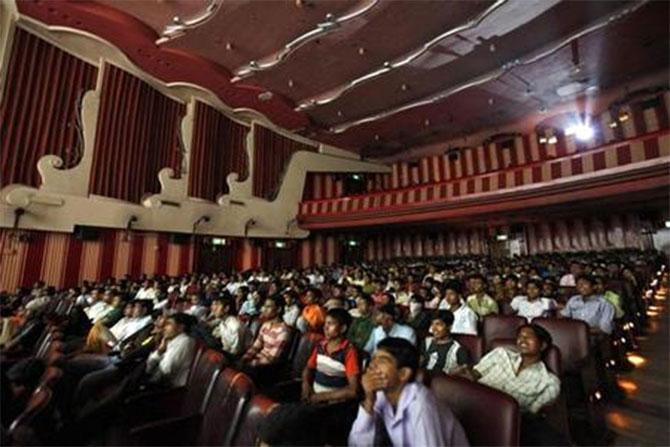 There has been a general sense of malaise in the media and entertainment (M&E) industry for some months now.
You could blame it on demonetisation, which stunted growth in the last two quarters. And could do so again in the first quarter of this fiscal, say analysts. Or you could blame it on the doom the industry senses as conservative forces gather steam.
There is the bogey of price regulation in television, of extreme censorship in films and talk of extending it to TV. Then there is the hate-filled posturing of a news television industry with dodgy investors with their own agenda or the sheer bile that passes for content on social media.
For media firms -- companies that offer TV, films, newspapers, websites and other forms of information and entertainment -- the rise in extreme conservatism is not just about changing societal mores.
It is about the ability to create content without the fear that a film may get censored for the vaguest of reasons or not get a release.
It is about the ability to report a news story without worrying about the consequences. India's liberal, inclusive ethos makes Bollywood a global word, throwing up talent that the US studios have been snapping up.
Take away openness and liberalism and the Rs 126,200-crore (Rs 1,262 billion) Indian M&E industry is headed for a meltdown, for two simple reasons.
One, thriving media economies, which bring in 3-5 per cent of gross domestic product or GDP usually come from robust democracies. In 2015, M&E brought in a huge 3.5 per cent of the US GDP. In the same year, the Indian M&E industry brought in a respectable 0.8 per cent of its GDP.
This rose to 0.9 per cent in 2016. Note this is without the kind of facilitating policy framework that the US industry operates with.
This growth underlines the millions of jobs it generates. Just one film provides employment to a couple of hundred people. Multiply that with the 1,902 films India made last year.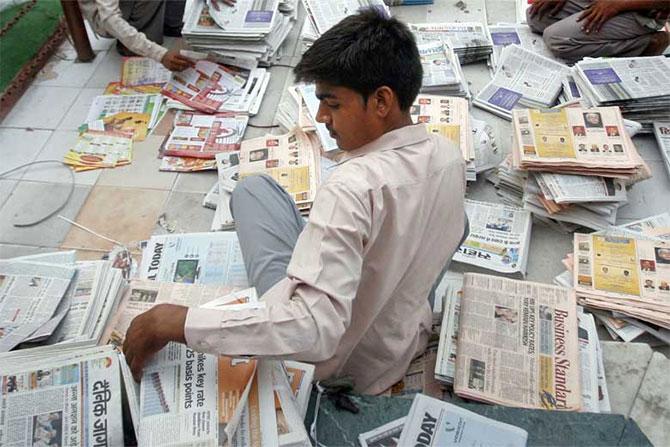 In 2013, the last year for which I have the numbers handy, Zee alone employed 8,000 people directly. There are jobs in post production, special effects, animation, in TV production, in editing, writing, among many disciplines.
Unfortunately, the M&E industry has done the worst possible job of creating awareness about its economic contribution. So there are no studies, no research on the employment TV, films, newspapers and other firms generate for distributors, cable operators, dealers, actors, technicians and millions of skilled and unskilled people in India. Or the taxes the industry contributes or its impact on India's soft power in global markets.
You could argue that China, which is not a democracy, is one of the fastest growing M&E markets going by box-office, TV and digital figures. That it is. China has done a brilliant job of building media infrastructure -- broadband pipes, film screens -- an area India has failed miserably.
Our broadband speeds and screen density numbers are generally among the lowest in the world. But a bulk of the content that lights up the phone, TV and cinema screens in China is Hollywood films or Korean soaps and music shows.
Indian films and TV shows dominate screens in India. Sure Hollywood sells, but it is a fraction of the market in audience or revenue numbers. Given a choice, Indians prefer Indian content. The moment creative freedoms go out of the window, foreign content will rush in to fill this gap. And that is the second reason why rising conservatism could be bad for the industry.
Lastly, it would seem evident that as the world's largest democracy, India should aspire to build a world-class media and entertainment industry. The US is the world's largest exporter of films and entertainment content.
The UK and the Netherlands are among the other really big ones. Their shows and films, not Chinese or Korean ones, influence our world view and generally inform us. Why shouldn't India aim for an industry that can do the same? Instead, falling prey to rising conservatism may just shrink M&E's influence within India too.
Photographs: Danish Siddiqui/Reuters.