'Given that he would have a good understanding of how many jobs the economy can create at the moment, was Modi hailing the modest pakoda-seller to infuse some charm in self-employment?' asks Udit Misra.
Illustration: Uttam Ghosh/Rediff.com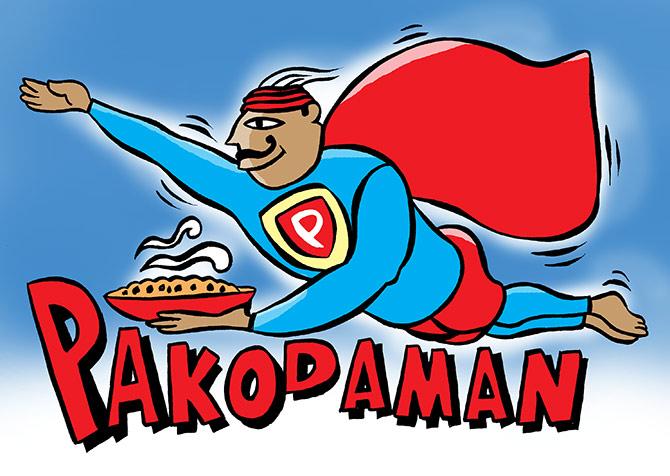 'Aslam' bade vaqaar se degree vasool kee,
aur isske baad shahar mein khvaancha laga liya
(With a lot of pride, 'Aslam' earned a degree for himself
And then (as if it was a matter of routine) set up a hawker stall in the city)
-- Aslam Kolsarii
The political debate centred around Prime Minister Narendra D Modi's pakoda statement has had several unedifying moments.
There are a lot of memes going around on WhatsApp and Facebook, spoofing the PM's comment. Hardik Patel, the upcoming Patel leader in Gujarat, reportedly even said that only a chaiwala could advise the youth to sell pakodas.
The PM possibly had it coming, given that he never misses an opportunity to pivot on his tenure as a chaiwala.
It is an odd moment in his premiership because he seems to have been caught on the wrong foot and it is difficult to fathom why would he make that statement in the first place.
At one level though, the PM has been unnecessarily criticised for having claimed that even a man selling pakodas is 'employed'. By itself, the remark is not incorrect.
In fact, the PM might have, at long last, understood what critics of demonetisation have been trying to tell him all along -- that there is an informal economy in India which employs more Indians than the formal sector, and that these people are not involved in illegality (in terms of evading taxes and hoarding black money in cash) just because they are employed outside the definition of a formal 'job'.
But, to be fair to the PM's critics, it is also true that the PM and Bharatiya Janata Party President Amit A Shah can't really have a free pass after the lofty promises they made in the run-up to the 2014 general election.
When the electorate voted in Mr Modi with a rousing majority -- the first time since economic liberalisation that any party received a majority on its own -- it was because the people, and especially the youth, expected to have jobs.
Formal sector jobs, not selling pakodas.
Kolsarii, quoted above, was a Pakistani poet (he died in 2016) but he could have been speaking for most Indian youth.
Another Urdu poet who could be speaking for the youth, even though it is close to a century that he died, is Akbar Allahabadi.
Sample this:
Aam ilzaam hai 'Akbar' pe ke peeta kyun hai;
Iski pursish nahin hoti ke khaata kya hai
(Everyone accuses 'Akbar' of drinking alcohol;
No one bothers to figure out what he eats)
In other words, the key thing is not whether someone is able to sell pakodas, but whether he has any other option.
The fact of the matter is that most people selling pakodas are doing so because they have nothing better to do.
And the truth is, quite aside from what everyone keeps repeating ad nauseam about the dignity of labour and no job being inferior, there is a gradation list among jobs -- just like there is one for almost everything in life.
It is a no brainer how most would stack up manual scavenging, doorman, front-desk employee and the corner office.
And the aspirational youth of India wants formal jobs.
And, funnily enough, there is a gradation within formal jobs as well.
A job with the government -- well, that's the thing to beat. And this preference has been there for ages.
Ham kya kahen ahbaab kya kaar-e-numayan kar gae
BA hue, naukar hue, pension mili, phir mar gae
(Friends, what can I say about what all I have achieved in life
I completed BA, became a government servant, received pension, and then died)
Regardless of Akbar Allahabadi's taunt, this was and continues to be -- somewhere in between the British ruled us and left -- the great Indian dream.
Just get a government job and you are sorted.
Why is it a surprise then that hundreds of PhDs and MBAs would rather be peons in a dilapidated government office?
Why is it a surprise that communities after communities are out on the streets creating a ruckus to get that one tiny percentage point of reservation in government jobs?
But let's return to the main question: Why did the PM say what he did. A Niyaz Sawati couplet might throw some light:
Maza kuchh aur hi tha PWD ki service ka
hamein ab aur koi naukri achchhi nahin lagti
(The charm of a job at the Public Works Department was incomparable
Now I can't imagine liking any other job)
Charm. Could that be the reason why Mr Modi -- who appears to be the most politically astute leader India has in this generation, at least -- went ahead and made that statement?
Given that he would have a good understanding of how many jobs the economy can create at the moment, was he hailing the modest pakoda-seller to infuse some charm in self-employment?
Sort of, bolstering the sagging morale of 'jobless' entrepreneurs, perhaps?