The watchdogs of the economy have not been barking and it is high time we noticed it, says Shreekant Sambrani.
Illustration: Uttam Ghosh/Rediff.com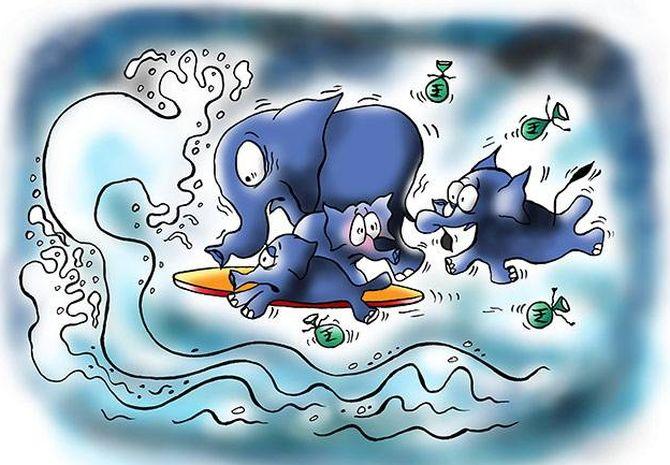 Even the woman on the street unlearned in economics knows that the current economic downturn is due to sluggish private investment.
She could even blame the Reserve Bank of India (RBI) for not cutting the interest rate sufficiently or quickly to let loose animal spirits of the investors.
She might add government policies do not encourage enterprises. Many pundits would wholly agree with her.
This is lazy analysis. In 2005 the repo rate was six per cent, the same as now, and doing business was tougher than now.
Yet, as P Chidambaram never tires of saying, India was booming, with investment in full flush.
But by 2009, the economy was slowing down. A steep drop of the repo rate to 4.25 per cent did not exactly pull it up. So the RBI and the central government together cannot be Darth Vader choking the economy.
To understand investor shyness, we must look a bit closer at India's dream run of 2003-2008.
That high growth phase was due to the stellar performance of one sub-sector and the opportunity it afforded a small minority to realise its aspirations.
The year 2003-04 was the watershed for exports, particularly of services. Exports grew at 20-plus per cent a year until 2010.
The share of other items including services was eight per cent in 2003-04 and 15 per cent two years later, on a base 50 per cent larger.
Indians have always had high aspirations; after 2003, some had the wherewithal to back them. They spent much larger proportions of their increased income fulfilling their desires.
They bought cars, homes, appliances, clothes and accessories facilitated by ready credit.
All these sectors registered double-digit annual growth, which caused the overall growth rate to gain momentum.
That did not percolate deep and the rave party began winding down soon after the global recession of 2008. The Pranab Mukherjee stimulus of 2009-10 was too feeble to sustain it.
The falling oil price bonanza in 2014-15 created the impression that the Indian elephant was again on the move, but the consumption-led boom was sputtering out.
The sustained drop in gross domestic product growth for the last five quarters reflects this reality.
Why did this happen? A piece of folk wisdom, true nonetheless, says Bollywood films hit the box-office jackpot only through repeat audiences.
This holds good for consumer goods, including durables, too. Lasting growth is possible only with a deepening of demand, that is, families using more gadgets and replacing them often.
Indian consumers actually keep a fridge or a washing machine until it dies, air-condition one room, the whole family congregates around one flat TV.
After market saturation, repeat demand is low and widening of markets difficult. Hence, the already installed capacity suffices to cater to the slow-growing market.
India attracted far too many players and brands rather quickly in the last decade.
Mostly foreign-owned, they came here to exploit the emerging Indian market, not necessarily to use their Indian base for exports.
Result: A vicious circle of quick market saturation, poor repeat purchase, no capacity expansion, falling economic growth, poorer income generation affecting further growth.
China ruthlessly forced foreign manufacturers wanting to set up shop in that country to allow market access to China-made goods abroad (for example, Chinese domination of phone handsets).
India cannot or does not easily seek foreign markets and the West Asian spigot has turned off.
Indian exports, even when competitive (for example, auto components), are handicapped by infrastructure bottlenecks making it difficult to adhere to deadlines.
Everyone now functions on a just-in-time basis, so logistic efficiency is key to export success.
The slowdown may have been exacerbated lately by demonetisation or teething troubles in Goods and Services Tax, but it is a phenomenon now going on for close to a decade.
The remedies suggested -- fiscal stimulus, easier monetary policy, controlling banks' non-performing assets -- do not reckon with these realities.
Everyone knows what happened when we last applied a stimulus and achieved a modest consumer boom in 1989-90: Foreign exchange reserves fell to $ 4 billion and Yashwant Sinha had to pledge gold to the Bank of England.
Our best hope is that the recent rise in exports, especially of auto components and automobiles, though slow, will continue and accelerate.
Anecdotal evidence from western India suggests that some smaller manufacturers are planning capacity expansion. These green shoots need nurturing.
Sherlock Holmes cracked the case of a racehorse stolen at night by observing that the watchdog did not bark. He presumed that the dog knew the perpetrator.
The watchdogs of the Indian economy have not been barking, and it is high time we noticed it.
Shreekant Sambrani is an economist.