The biggest challenge is not the airline's debt, but downsizing its 16,800 employees, says Surajeet Dasgupta.
Illustration: Uttam Ghosh/Rediff.com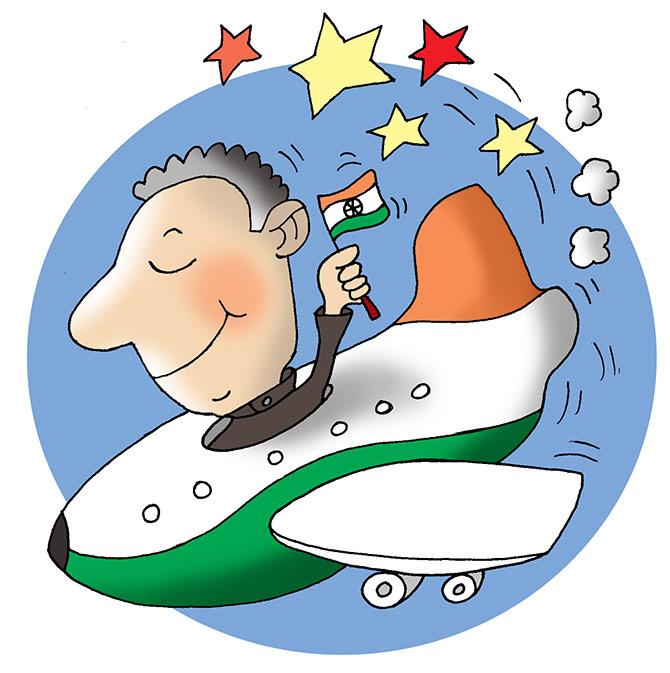 There has been little good news for the aviation ministry in the last few weeks.
First, the country's most profitable airlines IndiGo announced that it was not going to bid for Air India because it was interested only in the international business.
Soon after Jet Airways also said no, and SpiceJet promoter Ajay Singh reiterated his "too small to bid" explanation.
To add to the drama were contradictory reports on Tata-SIA's interest for the state-owned airline; though Singapore Airlines maintained it was open to the idea, the Tata group maintained a stoic silence.
Yet sources involved in the bidding process insist there is no cause for worry.
Many global big boys were interested -- these include Lufthansa, British Airways and Etihad (it did not respond to a query) as well as some financial investors, they say.
The real story will be clear when companies actually submit their "expressions of interest" which is some time away.
But potential bidders have raised some serious concerns, not unusual in such a complex sale.
The same questions confronted airlines and governments across the world.
On top of the list is downsizing. Air India has over 16,800 employees protected by strong labour unions. No surprise, then, successive governments have failed to trim the workforce.
The government says it only wants the new buyer to ensure that Air India's employees are on the rolls for a year.
But bidders point to the potential mayhem disgruntled employees could create especially when the airline can be run with less than half the staff.
A one-year moratorium would amount to kicking this down the road.
Says a top executive of a potential bidder: "The biggest challenge is not the debt but the government's decision to shift the entire responsibility for the labour question to the new owners. If they could not handle them for decades, how do you expect us to find a solution after one year?"
There are globally successful models that worked to cope with this problem, British Airways (BA) being a textbook example.
In 1983 CEO Colin Marshall took a hit on the bottom-line to offer staff incentives to leave but balanced the initiative with stringent cost-measures elsewhere to ensure a quick return to profitability.
Five years later, in 1987, when the British government sold its stake through the stock market, the offering was subscribed 11 times.
The issue of a bloated labour force is not peculiar to India.
It has featured in the ongoing privatisation of Italian carrier Alitalia which had been postponed because of the elections.
Even here, one of the contenders, Lufthansa, has shown interest conditional on a major restructuring that includes reducing labour and fleet.
Potential bidders for Air India say the government must be aware that this could be a contentious issue, which is why talk of stock options has been doing the rounds.
But a specific plan of action needs to be put in place, they point out.
The other point of concern is whether the government should insist on selling the airline in one piece or tweak the rules and auction the national and international businesses separately.
Opinion is split on this. A large chunk of the potential bidders is only interested in the international business because it is more attractive with its routes, bilateral flying rights, international slots and a growing number of Indians who are travelling abroad.
Yet it is difficult for any government to sell the more lucrative piece and be left struggling to find takers for the domestic business, which also accounts for the larger chunk of the labour force.
The airline does have valuable slots in cities like Delhi and Mumbai where fresh landing capacity is not available.
But that shortage will be over in two to four years.
And no one buys a debt-ridden asset without a 10- to 20-year perspective.
Some potential bidders say the government insistence that they should take Air India public within three years makes no sense.
They argue that the time-table should be left to the new buyers as there is no guarantee that the airline can be turned around in this period.
They may be right but the route for listing has been a globally accepted practice. Australian airline Qantas used a combination -- selling its stake to a strategic investor (25 per cent to BA) and holding an IPO.
BA sold its stake in 2004. Western airlines like KLM or Lufthansa have also followed this model successfully.
So the question is whether European carriers Lufthansa and BA and West Asian giant Etihad will make a bid.
It all depends on India's importance in their global play, whether they will find an Indian partner -- and none of them is talking.
Etihad's strategy to close in on its regional challengers was to buy equity stakes in airlines across the world.
But two of its key investments in Europe -- Alitalia and Air Berlin -- filed for bankruptcy. India is surely a key country to take on Emirates, which is why Etihad bought stake in Jet Airways.
But with the Jet management getting closer to the Air France- KLM combine questions are being asked on the future of this investment.
Also, there are doubts about whether the airline has the financial muscle to bid for Air India without selling its stake in Jet (it has denied this).
Lufthansa is busy in strengthening its position in Europe -- bidding for Alitalia and part of Air Berlin.
That apart, it already controls Austrian Airlines and Swissair.
It is difficult to predict whether it will have the time and resources to spread its wings to Asia via Air India.
If it does, it could well be a force to reckon with in the skies.
A few days ago, IAG, BA's owners, announced that it was buying a stake in Norwegian Air and will make a full offer for the discount airline that has changed the rules of the game.
If successful, the move will neutralise a BA competitor with its attractive low-cost long-haul transatlantic flights from Gatwick.
Whether BA and its owners would also be interested in bidding for AI as part of their global ambitions in Asia is a question that will be answered very soon.