Continue to invest normally unless prices fall drastically in April-May.
If prices do fall drastically, invest more than normal, advises Devangshu Datta.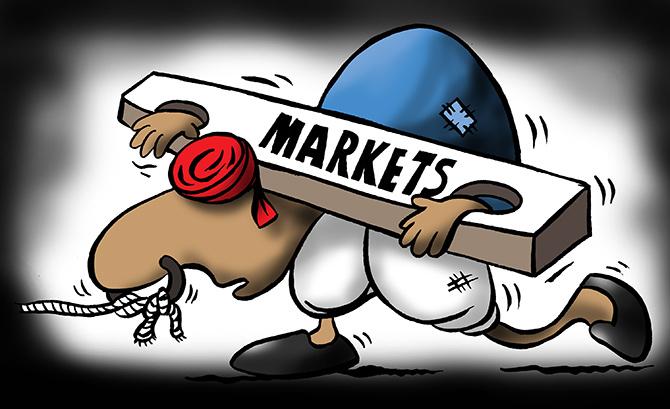 The first half of calendar 2019 will be an uncertain period with politics dominating the mind space.
Substantive improvement in the economic outlook seems unlikely.
The BJP is focused on winning a re-election and its messaging is populist.
GST is unpopular and it's clear that demonetisation was responsible for a large proportion of widespread and visible farm distress.
The only new driver could be increased consumption driven by greater liquidity if the Reserve Bank of India under its new management opens the tap.
Investors will be cautious until the shape of the next government is known.
Most investors also continue to labour under the assumption that a government with a Lok Sabha majority is likely to be more decisive and economically focussed.
The historical record doesn't bear out that assumption.
Rather, it suggests that the best economic policy has usually been crafted by coalition governments dependent on multi-party support.
Think of 1992 when Narasimha Rao ran a minority government surviving on outside support from the Left; or 1999 when Vajpayee ran a caretaker government after losing a Vote of Confidence; or UPA I.
Each of those coalitions produced good economic policy that set the template for reform and growth.
In contrast, the Modi-led BJP has produced howlers.
There could be many reasons for this.
One possibility is that reform is only meaningful and sustainable, when it's acceptable to a heterogeneous coalition in an extremely heterogeneous nation.
Another possibility is that a coalition which doesn't necessarily expect to last the term, is more likely to hurry to get things done.
In 1999, for example, the NDA knew it had only six months to go when it started reshaping economic policy.
The Modi government took charge in May 2014 and it was only in July 2017 that GST was launched.
This leads to the thesis that a fragile coalition dependent on strange bedfellows will probably produce more meaningful and lasting reforms than a majority government.
However, since most market players don't believe that thesis, there is likely to be a crash in mid-2019 if the market sees a coalition government taking charge.
This would perhaps, be the best possible situation for investors.
Prices and valuations would fall to reasonable levels while overall governance and economic policy may actually improve.
It may not happen, however, since it's possible that there would be another majority government or perhaps, a narrow coalition with few partners.
However, it make senses for an investor to create an emergency war chest to be braced for the coalition scenario.
Continue to invest normally unless prices fall drastically in April-May.
If prices do fall drastically, invest more than normal.
Those contingency funds would have to be held in short-term liquid assets such as money market and liquid funds.
So that's the equity outlook and possible strategy going into 2019.
Expect uncertainty and high volatility through the first six months.
Expect a deep correction -- say 25% to 30% -- knocked off the indices if it looks as though no party will win a majority in the general election.
Hold liquid resources to be moved into equity if you do get a deep correction.
Be even more enthusiastic if a coalition does end up in charge.
Alongside this contingency plan, it makes sense to create at least two hedges.
One is more exposure to gold.
The other is exposure to hard currency assets via funds investing overseas.