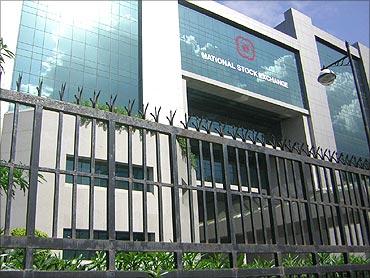 An exchange which preaches others on governance must start practising it first, says Shyamal Majumdar.
The National Stock Exchange has a lot going for it.
It is after all the country's largest stock exchange with state-of-the-art infrastructure and a clearing mechanism that is super-efficient.
The exchange, which was mandated to develop technology to move trading from open-outcry to electronic, untested in India till that time, has played a critical role in spreading the equity investment culture.
When it was conceived in the early 'nineties, few gave it much of a chance. After all, NSE which then worked out of a tiny, leased office in Mumbai, was pitted against a goliath, the Bombay Stock Exchange, that had been entrenched since its creation in 1875.
In its earlier days, NSE had many firsts to its credit.
First, it replaced the physical floor in exchanges with a virtual one. In other words, it launched screen-based trading, in which the computer screen plays the role of an exchange floor.
The second thing it did was to enable delivering that screen simultaneously to all parts of the country -- be it Patna or Kochi. It may sound very simple now, but it was a huge task at a time when the telecom revolution was nowhere on the horizon.
The third thing was the introduction of the concept of membership, where you deposit a certain amount with the option of getting refund if you wish to exit. This was contrary to then nonsensical system of auctioning wherein the highest bidder would get seats.
Fourth, NSE brought in a scientific risk management framework that could allow it to guarantee settlements.
And fifth, the exchange replaced badla with the more advanced futures and options, which were readily accepted by the market.
More importantly, NSE took great pride in the fact that it was led by professionals with impeccable reputation, and not a cosy club of brokers.
Unfortunately, that reputation has taken several knocks in the recent past, leading one to conclude whether in its eagerness to project a no-nonsense image, the NSE board chose to abdicate responsibility and allowed individuals in charge of running the business too much freedom to do things as they pleased, leading to arbitrary decisions that rode roughshod over those who dared to disagree.
"Tyranny of individuals" is how one NSE investor describes it.
Consider some of the facts.
After its repeated public denials and moral posturing over allegations of unfair access to some high-frequency trading brokers to its servers, NSE finally admitted in its draft red herring prospectus last week that an external panel (for some inexplicable reasons, NSE didn't name Deloitte) has indeed found potential instances of some traders having preferential access to its network through co-location facilities -- where private servers are placed at exchanges to speed up algorithmic trading.
NSE also said the agency found certain employees may have been involved in providing that access, though it could not determine whether there was any collusion.
The denial, and the admission months later, doesn't inspire much confidence in the so-called professional management of the exchange.
NSE itself has said in its DRHP that the independent agency's analysis highlighted trends for certain periods where a few stock brokers appeared to be the first to connect to specific servers significantly more often than others.
The system architecture indicated that data was disseminated in a sequential manner whereby the stock broker who connected first to the server received ticks (market feed) before the stock broker who connected later.
There is more. The agency also observed that no uniform approach applied across stock brokers in this regards.
This is damning indictment of a stock exchange management which took such great pride in its so-called professional way of doing business.
As if this wasn't enough, the process that was followed for the appointment of Subramanian Anand was astonishing.
In an opaque process that bypassed proper procedures for appointment of key managerial personnel of stock exchanges, Mr Anand, who was the group operating officer till recently, was given the tag of a consultant.
It beats all logic as to why the regulator or the board allowed this to happen for so long -- as it's clear that the management's argument that it was in tune with existing regulations just doesn't hold water.
If the COO of a stock exchange is not a key management person whose appointment has to be vetted and cleared by the regulator, who is?
NSE's decision to delay its initial public offer was also inexplicable. The exchange brought in one hurdle after another, the latest being the insistence on listing the shares on NSE itself.
The fact that this argument wouldn't hold was clear from day one as it was contrary to the market regulator's view that an exchange's shares should be listed on a rival exchange, also called cross-listing.
Shareholders of NSE, however, found nothing wrong in cross-listing as listing involves submitting a prospectus which is anyway a public document; so the argument of disclosing information only to rival BSE didn't make sense.
The IPO is finally on its way and NSE has brought in Ashok Chawla, former head of the Competition Commission of India, as chairman, and reconstituted its board.
One hopes the new team at the top would focus on shoring up NSE's corporate governance standards.
After all, an exchange which preaches others on governance, must start practising it first.