Rawalpindi must downsize its quest for 'strategic depth' in Afghanistan and Kashmir, notes Matein Khalid.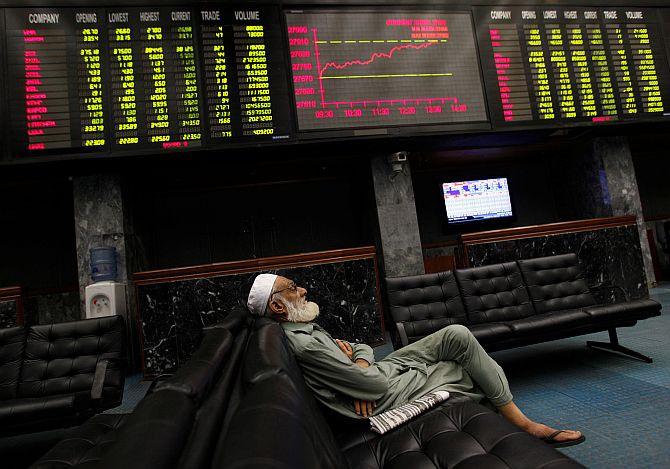 The current balance of payments crisis in Pakistan evoked my memories of visiting Argentina as a Chase Manhattan derivatives banker in the 1990s.
Domingo Cavallo's artificial peso peg against the US dollar led to a currency collapse, banking failures and political chaos (five presidents in a single year!).
The analogy with the abandonment of Pakistan's rupee peg in early 2018 is unmistakable.
The scale of monetary mismanagement in Pakistan ensures a systemic external debt meltdown in 2019.
Why?
Pakistan's then prime minister Nawaz Sharif maintained an inflated rupee peg against the dollar in 2013-2017, enabling my tribe of offshore investors to enjoy 25% plus US dollar returns in the stock exchange for three successive years, among the highest in the world.
Pakistan spent $7 billion in central bank intervention to keep the rupee inflated against the US dollar in order to facilitate the elite's capital flight and fondness for subsidised luxury imports.
Yet I slashed my Pakistani equities exposure to zero the moment Pakistani's supreme court, inspired by Rawalpindi GHQ's Praetorian cabal, dismissed Nawaz Sharif for his alleged weakness for Mayfair luxury flats (Bad strategy call on Curzon and Duke Street, as Brexit proved).
From my experience in Argentina, I knew the new government, whoever it was, would be forced to succumb to a free float FX regime with a draconian rupee devaluation and an IMF bailout.
This meant a bloodbath on the Karachi stock exchange.
History vindicated my July 2017 strategy.
The Karachi stock index (PSX) is down 25% from its 52,000 peak.
The Pakistani rupee has plunged from 105 in early 2018 to 140 as I write.
The new PTI government in Islamabad is clueless about how to communicate with Wall Street, the reason $300 million in offshore smart money has dumped Pakistani equities since Imran Khan took office in July 2018.
Imran Khan claims he learnt about the latest rupee devaluation on television.
Apparently, Finance Minister Asad Umar, briefed well in advance by the governor of the central bank, had failed to inform his boss and his consort, the djinn juggling Pinky Pirni.
Worse, Imran Khan sternly ordered his central bank governor to clear all rupee decisions in advance with him, a violation of the 1956 state bank act, basic monetary policy norms and his own PTI manifesto.
Whatever else Imran Khan learnt from his third division PPE degree at Keble College, it was definitely not economics.
What next? China and Saudi Arabia have failed to bail out Pakistan at a time when external debt is a staggering $95 billion, debt service is 30% of the federal budget and the state's hard currency reserves are a pitiful one month's import cover.
The state bank's forecast for 4.9% GDP growth in 2019 is a cruel joke, given that the monetary mandarins of Karachi raised the policy interest rate by 350 basis points to 10% in 2018.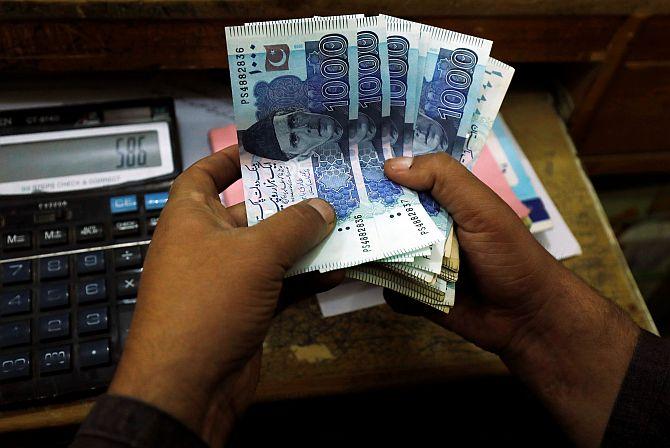 As inflation soars, another 200 basis point rise in the policy rate is inevitable in 2019.
The Trump White House will insist on a renegotiation of opaque Chinese project debts, higher taxes and fiscal austerity as a precondition for an IMF bailout, with the rupee at 160 to 180 at least.
The US, the Gulf States, India, Russia and even Iran do not want Gwadar to morph into a Chinese naval gateway on the Arabian Sea.
After all, my birthplace Karachi has been Sind's pre-eminent port for millennia and generates a staggering 25% of Pakistan's GDP.
Pakistan's Deep State must realise that tanks and armoured personnel carriers run on petrol whose prices will skyrocket as the rupee plunges against King Dollar.
Rawalpindi must downsize its quest for 'strategic depth' in Afghanistan and Kashmir.
My call?
Economic growth falls below 3%, hitting PTI's urban vote bank of the young and the restless the most.
Pakistani financial assets will be gutted by the cancer of inflation.
Imran Khan's visceral, anti-US populism has no antidote to an economy bereft of rational, pro-growth, pro-market policy blueprints.
Pakistani shares trade at 6.2 times forward earnings and 7.4% dividend yield, optically cheap but a classic value trap as the macro storm clouds darken and corporate earnings estimates decline.
I believe the Karachi stock index (PSX) can fall to 28,000 to 30,000, 25% below current levels.
The exodus of foreign money is thus rational.
2019 will be the year of living (and trading) dangerously in Karachi.
Matein Khalid, chief investment officer and partner at Asas Capital, advises ultra-high net worth royal and family offices in the UAE on global equities markets and foreign exchange.