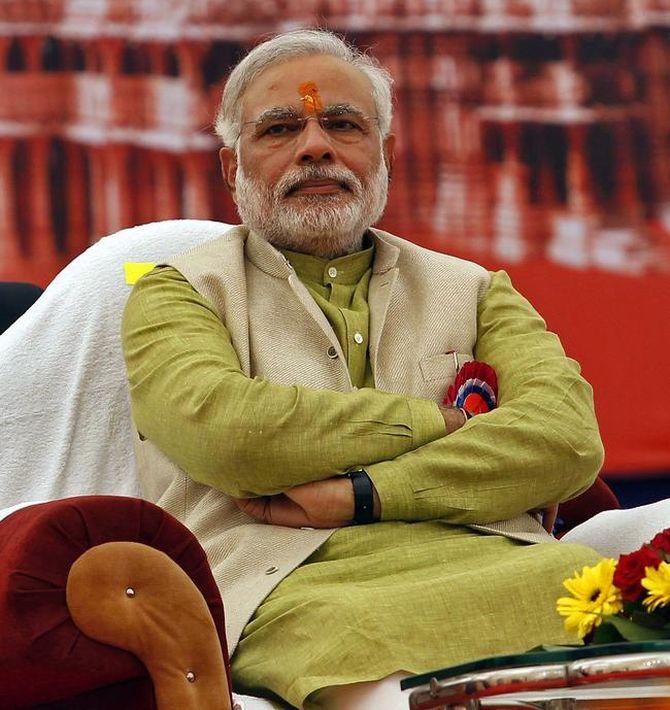 If the Modi government is going to set new benchmarks of performance, don't expect the majority of his dozen-odd ministers-who-matter with economic portfolios to be making the difference, says T N Ninan.
In assessing the Narendra Modi government as it approaches its second anniversary, most observers would agree that the ministers with a good record of performance are a handful.
In the economic sphere, a consensus list would probably include Nitin Gadkari (for bringing a new momentum to the road construction programme) and Piyush Goyal (for transparency in coal auctions and clearing the discom logjam, though like Gadkari he is prone to exaggerated claims).
Then there are Dharmendra Pradhan (for bringing transparent decision-making to the controversial oil and gas sector) and Arun Jaitley (most importantly for being a generally sane voice in a government that has its share of zanies).
One mentions the finance minister only fourth because he has his critics. However, the fact is that he has delivered on the key objective of economic stability (that includes achieving difficult targets on the fiscal deficit) and pushed through some important reform measures: the new bankruptcy law, a new basis for formulating monetary policy, modification of the double-taxation avoidance agreement with Mauritius, significant opening up on foreign investment, and (not unimportantly, given the history on this issue) for being supportive of the central bank governor as he has tried to lower the long-term inflation curve -- this, despite Jaitley clearly wishing that interest rates had come down faster.
The black marks would be the continuing problem with banks and asset quality, the failure to prevent absurdly arbitrary tax orders, and the manifest lack of momentum in the economy -- and here one must disregard whatever the national accounts might tell us.
To some degree, the failure to get the law for a goods and services tax enacted could also be placed at his door. But it remains unquestioned that he is a pillar of strength in the government.
The problem with this list is that it is so short. Suresh Prabhu at railways has been energetic and well-intentioned, but he does not have too much to show at this stage.
Nirmala Sitharaman at commerce and industry is well-intentioned too, but gives the impression of being caught in old attitudes that will not improve the country's trading strengths. Yet, her positions on trade negotiations would seem to have the prime minister's blessings -- and that should be a point of worry.
Ravi Shankar Prasad in communications is unlikely to get many votes from either the telecom industry or from the broader digital industry, or for that matter from consumers of voice and data services.
Prakash Javadekar at environment seems to have no clear and consistent positions.
And, through two years of drought, little has been heard from the agriculture minister; indeed, most people would not be able to name Radha Mohan Singh without being prompted.
As for NITI Aayog, it gives the impression of still searching for a role.
Unlike the agriculture minister, Smriti Irani has attracted a lot of attention from the first day, and gives every impression of being goal-oriented, but little has been made known of what educational goals she is chasing other than saffronisation. She might find it educative to look at how the Delhi state government is focusing on improving school education.
Meanwhile, Health Minister Jagat Prakash Nadda has remained in the shadows, and Uma Bharti at water resources is unlikely to set the Yamuna on fire, or clean the Ganga, let alone find ways of improving the country's water imbalances.
Lastly, Venkaiah Naidu is at urban affairs, but the 'smart cities' programme is very much the prime minister's baby.
Having surveyed the list, one thing can probably be said without fear of contradiction: If the Modi government is going to set new benchmarks of performance, don't expect the majority of his dozen-odd ministers-who-matter with economic portfolios to be making the difference.
The difference will have to be Modi.