What this also does is create a new FAWG (Flipkart, Amazon, Walmart and Google) story for India very much like the FANG quartet (Facebook, Amazon, Netflix and Google) have done for the global tech sector and the US stock markets, says Ganesh Natarajan.
Illustration: Uttam Ghosh/Rediff.com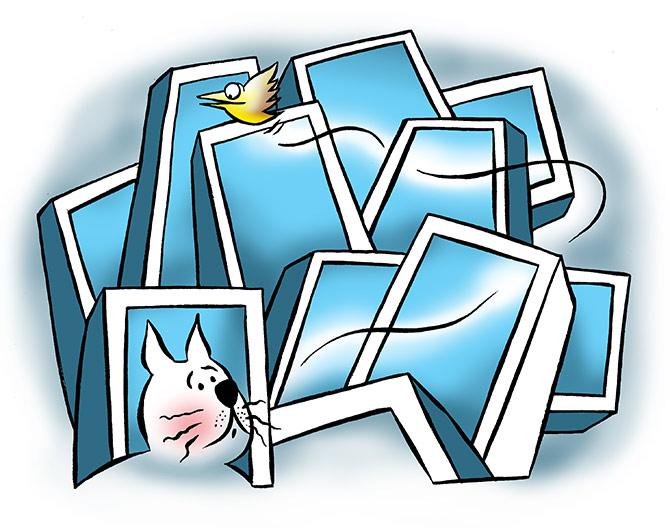 Addressing a group of industry watchers and analysts in New York City in 2008 after the financial crisis had hit and I had just become chairman of industry association Nasscom, it was interesting to face a barrage of questions and waves of pessimism about the industry's future.
Some cynics were even expecting a three-year decline in industry revenues and were almost incredulous at my five per cent growth prediction for that year and a revival after that.
Which did come to pass as a resilient industry found new mojo and surged back.
In an almost inevitable repetition 2016 onwards, the wave of automation, artificial intelligence and economic slowdown across the globe had provoked forecasts of doom all over again and it's good to be able to confidently predict today that the IT and BPM industry will get back to double digit revenue growth this year and find new avenues to grow in future.
The quarter's results have been excellent, barring one or two temporary aberrations and it is heartening to see growth across all segments - digital and IT services, business process management (BPM), products and platforms.
One theme that is playing out well for all services firms is the universal adoption of digital around the world and as predicted many times, firms that are prospering are those that have addressed the challenges of customer behaviour and experience, design thinking, business process re-engineering, data and analytics and cultural transformation in addition to mastering the traditional basket of social, mobility and cloud technologies.
A scan across the web sites and white papers of every firm above a hundred million dollars in revenue shows the willingness to engage customer groups beyond IT directors and messaging is more around multiple talents being brought together to engineer digital transformation.
Globant calls them pods and Mindtree pumpkins, but whatever be the source the fruit will be as sweet.
Another welcome development is the integration of cognitive solutions in every company's arsenal which is a sure indicator that the industry will embrace artificial intelligence and machine learning and enable the next wave of predictive and prescriptive analytics solutions to emerge within client organisations.
The landmark news of the month of May in India has of course been the consummation of a deal that has been in the making for a while - Walmart acquiring controlling stake in Flipkart - that has given the much-needed shot in the arm to the entire e-commerce industry in India.
The naysayers have been predicting doom for many entrepreneurs who started e-commerce businesses, scoffing that this was just a game of taking money for the pockets of investors and putting it into the pockets of customers.
While that allegation may not be entirely without substance, there is great truth in what the founders of PayTM and Snapdeal have said, that this deal is a true endorsement of Indian entrepreneurship in e-commerce.
It will also give heart to many start-ups who are looking at future exits and get them to redouble their efforts to scale and find a path towards higher market share first and profits later.
What this also does is create a new FAWG story for India very much like the FANG quartet (Facebook, Amazon, Netflix and Google) have done for the global tech sector and the US stock markets.
The FAWG (Flipkart, Amazon, Walmart and Google) assumes that the anticipated participation of Google's parent Alphabet in this deal is also going to happen in the not so distant future.
This battle of the giants will boost not just the e-commerce market in the country with the ten thousand plus (almost 50 per cent) unserved pin codes getting the benefit of e-retail and cash on delivery innovations, it may also boost the reputation and the relative fortunes of Walmart vis-à-vis its rampaging global competitor Amazon.
For ready reference, Amazon's sales are expected to easily cross two hundred billion dollars in 2018 and its market capitalisation has surged from just over a hundred billion in 2012 to nearly eight hundred billion at present, while Amazon, in spite of larger sales of nearly five hundred billion with market capitalisation growth from just over two hundred billion to two hundred and fifty billion in the same period.
This major investment in India although it sent initial shudders through Walmart investors, can make India a true theater for a "mahayuddh" battle between the two to the benefit of Indian entrepreneurs and smaller investors.
On a side note, the Indian e-commerce market itself has huge potential to grow, from an estimated thirty-eight billion US dollars in 2017 to an anticipated two hundred billion plus by 2026.
Online spending is expected to increase 30 per cent annually with both domestic and cross-border shopping showing significant growth.
Venture capital fund raising has been on a sharp rise and existing as well as new PEs are raising new funds anywhere between twenty million and a billion to meet the capital needs of the ever-growing new internet and e-commerce segments.
Truly the twin Phoenixes - IT services and e-commerce - are rising fast and will rule the waves of the capital markets in 2018 and beyond.
Ganesh Natarajan is founder and chairman of 5F World.
He can be reached on Ganeshn@5FWorld.com.