Marriott has the best breakfast in town.
New Delhi airport has the best stores.
IndiGo is the best airline in the business.
Kishore Singh on the good, bad and worst among hotels, airports and airlines.
Illustration: Dominic Xavier/Rediff.com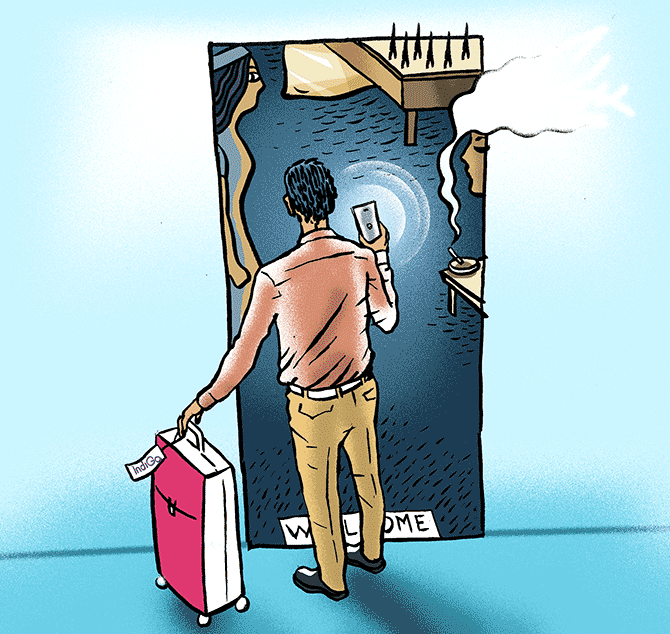 Having spent the last few months on the road, I can say with a degree of assurance that it is the small things that make a hotel great -- like when you have a cold, and the chef sends you a soup to make you feel better.
The Taj group has some of the best service staff, but some of the worst towels you are likely to find in a guest room -- and I speak from experience, whether in Goa, Chennai, Hyderabad or Bengaluru.
The Oberoi group is quick to find solutions, ITC has the best pillows in the business, and the Marriott has the best breakfast in town -- and that's saying something considering the spreads most hotels offer at breakfast time.
Of late, hotel room design has got so complicated, you feel like a fool as you enter your room in complete darkness and have to switch on the mobile phone light to track the room masterswitch.
When it comes to switching off lights, there isn't a hotel that has been able to get its control panels right, letting most rooms resemble spooky film sets.
Why do some hotels vary their elevator security panels so you are left searching for them like a drunk person?
And fancy bathrooms with glass walls may make the room look bigger, but spare a thought for company officials who are asked to share rooms to save costs -- they might prefer extra soaps and toiletries over such architectural fripperies.
I'm not a great fan of room service, but I avoid buffets too.
Just recently, the manager of the coffee shop at an international hotel chain in Hyderabad confirmed that there was no change in the menu at the lunch and dinner buffets.
I am partial to a la carte dining for reasons of wanting to eat less rather than more, but recycling is the hospitality industry's worst-kept secret, and who wants to survive on leftovers at those prices?
Off the menu, I try and order something that is not part of the buffet, therefore requires to be cooked fresh, or simply opt for a specialty restaurant over the all-day diner, even if the meal costs so much more. You don't want to be summoning a doctor in a strange city.
Airports now, thankfully, have a choice of restaurants, but I avoid the curry kind, and especially those that also serve alcohol.
I also find arriving early at an airport is worthwhile if you plan to pack in some shopping, particularly for clothes, bags or gadgets.
Again, New Delhi has the best stores, though the airport in Mumbai offers a better experience.
The southern airports are all glitz and gild, but boring.
Goa has the worst departure lounge in India, and Pune reminds you of how airports used to be in India till just a few years ago -- and thank god, they've changed.
I wish IndiGo would offer frequent flyer miles; for my money, they're the best airline in the business, stick (mostly) to their schedule, and even though ground staff are often so harried they can be rude, their on-board service remains the best.
I avoid Jet Airways if I can help it, and don't bother to give them my frequent flyer number when I'm forced to take a flight, because everything about it is jaded.
Spicejet and GoAir look and feel budget, and Vistara has the best seats and food, though I've often wondered why the stewardesses have been given uniforms that resemble night suits made of upholstery fabric.
MORE KISHORE SINGH columns in the RELATED LINKS below...