Reliance's big-bang entry across the solar ecosystem will cut dependence on Chinese imports drastically.
And Ambani's repeated emphasis that RIL's new energy foray will be 'a truly global business' points that his group is playing not just for a share of the Indian pie but to be the OEM in the larger 5,000 GW global market by 2030, points out Shailesh Dobhal.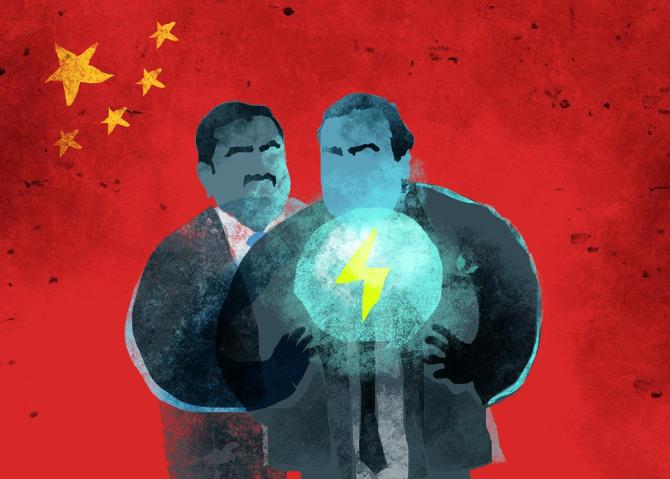 While all the attention is focused on the recent mega announcement by Mukesh Ambani, the country and Asia's richest man, on spending Rs 75,000 crore (Rs 750 billion) over the next three years in pushing Reliance Industries, the country's biggest private firm by revenue, into the clean energy sector, I wish to turn the clock back over a decade -- June 18, 2010, to be precise.
Speaking at RIL's 36th annual general meeting, Ambani outlined his firm's 'transformational initiatives in power' business, spanning generation, transmission and distribution.
Remember this was the time RIL had just annulled the non-compete agreement with Ambani's younger brother Anil, promoter of the Reliance Group (the erstwhile Anil Dhirubhai Ambani Group) with interests in the power sector.
Mukesh Ambani, always a votary for linking and dovetailing his firm's future with the country's development goals, added at that 2010 AGM; 'Lack of availability of electricity in quantity and quality at competitive prices is a big infirmity in India's socio-economic growth and employment generation... we are ready to bring into full play our investment mobilisation capabilities, as well as our superior project execution capabilities, into a sector that is crying out for transformational mega-initiatives.'[
Ambani then went ahead and shared that the firm is drawing up specific plans in clean coal-based power generation, hydel and even in nuclear power, 'as and when it is opened up.'
He added, almost as an afterthought, that the firm is '...also focused on alternative energy domain, with priority on solar power', though he did not give out any specific investment plan or even timelines to achieve the 'progress in the power business which will be one of the growth engines for Reliance.'
Well, that was then, and those mega-investments plans were quietly buried, and maybe rightly so given the subsequent unravelling of the business model in the sector and the touch-me-not reputation that coal-based power acquired in the decade to follow.
Reliance instead focused its energies and investments on retail and telecom in the 2010s, and the results speak for itself.
The recollection of that 2010 AGM is not so much to jog memory on course correction, pragmatism, nimble-footedness, even far-sightedness that Reliance displayed in junking a plan so elaborately tom-tommed to the world, but also to help read between the lines on what the recent announcement on the new energy business will mean for other firms in the country, and elsewhere.
Ambani and (not versus) Adani, Tata, others
Now this Ambani versus Adani rivalry, whether real or imagined, has been the stuff of cocktail-circuit talk.
Note that the two operate in completely different areas, Reliance in oil & gas, retail and telecom and Adani in more infrastructure-led areas like ports, airports, power, roads and gas distribution.
Adani's foray as a producer of clean energy has been a recent phenomenon, but then it has already become the numero uno with plans for a 25 GW installed capacity in the next few years across solar, wind and hybrid-power.
The Tatas too aim to reach 25 GW by 2030 in renewables, the time RIL plans to 'establish and enable at least 100GW of solar energy;.
The big boys may well compete, but if you parse Ambani's AGM statement, it also appears that RIL would more like to play the role of an input and/or original-equipment-manufacturer or OEM to big Indian, even foreign firms, than a fierce rival.
Ambani repeatedly spoke about creating a 'fully integrated, end-to-end renewables energy ecosystem', this time in contrast to virtually an exclusionary tone back in 2010 of becoming an all-in-one power generator, transmitter and distributor.
Moreover, if Reliance is building world-scale factories for solar panels, storage batteries, fuel cells and electrolysers -- the largest integrated renewable energy manufacturing facilities in the world -- obviously it cannot hope to be its only consumer.
In that sense, RIL will complement, more than compete, with the Adanis and the Tatas of the world.
That RIL would play more of an enabler, OEM-cum-financier role is also clear from Ambani's promise that a significant part of its 100 GW target by 2030 will come from "rooftop solar and decentralised solar installations in villages.
Establishment of a project management and construction, together with the finance division to offer end-to-end solutions to all manner of firms and entrepreneurs -- from mega GWs, down to MW and KW ambitions -- also strengthens the idea that Reliance will be more a frenemy than a rival.
Not just aatmanirbhar, but China-mukt Bharat too?
India depends heavily on Chinese solar imports despite imposing heavy duties.
Over three-fourths of solar gear is imported from China, with domestic capacity at just 2 GW per annum, compared to 20GW at our northern neighbour.
Reliance's big-bang entry across the solar ecosystem will cut dependence on Chinese imports drastically. And Ambani's repeated emphasis that RIL's new energy foray will be 'a truly global business' points that his group is playing not just for a share of the 450 GW Indian pie but to be the OEM in the larger 5,000 GW global market by 2030.
Incidentally, the day Reliance announced that work on its four giga factories have started at its 5,000-acre complex in Jamnagar, the United States barred its firms from sourcing polysilicon from Xinjiang, China, on allegations of human rights violations of ethnic minorities in the region.
Note that Xinjiang produces almost half the world's polysilicon, a key material for solar panels and semiconductors.
Reliance's solar photovoltaic giga factory will be making polysilicon from raw silica and will convert it into the final product -- the solar module -- so geopolitical shifts away from China may become a tailwind for it here.
Two of the four giga factories -- for fuel cells and electrolysers -- also somewhat play on jumping directly from internal combustion engine-powered autos to hydrogen and fuel-cell run cars, trucks and the like.
The attempt is to bypass the current favourite lithium ion batteries, that powers today's electric vehicles, and in the process wean the country away from materials like cobalt and lithium where China dominates the supply.
Feature Presentation: Rajesh Alva/Rediff.com