The National Democratic Alliance (NDA) government has certainly focused India's attention on the urbanisation imperative and got the "smart city" concept buzzing.
Image: Indian government has plans to develop mega cities that have robust infrastructure and other civic amenities. Photograph: Reuters
As things stand, the urbanisation agenda is in three parts: urban renewal of 500 cities; rejuvenation of heritage cities (like Varanasi), and the implementation of 100 smart cities; understood to be both "greenfield" and "brownfield". While renewal and rejuvenation are relatively easier to grasp, there appears to be only an evocative imagination in the public mind as to what the contours of a smart city could be.
So, here are 10 suggested attributes that may well describe, and to some extent define a smart city.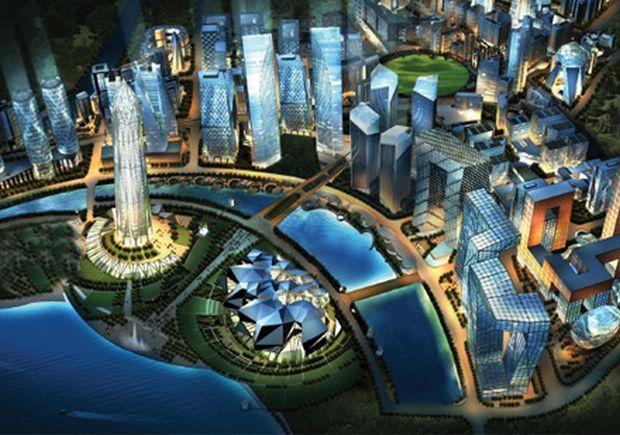 Image: India must have IT-enabled cities. Photograph: Courtesy, GIFT
(i) Information, communication, and technology (ICT)-enabled governance: The international and domestic big daddies of the information technology (IT) world have, with their aggressive presentations, virtually hijacked the smart city definition to only mean IT-enabled administration and governance. While such a restrictive definition is undesirable, enabling ICT is clearly one of the more important planks.
Often referred to as "smart government", the use of integrated technology platforms that are easily accessible across various devices is certainly key to providing access, transparency, speed, participation and redressal in public services.
For example, on December 10, 2014, the President launched the Karnataka Mobile One app in Bengaluru that would provide citizens a range of e-governance services over mobile phones.
(ii) Efficient utilities - energy, water, solid waste and effluents:
This area is often the most talked about after IT. Smart meters, renewable energy, energy conservation, water harvesting, effluent recycling, scientific solid waste disposal methods et al are all clearly the hallmark of a smart city.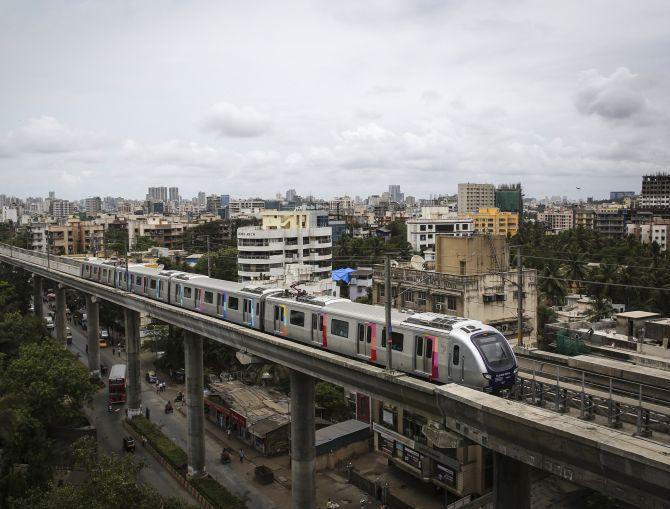 Image: A metro train travels through a residential area in Mumbai. Photograph: Danish Siddiqui/Reuters
(iii) Meaningful PPPs: The creative use of public-private partnerships (PPPs) is a key attribute of the smart city concept.
PPPs are to be used not only as a source of much-needed capital but also for the efficient delivery of utilities with agreed service-level standards.
PPPs could range from health care to street lighting; and be used wherever there is a clear connection between the provision of a service and the ability to charge for the same - directly or even indirectly.
(iv) Safety and security: This aspect is high in public consciousness, especially with disconcerting news on the safety of women, road rage, robbery attacks on the elderly and juvenile delinquency.
Clearly, networks of video-cameras, brightly lit public areas, intensive patrolling and surveillance, identity-verified access, and rapid response to emergency calls are all on the expectations list.
(v) Financial sustainability: The 74th Amendment to the Constitution (1992) enjoins towns and cities to "take charge of their own destinies". Nowhere is this more important than financial independence.
This is only possible with elaborate and extensive tapping of all sources of revenue - property taxes, advertisements et al; coupled with astute collection of user-pay charges across the full range of utilities.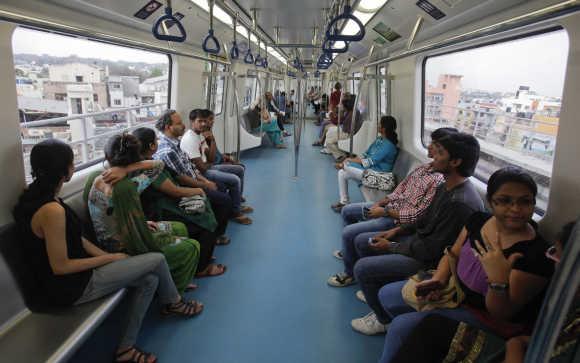 Image: Smart cities should have a robust transport system. Photograph: Reuters.
It also has to do with the elements of fiscal discipline that would enable the raising of long-term debt like municipal bonds.
(vi) Citizen-participative local government: The enthusiastic participation of citizens in local issues needs careful designing of electoral and participative fora.
The current apathy towards civic elections needs comprehensive reversal. (vii) Sufficient social capital: Smart cities cannot be devoid of the appropriate levels of social infrastructure - like schools, hospitals, public spaces, sporting and recreational grounds and retail and entertainment venues. Along with a brain that works, and hands and legs that move, it must also have a heart that beats to the joys of daily living.
(viii) Transit-oriented habitats: "Walk-to-work" is the dream solution here. Nevertheless, conveniently networked public transportation with first- and last-mile connectivities in place, reduced motivation to use personal vehicles, use of electric cars, and bicycle paths are all in the expectation matrix.
(ix) Green features: Minimising the carbon footprint and eco-friendliness are de rigueur. Parks and verdant open spaces, absence of pollution, use of renewables, conservation and recycling are mandatory.
(x) Minimum population criteria: Towards the end of November 2014, Panasonic Corporation announced the opening of its new business vector - the sustainable smart town (SST) at Fujisawa in Japan.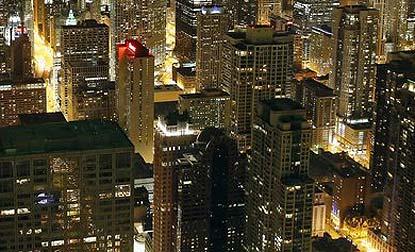 Image: Smart cities must have rooftop solar energy and electric-powered vehicles. Photograph: Reuters.
It has rooftop solar energy, electric cars and electric-powered bicycles. However, it comprises only 1,000 homes over 47 acres that will have a population of 3,000 people.
This kind of project is at best a smart enclave, and clearly, in the Indian context, cannot be included in the definition of a city.
India has 5,545 urban agglomerations. Class 1 towns (called cities) are those with a population of 100,000 and above.
This should be the minimum population cut-off for a smart city. Achieving all the 10 attributes may well be Utopian.
So, maybe even if seven out of the 10 attributes are achieved, we should have no hesitation in declaring an urban habitation as a smart city.