If crude oil and retail petroleum product prices stay where they are now, the net revenue picture next year will be better.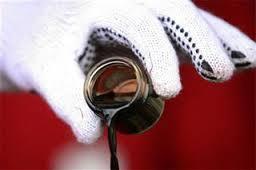 Since history can give us interesting perspectives on current issues, it is instructive to look back to a previous time when oil prices were at or near the current price of $60 per barrel.
That was nine years ago, in 2005-06 -- when India's average import cost of oil was $55 per barrel.
Since then the rupee-dollar exchange rate has moved from 44 to 63, making the dollar more expensive by 43 per cent.
At $60, therefore, oil imports today cost 56 per cent more, when counted in rupees.
With that as background, consider what has happened to retail prices for the main petroleum products -- petrol, diesel, cooking gas and kerosene -- in Delhi.
The figures will be different elsewhere because of local taxes.
Petrol has moved up by slightly more than 50 per cent, from about Rs 40 per litre, and diesel by 70 per cent from about Rs 30.
As for the two still-subsidised products, kerosene (which has the maximum subsidy per litre) has gone from Rs 9 to Rs 15 per litre, or an increase of 67 per cent, while subsidised cooking gas has moved up by 42 per cent, to Rs 417 per cylinder.
In the same period, consumer prices have doubled.
Two conclusions follow.
First, the retail prices of petroleum products have moved broadly in line with, or somewhat more than, the rupee cost of oil imports.
Second, the prices of all petroleum products have gone up by very much less than general inflation.
In the basket of total consumer expenditure, petroleum products now occupy less space.
Now let's look at what has happened to taxes and subsidies.
Back in 2005-06, the government subsidy on petroleum products was a modest Rs 2,930 crore (Rs 29.3 billion).
That figure has ballooned in the 2014-15 Budget to Rs 65,000 crore (Rs 650 billion), or some 22 times what it was nine years ago.
The follow-on question is whether additional tax collections have neutralised the increase in subsidies.
In other words, has the government taken with the left hand, as tax, what it has given with the right hand as subsidies?
That might well appear to be the case.
The duty from excise on petroleum products in 2005-06 yielded excise revenue of Rs 97,900 crore (Rs 979 billion), plus customs revenue of about Rs 9,000 crore (Rs 90 billion).
In comparison, the excise revenue Budget for the current year is Rs 1.65 lakh crore (Rs 1.65 trillion); and there is no customs duty.
So there is an increase of 54 per cent, over nine years, between the two revenue totals. But this is mostly explained by the increase in physical consumption.
The domestic production of crude oil plus net imports totalled about 125 million tonnes in 2005-06, which compares with a likely figure of 190 million tonnes this year.
The increase in physical consumption is over 50 per cent.
Hence, 54 per cent higher tax revenues.
Net of subsidies, petroleum yielded revenue of Rs 1.04 lakh crore (Rs 1.04 trillion) in 2005-06.
It will probably yield less this year, despite vastly increased consumption.
Against budgeted excise revenue of Rs 1.65 lakh core (Rs 1.65 trillion), the budgeted subsidy is Rs 65,000 crore (Rs 650 billion), leaving net revenue collection of Rs 1 lakh crore (Rs 1 trillion).
It could turn out to be less, because the subsidy bill for the first half of the year was Rs 51,100 crore (Rs 511 billion), and the subsidies on kerosene and cooking gas continue even now, though at a lower level.
One can refine these numbers by bringing in other factors, but there is only one broad conclusion possible.
In relative terms, consumers have been protected, while the Budget has taken a hit that shows up in a higher deficit.
If crude oil and retail petroleum product prices stay where they are now, the net revenue picture next year will be better.
But if crude oil prices go up, as some say they will, the government should pass on the higher cost and not absorb it.