Hopes of radical approaches to some of the daunting problems of India, kindled by the massive electoral endorsement Mr Modi received, were belied by the choice of ministers heading some key tasks, says Shreekant Sambrani.
Illustration: Dominic Xavier/Rediff.com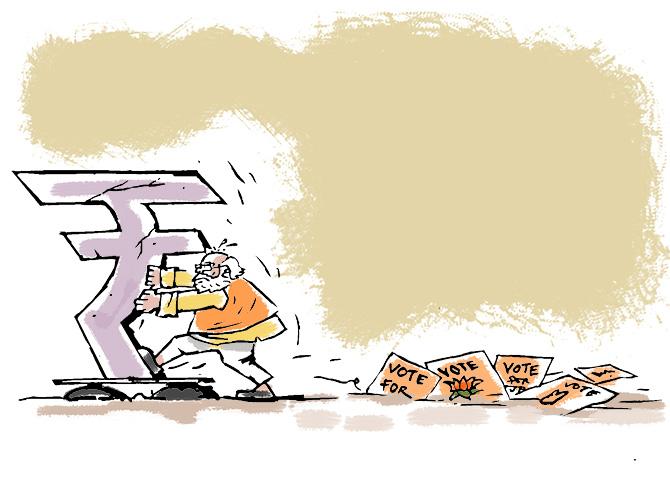 Less than 24 hours after the swearing-in of the new Narendra Modi government was all it took for the Sanskrit saying, "the daydreams of the desperate dissolve no sooner than they form", to sink in.
Hopes of radical approaches to some of the daunting problems of India, kindled by the massive electoral endorsement Mr Modi received, were belied by the choice of ministers heading some key tasks.
The economy has been slowing down for over a year now, but Modi and his government had been in (election-induced) denial.
All bad news was met with rejection, spin or, worse still, suppression.
But you can do it only so long before reality catches up, as it did the day after the poll results came out.
Private consumption, for long the principle engine of Indian growth, is sputtering.
Those who can afford to, have had their fill of cars, bikes, refrigerators, washing machines and kitchen gadgets.
Those who can't, have satisfied themselves with mobile phones.
We do not believe in creative destruction and flog our gizmos and doodads until they die.
The industry, facing mostly just a replacement demand, thus has excess capacity, even in automotives, something that hasn't happened in over two decades.
With relatively high effective real interest rates, it is none too keen to invest.
Infrastructure creation is constrained by government funds stretched to meet wage (and increasing pension) bills, interest payments and various subsidy/welfare schemes.
A slowdown was inevitable, no matter how deeply in the sand the Modi Sarkar buried its head phir ek bar!
A debutant batter can hardly be expected to hit boundaries right from the time of stepping up to the crease in a key match.
That is what poor Nirmala Sitharaman is supposed to be doing.
With all due respect to her demonstrated administrative acumen, she has to learn on the job, but this is not quite the time to do so.
The newly formed Jal Shakti ministry has a catchy title (Mr Modi's hallmark) and brings under one roof all the concerns regarding water.
They are formidable and fiercely challenging.
Mihir Shah has just begun a column detailing these.
To summarise, we face uncertain monsoons, our major renewable source of water.
Ground water has been mercilessly exploited over time without adequate replenishment.
It is now at alarmingly low levels in most of the country.
Agriculturists waste water unmindful of its scarcity, yet no policy measures are in place to stop this.
Most waterways, including the holiest of all, the Ganga, are polluted beyond belief.
Most dams regularly dry up every summer.
Riparian states believe in beggar-thy-neighbour, ready to go to war for water.
Nal se jal is an attractive vote-catching motto, but is fraught. The nal (piping) part is easy.
Surely we shall soon see impressive completion statistics.
But what about the jal?
When cities with long history of piped water supply are going dry, where will far-flung villages get it from?
Gajendra Singh Shekhawat, the minister in charge, is doubtless an honourable man, but what we know of his domain expertise and experience is as scanty as precipitation in this summer of our discontent.
The human resources development ministry was given to someone who was articulate but only tangentially connected with education and then an earnest but unimaginative pracharak in Modi 1.0.
We now have a self-satisfied poet-politician, Ramesh Pokhriyal, heading it, which should cause us all the greatest concern regarding not just our immediate but long-term future as well.
He extolled the virtues of astrology as a premier science in a parliamentary speech in December 2014.
In the follow-up interview with NDTV's Nidhi Kulpati, he was quite aggressive in claiming our ancient knowledge of plastic surgery, nuclear science and all other things the world discovered much, much later.
Ergo, we shall soon leapfrog into vanguard positions in robotics, artificial intelligence and all the other fields that the world is making great strides in.
Why waste years on sustained research, when we have unimpeachable ancient lores?
Education not only does not receive adequate resources but has been treated as the parking slot for inconvenient politicians for more than three decades.
We have turned out whole generations of millions of students with zero skill or analytical abilities, as Harvard Professor Lant Pritchett has repeatedly observed.
The new education policy document warns of a severe learning crisis, but does the good Dr Ramesh Pokhriyal, obviously blissed at his appointment, see it as such?
Water and education are two areas where India, like some dissolute millionaire heirs, has recklessly drawn on its future riches for dubious present gains.
After the last cabinet reshuffle in Modi1.0, this column had observed, 'Mr Modi has shown an enormous penchant for risks that would deter most other politicians and emerge the winner.'
He has done so again by choosing S Jaishankar for the sensitive external affairs ministry.
That he did not care to show the same serendipity in tapping the large pool of talented non-partisan persons to help him deal with these concerns at their crisis points is cause to worry.
Critics galore, including yours truly, but no knights in shining armour with proven competence are on the horizon.
So we are out on a limb, on a wing and a prayer.
Shreekant Sambrani is an economist.