'You may show at the end of December how much money has come into the system, but none would be the wiser because most of see only what we want to see and believe.'
'Some of us will see through it and you will make your proxies call us enemies of the State.'
'I was somewhat with you till here. But we diverge from here on until you can do something which will veer through my cynicism brought about by your policy,' says Harsh N Gokhale.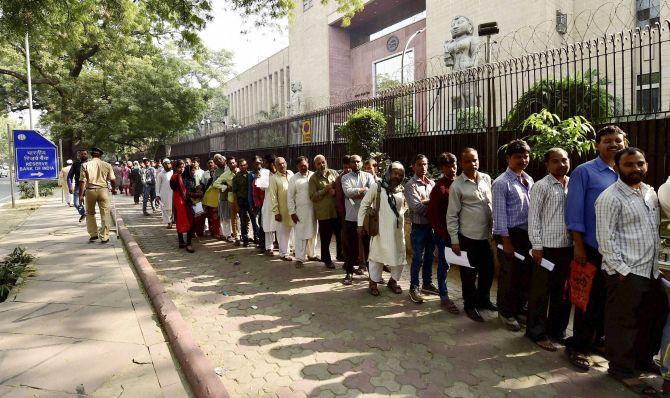 NEW DELHI: A long queue outside the Reserve Bank of India in the capital, November 13, 2016. Photograph: Kamal Singh/PTI Photo
Today is only the third day since you've discarded the 500 and 1,000 rupee notes and yet are there only ominous signs for this country.
I am sure you thought of everything before taking this decision, but when you throw in something from the top in a nightmare system that is India, you won't be able to control all its impact.
I do not know and do not even wish to decipher what your motivations (psychological, political or economic) were because the impact itself is quite harrowing.
Every instance is being dismissed by your supporters as being an outlier case; some cost for some greater good!
My plea is going to deal with the impact and impact alone as I address you, Mr Modi, because you are the government and the government is you.
ALLAHABAD: Women queue outside a bank to exchange Rs 500 and Rs 1,000 notes. Photograph: PTI Photo
#HICCUP 1: YOU'VE MADE UNACCOUNTED WEALTH, BLACK MONEY AND CASH SAVINGS THE SAME
People save differently. Some prefer to save in cash and some don't.
For those who do save in cash, they are feeling morally uncertain if their savings are cash or unaccounted wealth or ill-gotten gains.
In a stratified society such as ours, you've suddenly made the personal a public issue without clarification.
Social standing, reputations and perceptions are more important in Indian society than the truth and if it seems like you are going to the bank to deposit the worst kind of wealth, everyone will have their two cents to share.
Suddenly, the perceived difference between all the three types of cash has withered.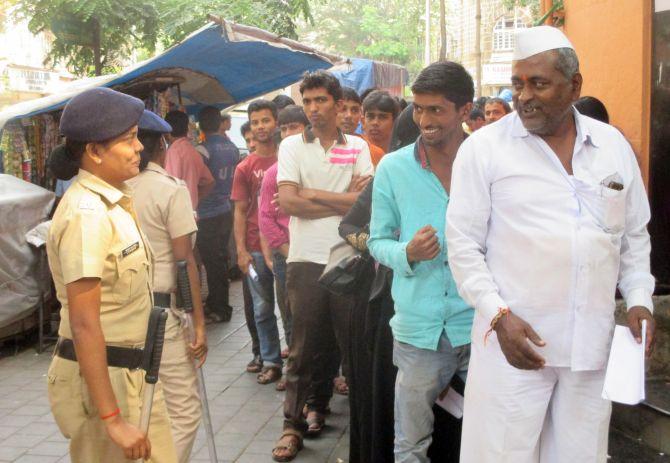 MUMBAI: Security forces were deployed to manage anxious crowds outside banks and ATMs. Photograph: Sahil Salvi
#HICCUP 2: YOU'VE SOLD A LOVELY YARN OF A BILLION RUPEES LYING AROUND UNACCOUNTED
You've really got the burgeoning, salaried middle class in a state of pre-orgasm.
Morally, we now have a one up upon our salary paying, business owning masters.
We dream that we shall sleep on cash filled mattresses like they do and have now convinced ourselves that there exists such a thing.
You've just given us, the salaried middle class a validation of our fantasies.
Mr Modi, stop watching 1980s Indian cinema where cash was stored in walls and toilet flushes.
The rich have one very strong weapon: Money, through which they buy services to convert their ill-gotten wealth/undeclared income.
Remember the Panama Papers scandal (the moneyed class convert their cash to assets or park it in foreign banks)? That has completely disappeared from public memory because everybody is complicit in it.
The poor, the labour, the white collar class amidst several other classifications take measures to save that bit extra and you are selling us the idea that those with tons of it don't have the same idea or inclination?
Who do you think the fool is?
But then that answer is clear for we are the fools who have lapped it up.
You know what is going to happen -- the money in the market which was playing around would be sucked in banks and you can then champion the fact that you've singlehandedly have gotten that wealth within the banks.
But all you've done is just gotten the money available in the economy into the banks, but at a terrible future cost.
The unaccounted wealth is not going to come in as I explain in the next point.
RAJOURI: A queue outside the State Bank of India. Photograph: PTI Photo
#HICCUP 3: NATION'S WEALTH IS GOING TO GET BURNT AND YOU WON'T EVEN KNOW WHO DID IT
What is money?
It is simply a store of value of the resources used in the country.
Therefore, if I have created something and sold it (technology), you have unearthed something and used it (coal) or service has been provided (accountants) all that exchange is represented through money.
This is, of course, a simplification, but then the basis of your decision is also an over simplification of the money market.
Now let's suppose X has tons of cash lying around, (it won't as I analysed above) X cannot deposit it in the bank as X would incur a 230% cumulative tax penalty, which would also eat into X's white money.
X will not deposit it and hence this wealth, albeit ill-gotten, will disappear. (I hope it is not literally burnt as I am really sensitive about the environment).
Will you print the same amount of currency which never came back?
No black money will get deposited because of the high penalty.
As a consequence of that, you will not know who was possibly accumulating undeclared wealth and in the future keep a check on it.
The sources of such wealth will not go away.
This is a one-time reset. Please make the best use of it.
You perhaps want to 'teach' them, a lesson which will cost all of us. Yes, I concede you had granted an amnesty period, but let us assume no one made use of it.
But in the desire to show how strong and tough you are by punishing them let us not punish the Indian economy as a collateral.
The Indian public will conceivably bear the pain if there is a tangible benefit ahead in the road, but if the end itself is not achieved, then this pain is an exercise in futility.
Instead, just tax the defaulters nominally whilst identifying them to keep a future check. Please don't let the money be destroyed. It is the Indian people who have created this wealth, not the government.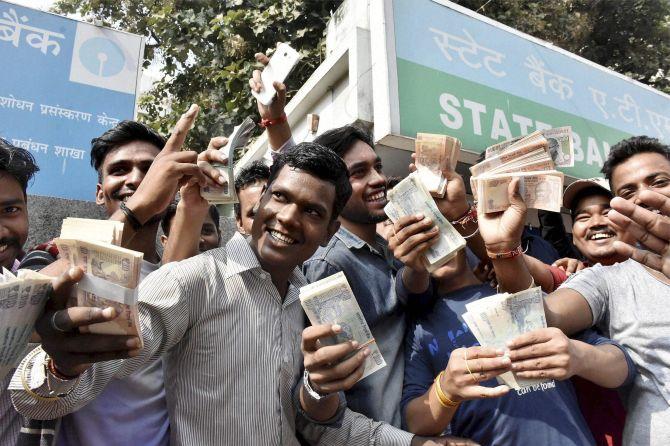 PATNA: People show money withdrawn from an ATM. Photograph: PTI Photo
#HICCUP 4: YOU'VE WASTED MY TIME. WHY WERE YOU NOT READY?
So for the greater good, which is not going to come about, as I explained above, I am going to have to make trips upon trips to the banks and post office, stand in line, and battle institutional apathy because obviously you, Mr PM, cannot stand in every dispute.
There are banks in the middle of the national capital which do not adhere to the work-time set by you!
What can you do if a rural bank or a village bank does not operate properly?
Will you even get to know?
So you expect us, upon the wasted time, to initiate complaints and prove them?
But then how would that also happen?
You have slowly but steadily dismantled the civil society system as an enemy of the State -- those who stand by others in times of crisis.
Now you want individuals to raise the flag -- those individuals who struggle for a daily existence? Or do you want me or the elite class to raise the flag? Because we won't, for most of us will be all fine!
I am not going to only raise the issue of the poor person, the non-urban person, but also myself as the troubled soul.
I have now two 2,000 rupee notes. Thank you for that and the amazing time I wasted.
Now with that, I go to buy fruits, which I cannot, because in return I only get the scrapped money.
So if I buy those fruits I have to stand in line again to deposit the same and it happens over and over again.
I don't have the time for one life and you are making me do all of this as well.
RAJASTHAN: Women queue up outside a bank to exchange their old notes in Beawar. Photograph: PTI Photo
#HICCUP 5: YOU'VE PUSHED THE STATE OF NORMAL INTO FAR-FAR AWAY LAND
Let me start with the larger picture since you are all about the larger good.
Over half a century the Indian currency has spread far and wide as a result of which, whether I am cycling in Ladakh or motor biking in South India I can whip out money and I will get a service and will get change in return.
But now, you have stopped people from exchanging money effectively and thus stopped business.
You will, of course, be worried about an Indian conglomerate losing money by the day now, but can't you also worry about those who make Rs 500 a day?
How will they tide over this?
The state of normal I talk of is liquidity far and wide. Don't think of urban cities, but think of a village and upwards.
By the time the same level of liquidity is achieved it will be years.
Let us take an instance. There is a tea seller anywhere between your city and the next city.
She knows she only makes enough to live two days. She saves money in pennies and she uses the same money to return change to customers.
She goes to the neighbour's shop to get change if she does not have enough change.
Now the customer won't pay, if he pays he won't take old money back and the neighbour does not have new money or cannot part with it. She is stuck.
This is not a price worth paying for some greater good, which won't even come about as I've explained above.
These are not outlier cases. This is the dominant discourse in our country. Please recognise this.
So many rumours abound and so many instructions given. Couldn't you have made it simpler?
Everybody is struggling for a common goal, but not a commonly agreed process.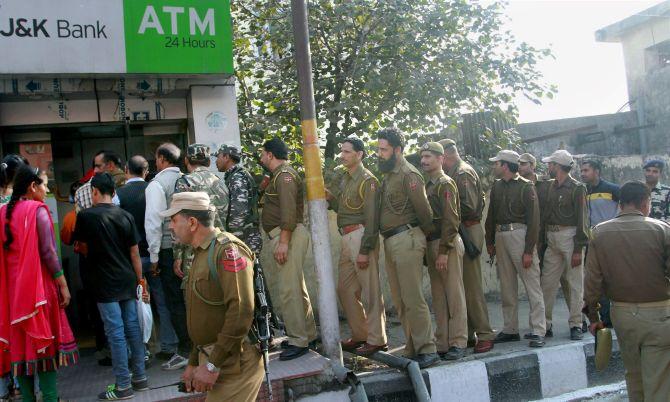 JAMMU: Jammu & Kashmir police personnel stand with other people in a queue outside an ATM in Jammu. Photograph: PTI Photo
#HICCUP 6: YOU'VE PUT US BACK IN THE LICENSE RAJ
Although temporarily, you've put us back in the License Raj. I know friends and family who have gotten cash exchanged through the back door and then at 6 pm instead of 8 pm the bank informs us that the cash has run out.
Obviously, it has. It was me, my politician friend, the businessman friend of the manager, the relative of the cashier who has taken it before the person in queue.
Because the queue does not apply to our class and above.
Can you imagine what must be the case in non-urban areas where power is much more rudimentary and violent?
Where the powerful cast the non-powerful aside and get first preference.
Of course, some of us can't. The furthest you've travelled is to the office or a foreign shore.
Scarcity brings out the vultures.
And this artificial scarcity has brought them out in droves.
There is a vulture personality to all of us and that is what is going to get a free meal this time.
My maid cannot buy rations for more than Rs 200, but she has to buy it for Rs 500 because of some greater goal. Justified? No!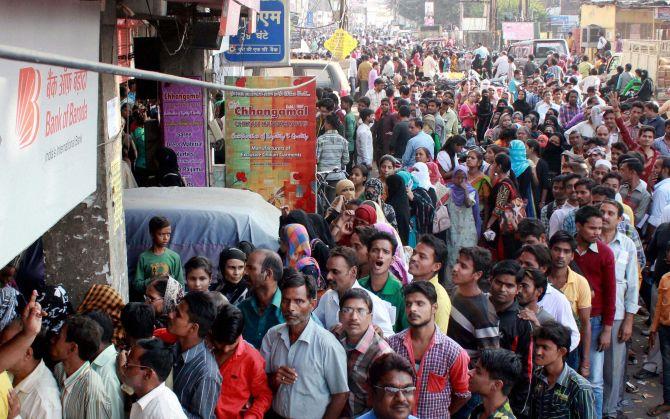 LUCKNOW: People queue up outside a bank. Photograph: Nand Kumar/PTI Photo
#HICCUP 7: YOU'VE KILLED THE UNORGANISED SECTOR
90% of our business, trade and economy is unorganised, which means that they cannot transact business until some normalcy is restored.
By the time everyone manages to withdraw Rs 2,000 a day successfully (dream on) by your calculation it will be done tomorrow perhaps, but by my instinct it will take years.
People cannot earn. People cannot do business.
For those with deep pockets they will tide through. For those who don't, you are responsible.
The space vacated by them, for space will be created, as people will be driven out of business, it will be occupied by the larger players.
Fulfillment of the dream of having Indian markets completely organised, no? What a way.
And here comes the whammy...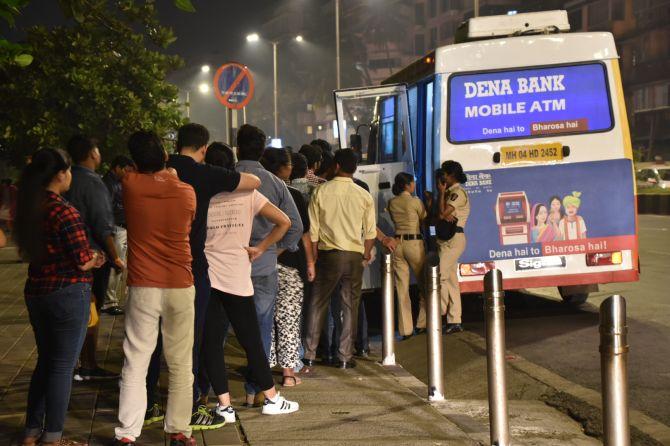 MUMBAI: A Mobile ATM on Marine Drive. Photograph: Sahil Salvi
#HICCUP 8: YOUR PRIZED SALARIED CLASS WILL NOT GET SALARIES SOON
Where does the salary for your support base does comes from? I'll tell you, it is from these businesses.
Merely, 10% of the workforce is in the organised sector -- those with the companies, registered professionals or proprietorships. The rest of the business all earn through transactions done every day with cash.
Just wait until the salaries start getting withheld as trade and transactions drop.
We might be sitting on a civil unrest waiting to erupt.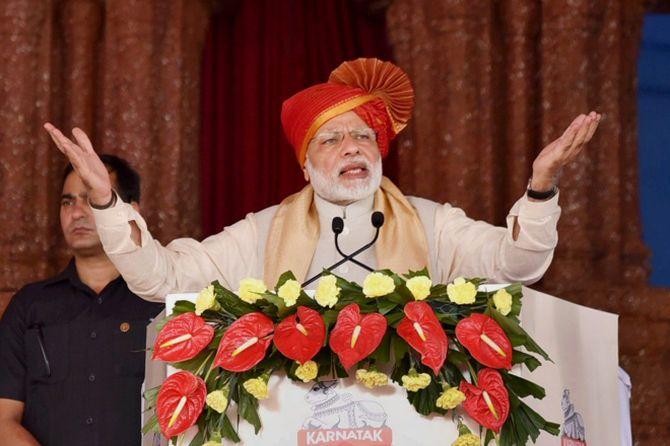 BELGAVI: Prime Minister Narendra Modi in Belagavi, Karnataka, November 13, 2016. PTI Photo
#HICCUP 9: YOU'VE WON THE BATTLE OF ELECTIONS, BUT YOU PERHAPS HAVE LOST THE WAR
Maybe this was a super move to outwit your rivals, but in either case you have also encumbered everyday life.
Perhaps, your rivals in these states will lose. You will win or you won't. But the impact of this is going to stay in the minds.
You may show at the end of December how much money has come into the system (which is only liquidity of the markets), but none would be the wiser because most of see only what we want to see and believe.
Some of us will see through it and you will make your proxies call us enemies of the State.
I was somewhat with you till here. But we diverge from here on until you can do something which will veer through my cynicism brought about by your policy.
IMAGE: AND THEY ARRIVE! Several banks across the country also issued new Rs 500 notes, November 13, 2016 on Sunday. So far, banks had disbursed only Rs 2,000 and Rs 100 notes in exchange for the old Rs 500 and Rs 1,000 notes.
Photograph: PTI Photo
#ACID REFLUX
As I write this I received a video from one of your enthusiastic supporters that when a child is denied some sweet, he is bound to clamor, for he is being denied.
So effectively, you are calling me an insolent child. Allow me to extend the analogy, in order to deny some child you do not know exists or not (the black moneyed) the entire country is being put on a fast.
Some need the sweet immediately, dear sir, for they have very low glucose levels.
Thank you for that. Much needed in a rich, fat and spoilt country like ours!
It is illusion that the inconvenience will be for a short while as I explained above with regard to normalcy.
Of course, your party members do not have cash at all for any elections or they very well took care before the move was made. How do we know they weren;t in on it?
I was sitting on the fence with your government because I cannot suffer fools. But I cannot suffer arrogance and foolishness even more.
You know why we decided on a parliamentary democracy as a means to govern? Because we'd rather be slow and not take decisions than take irreversible decisions.
Imaginably, you must have a lovely coterie of 'yes-sirs' around you who wouldn't be critical of this idea. How could they? It is such a lovely idea.
Harsh N Gokhale is a young Indian who lives in New Delhi.