Reforms under the Modi government will maintain a slow and tentative pace, constantly wary of political opposition. It may not be reform by stealth, but it is reform on the quiet, says A K Bhattacharya.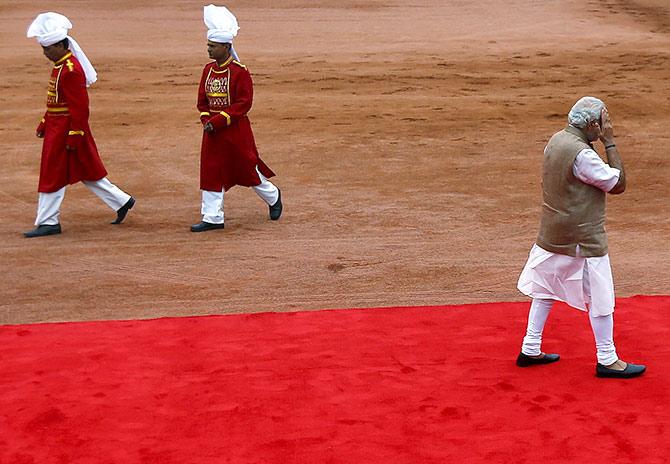 Image: Prime Minister Narendra Modi walks out of Rashtrapati Bhavan after a ceremonial reception. Photograph: Adnan Abidi/Reuters.
Confusion over the quality and pace of economic reforms being pursued by the Narendra Modi government has just got a little more puzzling. Three developments, in the last week or so, are ample testimony to this bewildering experience. Investors and analysts have already begun wondering about the contours of the economic reforms agenda of the Modi government during the remaining period of its tenure and what they might mean for economic growth and investment prospects.
But first it is important to place the current confusion in context. Senior members of the Modi government have made it clear, on more than one occasion, that they do not believe in big-bang economic reforms. When asked why the government has been slow to usher in big reforms, senior ministers have come up with a counter-question: What are the big-bang reforms that need to be undertaken? And when it has been pointed out that reforms of land and labour laws or privatisation could be counted as big reforms, the Modi government representatives have responded with a dismissive smile whose only conclusion could be that this government is just not interested in radical path-breaking reforms.
In a similar vein, Mr Modi has been credited with the view that public sector undertakings can be made to perform better, implying that there is actually no need for privatisation or ownership change to improve their profitability and reduce their dependence on government finances. The relevance of subsidies also has been redefined under the Modi government. It has been reiterated that the government's objective is not to eliminate subsidies, but to target them better so that the needy can benefit from them and the rich are excluded.
And yet the Union Budgets of the last two years have planned for strategic disinvestment of government equity in public sector undertakings, which is a different name for privatisation. In 2015-16, an estimated Rs 28,500 crore was to be mobilised through such equity sales, but the year ended without any such transaction. Similarly, the Budget for 2016-17 has a provision for strategic disinvestment to fetch Rs 20,500 crore.
But if recent developments are any indication, this target too is likely to remain unmet by the end of the year.
For instance, consider the finance ministry's latest response to a question on diluting its stake in IDBI Bank. Remember that the Budget for this year had talked about the government bringing down its stake in IDBI Bank from the current 74 per cent to below 51 per cent.
Even as talks are going on to implement this decision, the minister of state for finance has stated in his reply to Parliament that such dilution of government stake below 50 per cent will not happen. What does one then make of the government's Budget target of strategic disinvestment or the plan to reduce government stake in IDBI Bank to below 50 per cent?
Within days of making this startling revelation, the prime minister, however, entrusted NITI Aayog with a new responsibility that is likely to create a new narrative for the pace of economic reforms. Far from the incremental reforms that this government was being associated with, Mr Modi told the Aayog that it must come up with a reforms agenda that would be transformational. And he added that transformational changes meant that the steps to be devised by the Aayog should not be incremental by nature.
Of course, Mr Modi did not outline any specific transformational measures that he would like the Aayog to recommend, but the thought has once again perplexed those who are tracking the reforms agenda of this government. How would transformational changes differ from big-bang reforms?
If this was not enough to cause confusion, the petroleum and natural gas ministry announced on Monday that prices of kerosene and cooking gas would be raised by small doses every month for the next 10 months. This is a welcome move and shows admirable pragmatism on the part of the government to increase prices in a manner that the decision is politically acceptable. Once again the Modi government took a leaf out of the Manmohan Singh government, which had successfully begun raising diesel prices in small doses, which eventually led to the introduction of market-linked pricing for diesel. Nevertheless, however, it does raise the question on the Modi government's stance on reforms.
The significance of the decision to gradually raise kerosene prices should not be underestimated. For the first time in five years, the government let oil marketing companies raise kerosene prices by 25 paise a litre last month. And now it commits itself to raising the heavily subsidised kerosene prices for the next 10 months.
Cooking gas prices too have not been raised frequently in the past. But now it seems the government is keen on making it a regular monthly feature. In short, the Modi government is planning to eliminate subsidies on kerosene and cooking gas instead of just targeting them for the poor.
Somewhere along the way, the Modi government's reforms perspective seems to have made a strategic shift. If it has shied away from big-bang reforms it is because it realises the political resistance it cannot overcome. But given an opportunity it would go ahead with eliminating subsidies as in the case of kerosene and cooking gas if there are no political upheavals over the move.
On privatisation, too, it might move on as the last word on the IDBI Bank has not yet been heard. In short, reforms under the Modi government will maintain a slow and tentative pace, constantly wary of political opposition. It may not be reform by stealth, but it is reform on the quiet, using whatever political opportunity comes the government's way.