A combination of lower inflation and weak industrial activity should, in itself, induce the RBI to think of rate cuts, rues Devangshu Datta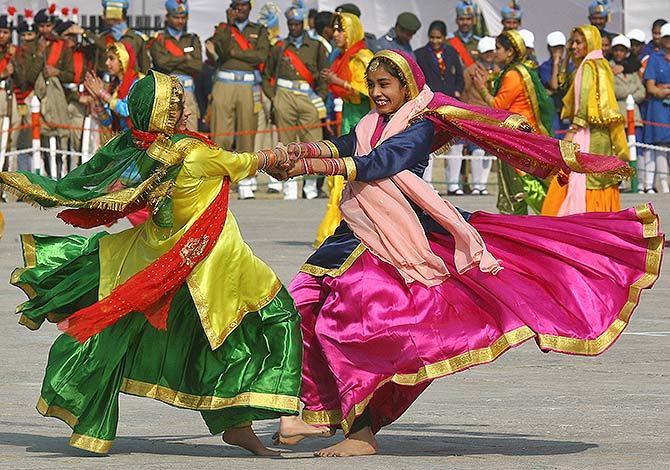 The last fortnight has featured extreme volatility across global bond markets.
In turn, that has caused sharp swings in equity markets.
The global economy may just be entering a new phase.
Europe may be moving into a higher growth trajectory, America may maintain a glide path of growth while China struggles with slowdown.
Bond yields are up.
The euro and sterling have rebounded against the dollar.
Indian markets were also schizophrenic.
But the fortnight ended on an optimistic note with expectations of a policy rate cut.

Conventional wisdom suggests bond yields should move down, and equity up, if inflation cools and growth prospects improve.
Well, rupee treasury yields went up, even though domestic inflation dropped and there is strong consensus that the Reserve Bank of India will cut the benchmark repurchase rate at its June 2 policy meet, or even earlier.

The sell-off in global bond markets has dragged German bond yields back from near-zero or negative levels.
Maybe Europe's expectations are no longer deflationary? In fact, the Eurozone grew faster than the US in the January-March 2015 quarter.
However, American employment data suggest the economic recovery in the US also continues.
Hence, the Federal Reserve could hike dollar rates by September, or by end-2015.
The People's Bank of China has just announced another rate cut -- this is the third since November 2014.

On the political front, Greece walks a tightrope in terms of euro membership, and Britain concluded an election where the Conservatives won a narrow majority, with the Scottish Nationalists gaining ground, as did the racist, isolationist UK Independence Party.
There is some speculation that these elections pave the way for a British exit from the European Union.
The Tories are committed to a referendum on this issue.

India's macro economic projections remain broadly where they were.
Inflation is down.
The Wholesale Price Index registered its sixth month of negative year-on-year (y-o-y) change in April, while the Consumer Price Index dropped to a five-month low of 4.87 per cent.
However, the Index of Industrial Production flattened to 2.1 per cent y-o-y in March, down from 5.1 per cent in February. For the 2014-15 fiscal, the IIP was up 2.8 per cent, a small recovery after a negative (minus 0.1 per cent) move in 2013-14.

A combination of lower inflation and weak industrial activity should, in itself, induce the RBI to think of rate cuts. Corporate full-year results make cuts look like an imperative.

Earnings growth is patchy.
Going sector by sector, there are a few bright spots such as automobiles and telecom textiles, realty, cement and so on, are all running negative.

Net profits have grown at just 1-2 per cent, even after adjusting for massive impairment in Vedanta and for Tata Steel. So far, 24 Nifty companies have declared results and, after adjusting up for impairments, the TCS bonus and so on, net profits fell by 6 per cent.
The banking sector is a broad indicator of health. So far, 23 banks have delivered results and the y-o-y profit growth is just 3 per cent.
Credit growth has fallen to a 15-year low while non-performing assets continue to run high.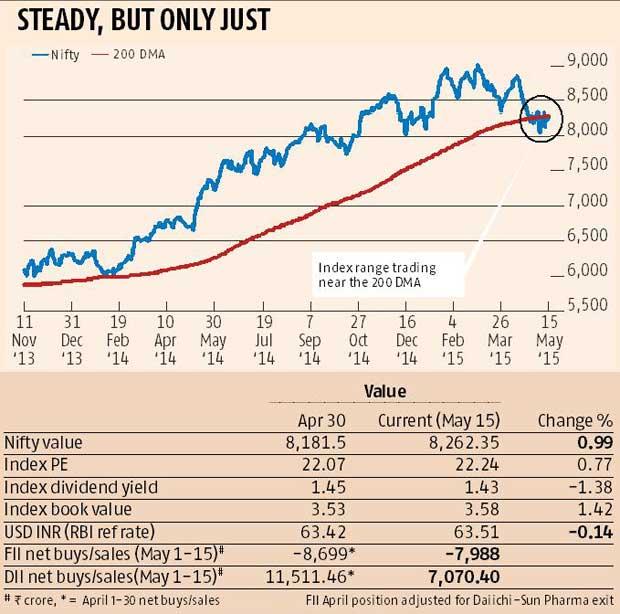 So, there is a compelling argument for rate cuts.
Food inflation is down, crude seems to have stabilised at $65/barrel (Brent).
Even a sub-par monsoon should not lead to strong inflationary pressures.
A cut could lead to some rupee depreciation but that would be a good thing.


Exports have fallen by double-digits in the past six months. Gold imports have ballooned.


Local manufacturers (not only exporters) are being hit by cheap imports.
Hopes for a cut are the only major cause for immediate optimism.
The one-year report card of the Bharatiya Janata Party government is "average".
There seems to have been some reform but it is not enough to meet expectations.
There have also been disappointments such as the retrospective tax demand issues, opacity in the coal auctions and the inability to get legislation passed.

Technically speaking, the indices are flirting with support close to the 200-day moving average.
This reflects the uncertainty of expectations.
There has been FII selling, including selling in rupee debt.
Emerging market investors have been rebalancing with more allocations to China (where there are mega IPOs expected) and to Russia (because crude prices have rebounded).
There has been steady buying from domestic institutions, including mutual funds.
This is welcome but it will not be enough to keep share prices stable if the FIIs collectively pare India weight.
Image: Dancers perform during the Republic Day celebrations in the northern Indian city of Chandigarh January 26, 2011. India celebrated its 62nd Republic Day on Wednesday. Photograph: Ajay Verma/Reuters