'The time has come to incorporate Indian sociology into economic policy.'
'The first step in that direction would be to listen to economists trained in India and not just the US and the UK, argues T C A Srinivasa-Raghavan.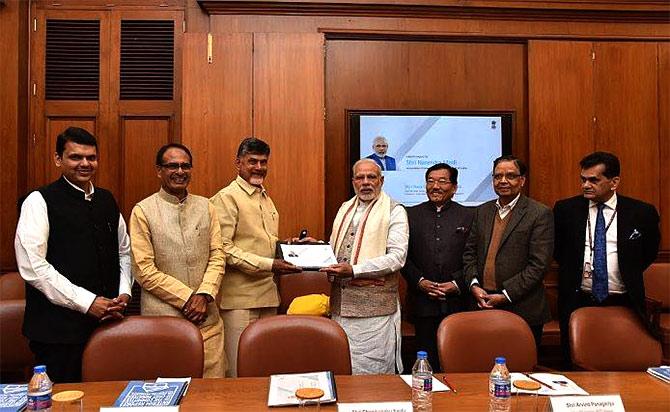 IMAGE: Dr Arvind Panagariya, the Columbia University economist who is now vice-chairman, Niti Aayog, second from right, with Prime Minister Narendra Modi and the chief ministers of Andhra Pradesh, Madhya Pradesh, Maharashtra and Sikkim after they presented their interim report on digital payments, January 24, 2017. Photograph: PTI.
In a recent column I wrote that 'the success of Western economics is rooted in their societies. Our borrowed economics has failed because it is not rooted in India.'
I had also written that the time had come for Indian economists to read what their now-forgotten pre-Independence predecessors had written.
The main body of their work has been compiled by J Krishnamurti, a former Delhi School of Economics professor of economic history.
Predictably, some people asked what precisely is meant by 'rooted' in India.
"Do you mean to say," one of them asked with some acerbity, "Indians respond differently to economic incentives and disincentives?"
The answer, alas, is yes, but not in quite the way it would be understood.
As individuals they may respond exactly like people elsewhere in the world. But as a society we tend to respond differently.
This is what demonetisation has shown.
There was a huge difference between the way individuals responded, with their usual low cunning and the way society has responded, with patience and dignity in the face of great hardship.
This suggests that there is a cultural dimension of behaviour at work which cannot be disregarded by focusing on the individual dimension alone, which is what Western economics does.
Indian economics has to factor this in.
Those who remember P T Bauer's work in the 1950s will recall his theory about West Africans. He said due to cultural factors the natives responded very differently to economic incentives. He was derided by the liberals of that era, but he was absolutely right.
To the extent that cultures are conditioned by religion -- or dharma in the Indian context -- India's economists, many of whom are contemptuous of anything non-Western, need to understand the different aspects of it.
They cannot simply put in place an imported set of incentives based largely on Protestant values -- hard work and greed -- and blame everyone except themselves for it when they don't work.
One useful place for them to begin would be to study what is called the fallacy of composition in logic, which says that what is true of the parts is not true of the whole.
IMAGE: Reserve Bank of India Governor Dr Urjit Patel, centre, was educated at the London School of Economics (BA), Oxford University (MPhil) and Yale (PhD). He worked at the International Monetary Fund between 1991 and 1995 before coming to the RBI on deputation for two years.
Dr Viral Acharya, the RBI's newest deputy governor, second from right, was educated at IIT-Bombay (BTech) and the Stern College of Business, New York University (PhD), where he taught till he moved to the RBI.
Indians? Chee!
The British from the very start thought Indians were not quite up to it and from the middle of the 1870s sought to create the brown Englishman.
Their success in creating an intellectual legacy through these brown sahebs still haunts us. Only the accent has changed to the American.
As late as the 1930s, Sir John Grigg, ICS, finance member of the Viceroy's Council and the supreme boss of the Reserve Bank of India, would go about saying that Indian economists were not good enough.
Why? Because their frames of reference were not the same as that of the imperial government.
During the Great Depression, only India did not take protectionist measures. This led to a lot of criticism from India's economists. Sir John responded with contempt.
At one level, these frames of reference referred to imperial versus nationalist objectives. But at another more fundamental level, they were about societal responses to economic problems and policies.
The Indian understanding of these was at variance with the Western one.
We are different
If, as Western economics says, individuals seek to maximise their individual utilities -- Adam Smith -- and thus maximise social utility, why have Indians not done so for 70 years?
Why has individual utility been made subordinate to social utility?
Only Indian sociologists can tell us. Explanations by Western economists fail to do so.
For example, the core value of Western economics is acquisitiveness.
Is this the core value of Indians also?
If not, what is it and how does it affect economic behaviour?
The propensity to cheat -- contextual morality which in economics comes as the non-contribution theorem -- is also a strong Indian characteristic.
It's because of this that so few Indians pay income tax. So how should tax policy be designed?
Western moral theories assume a strong sense of community that translate into strongly inelastic assumptions.
But Indians, like the sauce, are different.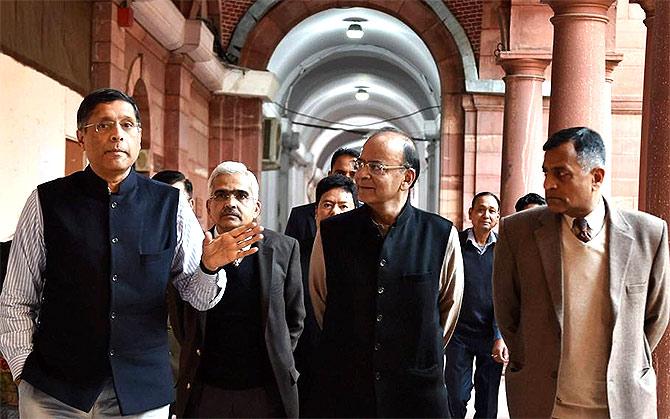 IMAGE: Dr Arvind Subramanian, chief economic advisor to the finance ministry, left, was educated at St Stephen's College, Delhi (BA), IIM-A (MBA) and Oxcord (MPhil and DPhil). He has taught at Harvard and Johns Hopkins.
Think Indian
I don't have the answers to these questions. But I do know one thing: The time has come to incorporate Indian sociology into economic policy.
The first step in that direction would be to listen to economists trained in India and not just the US and the UK.
The beginning must come from the government, especially the finance ministry.
That way lies ignominy, as so many have found to their detriment.
More FASCINATING features in the RELATED LINKS below.