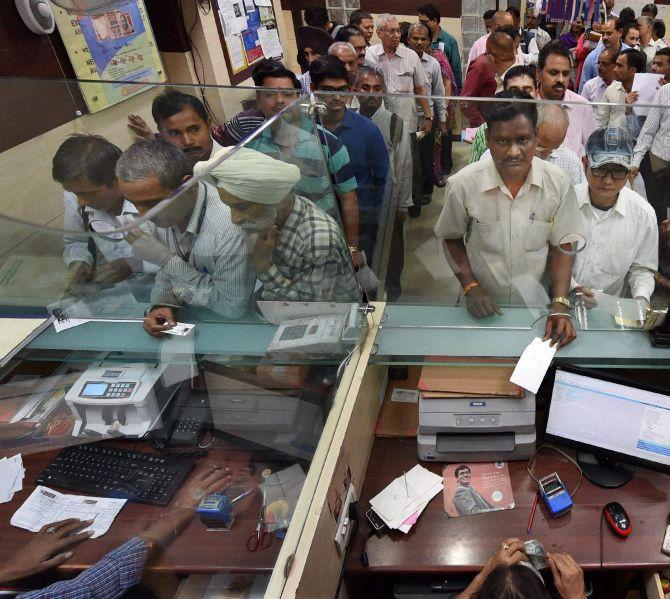 The decision to demonetise old Rs 500 and 1,000 notes was not taken in isolation but in implementing it what did not go as planned was that a "lot of the bank officials really played it in the way they shouldn't have played," NITI Aayog Vice Chairman Arvind Panagariya said.
"Those who have been critical of demonetisation don't understand what a gigantic task it was to remonetise the economy," he said at a lecture on 'Economic Policy and Performance in India Under Prime Minister Modi', hosted by the Deepak and Neera Raj Center on Indian Economic Policies at Columbia University's School of International and Public Affairs.
He said Prime Minister Modi has sent the signal very strongly "that don't take this for granted".
"Demonetisation sends a very, very strong signal that the days when the central government was complacent are over. If you misbehave, it will be seen that you pay for it," he said.
He stressed that the government's policy is to combat black money and demonetisation "had to be the part of the overall strategy".
"This was not a decision taken in isolation," he said on Monday at the lecture attended by Columbia's students and faculty, underlining that "fighting corruption was a major commitment of the prime minister."
When asked by students what did not go as planned in implementing the demonetisation policy, he said, "A lot of bank officials really played it in the way they shouldn't have played, certainly on a scale that I did not anticipate."
He said the Reserve Bank of India knew that a substantial part of the cash that should have been in circulation "was not in circulation, at least not in the formal economy. The RBI knew the notes were not coming through the banking system at all. They were sitting somewhere, so they all needed to come back."
Panagariya said the demonetisation sent a "very, very strong signal" against corruption, as he credited the RBI for playing a significant role in ensuring that the rupee remains stable in the wake of not just demonetisation but also global phenomena like Brexit and the US presidential elections.
He said exchange rate stability has been "achieved" despite the "massive pressures" in the wake of Brexit as well as Donald Trump's election victory.
Noting that the rupee had witnessed a massive devaluation in 2013, Panagariya said that a "much bigger shock" was administered in November last year both due to demonetisation and "more importantly" due to the events in US which led to capital leaving virtually all emerging markets.
"But the rupee remained incredibly stable and the credit for it goes to the RBI. You only heard about the demonetisation story during this period but nobody noticed this fact that the RBI played an admirable role in ensuring that the rupee did not become incredibly unstable. The RBI had a great role to play in that," he said.