Day 2: Syed Firdaus Ashraf attempts to deposit Rs 500, 1,000 notes in his bank account.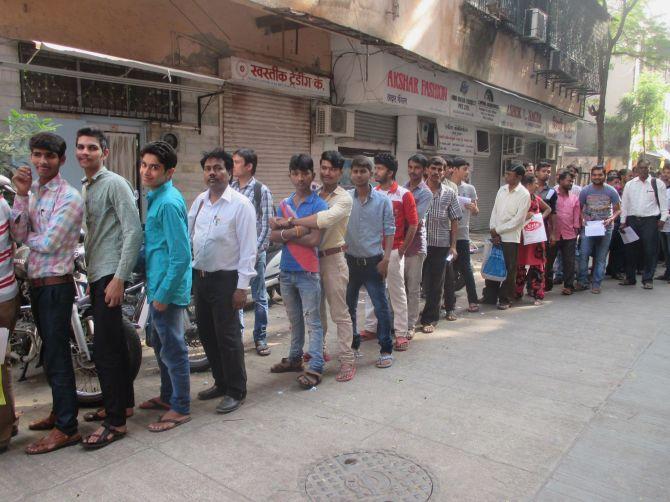 Day 2
Mission: To deposit Rs 500 and Rs 1,000 notes in my bank account.
Accessories: Water bottle and chocolate to tackle low blood pressure.
Optional aids: Magazine and mobile phone to keep myself updated.
Comrades in arms: None.
Last night, I read an interesting tweet about the ongoing demonetisation drive.
The tweet said: 'Marie Antoinette: Use PayTM if you don't have cash.'
It was a taunt about the country's ongoing cash crisis when ATMs are running dry and there is no cash to spend.
To be fair to the French queen, Marie Antoinette never did say: 'Eat cake if you don't have bread,' a callous phrase that went down in 18th century urban legend as having provoked the French Revolution and its subsequent barbarities.
In the current situation, it meant: 'Why bother about cash? Use Paytm.'
When I stood in queue outside the bank on Friday morning to deposit Rs 500 and Rs 1,000 currency notes, I realised its resonance for members of the proletariat like me.
Hordes had thronged the banks on Friday and, just like Thursday, there were three queues: One to exchange notes; one to deposit notes; one to withdraw money.
I stood in the queue to deposit Rs 500 Rs 1,000 notes and waited patiently. Fifteen minutes later, the woman behind me pointed out that our queue had barely moved whereas the other queues had gone ahead.
Half-an-hour later, one gentleman asked, "Is this the queue to deposit money?"
"Yes," I replied.
"Oh! My God!" he said.
"What happened?" I asked, startled.
"I am leaving. I will suffocate standing in this queue."
Another gentleman in the queue said that this is the problem with India and our countrymen.
"Look at the army. They stand for us day and night to guard the border. And people like him cannot even stand in a queue for two hours for nation building," this desh premi declared.
"Nation Building!" I exclaimed.
"Yes," he said, and took out his smartphone to show me a video.
"Look at this video. On Thursday, Rs 600 crore was caught in a car at Worli. Can you see this?" he asked.
"I did not read about this in the newspaper," I said, puzzled.
"That is the problem with these journalists. They never report such things."
"They must have missed the news," I said.
Intrigued by his logic, I asked how demonetisation would help nation building.
"I bought a house in Parel (central Mumbai) for Rs 5,000 per square feet 10 years ago. Today, the same house costs Rs 25,000 per square feet. Why?" he asked.
"Builders and black money hoarders have ruined our country. Parel has not become Dubai in the last 10 years. So have prices of flats in Parel skyrocketed? Do you know flats are cheaper in Dubai than in Mumbai?"
Before I could reply, a bank staffer came around, asking if there were any senior citizens in the queue.
Soon I heard a man speaking to an apparently elderly relative on his mobile phone in Marathi.
"Tumhi yaa, Patkan honar. (You come, things will get done quickly). I don't want to waste four hours standing in this queue," the man on the phone said.
After an hour, the woman standing behind me asked, "Why is our queue not moving?"
I discovered there were many people ahead of us, the Main Aata Hoon (be right back) types.
These people mentioned to others in the queue that they would finish some work and return. And they were coming back just before it was our turn to deposit money.
After eight Main Aata Hoon types arrived ahead of me, the banker said, "Enough. We will only allow those who are already standing in queue."
I asked the banker how the day had been. "Our personal lives have gone for a toss," he said. "Last night, we left the bank at 10 pm and this morning we reached the bank at 7 am."
So will they work every Saturday and Sunday till December 30? "No way. Please don't say that. Already we are going through hell. We have to work this Saturday and Sunday too."
Mr Desh Premi, standing with me in the queue, thought of showing me a picture of how politicians in villages are converting black money into white.
"Yeh Modi," piped in another man in the queue, "Giley ke saath sukhey ko bhi le raha hai (Modi is catching white sheep too along with the black sheep)."
"I only had Rs 15,000 of Rs 500 notes with me. I do not earn more than Rs 10,000 a month, but I have to go through this. Do I look like a black money hoarder?"
Mr Desh Premi was apoplectic. "You have a smartphone. Every person has a smartphone and I feel the future is Paytm. Why go to ATM?"
"I have no money in my pocket now. The ATMs are shut," the other man replied. "Paytm ko baad mein dekhenge (I will see what Paytm is about later)."
Soon, the expected heated argument about jumping the queue erupted.
Arrey maramari karo thoda public ko majaa bhi aayega. Kya phaltu mein khaali chilla rahey ho. (Please fight so that we get some entertainment. Why only shout at each other?)," another man told the hollering duo in that typical needling Mumbai manner.
Finally, after two hours, I approached the counter where I saw one man pleading with the teller to give him Rs 100 notes because he had to pay his employees salaries.
His request was fortunately heeded and he was given two notes of Rs 2,000 and another Rs 6,000 in Rs 100 notes.
I bid farewell to my Rs 500 and Rs 1,000 notes and my two-hour ordeal ended.
On my way back to the office I met the coconut vendor who I had met the morning after the prime minister banned the Rs 500 and Rs 1,000 notes.
"How is business?" I asked.
"There is no business. People are not drinking coconut water for the last three days because they don't have change."
I mentioned what Mr Desh Premi had told all of us standing in the queue. "Paytm karo."
"What is Paytm?" he asked.
"People can transfer money to your smartphone."
"What is a smartphone?" he asked.
I asked to see his mobile phone.
He took out an ancient Nokia keypad phone.
Marie Antoinette and her erroneously-attributed-quote-to-her waltzed into my mind.
'Eat cake if you don't have bread.'
IMAGE: People queue outside a bank in Lalbaug, central Mumbai, November 11, 2016. Photograph: Sahil Salvi