In spite of an overall healthy rise in exports, there are many traditional sectors which used to be the mainstay of India's exports in the past, but are now suffering from significant weaknesses, says A K Bhattacharya.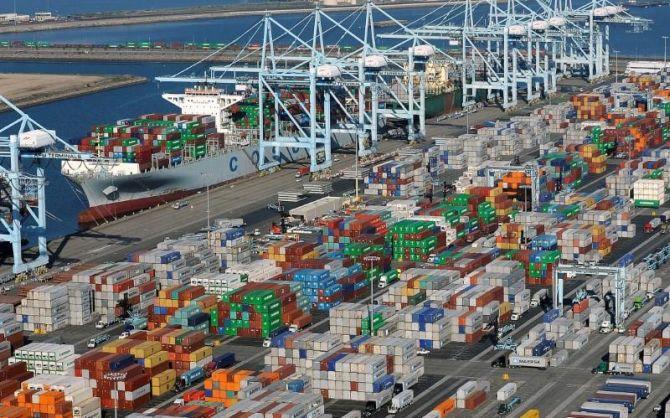 India's foreign trade performance in September 2017 has kindled hopes of a pick-up in the pace of economic growth.
A healthy growth rate of over 25 per cent in merchandise exports has certainly contributed to such optimism.
Similarly, imports growth of over 18 per cent is seen as a sign of a revival of domestic demand fuelling green shoots of recovery in the manufacturing sector.
But how real and sustainable is the exports revival and does the rise in imports actually indicate a pick-up in domestic manufacturing?
To get an answer to these questions, it will be relevant to assess India's foreign trade performance for the first six months of 2017-18.
The overall numbers on exports during April-September 2017 are quite impressive.
At 11.5 per cent, the growth is the best seen in the last few years, when exports growth was tepid and there was even a decline in one year.
An improvement in international crude oil prices has helped total exports as petroleum product exports increased by 26 per cent in this period.
Not much should be read into this as this is largely a function of international crude oil prices.
So, if you exclude petroleum products from the exports basket, the growth rate comes down to 9.7 per cent.
Apart from petroleum products, there are 10 more categories of commodities that together account for as much as 85 per cent of India's total exports.
These categories are: engineering goods, chemicals, marine products, rice, textiles, gems and jewellery, meat and poultry products, leather products, pharmaceuticals, and electronic goods.
An analysis of these items throws fresh light on India's exports performance.
To begin with, take a look at engineering goods, which made a healthy recovery in the first half of the current financial year.
At $37 billion, engineering goods exports clocked 20 per cent growth, emerging as the single largest category of exports.
Indeed, their value was much more than that of petroleum products at $18 billion for the same period.
The pick-up in engineering goods exports also augurs well for the manufacturing sector and its ability to create jobs in the economy.
Chemicals exports, too, grew by 25 per cent and were estimated at $8.52 billion in the April-September period of the current financial year.
But this growth is significantly due to an improvement in crude oil prices which have a direct impact on organic chemicals in particular.
Marine products and rice also recorded healthy increases in exports at $3.74 billion (34 per cent growth) and $3.73 billion (25 per cent growth), respectively.
Good news from exports, however, ends with these five categories and the exports performance of the remaining six product groups is a cause for concern.
Gems and jewellery, which used to be one of India's biggest items of exports, recorded a decline of about 4 per cent in the first half of the current financial year.
At $21.34 billion, gems and jewellery as a sector is no longer a net foreign exchange earner.
For the same period, India imported pearls and precious stones worth $17 billion, representing a 45 per cent jump over the same months of 2016.
Add $19 billion worth of imports of gold and silver in the same period (growing by over 113 per cent), the exports performance of gems and jewellery does appear to be a cause for concern.
Textile exports at $16 billion grew by only 7 per cent.
Both gems and jewellery and textiles are employment-intensive sectors.
Their poor performance does not bode well for the domestic economy where job creation has turned out to be a formidable challenge.
Electronic goods exports at just $3 billion (growing by 5 per cent) also offer no solace on this front.
A bigger cause for concern is pharmaceutical exports, which fell by about 5 per cent to just about $8 billion.
This used to be a major exports area and the declining trend is nothing but ominous.
The relatively poor performance of the two remaining sectors reveals how even politics may have impacted exports.
Exports of meat, dairy, and poultry products increased only by 2 per cent to clock a half-yearly figure of $2.02 billion in the current financial year.
Similarly, exports of leather products recorded an increase of just 2 per cent at $2.72 billion.
Both these sectors appear to be a victim of the recent policies that had restricted cattle trade, aimed at preventing consumption and sale of beef in different parts of the country.
An environment has been created that does not encourage businesses that depend on cows and buffaloes.
A direct outcome of that is negligible growth in exports of meat, leather and leather products this year, compared to a healthy rise in previous years.
On the import front, the first half of 2017-18 has seen growth of 25 per cent, but excluding crude oil and precious metals like gold and silver, the growth rate is only about 12 per cent.
This growth is likely to be interpreted as a sign of a recovery in the domestic industrial sector.
However, the composition of goods, whose imports have increased significantly in this period, tells a slightly different story.
Imports of electronic products grew by 36 per cent to $27 billion, indicating the adverse impact such rising imports could have on domestic manufacturing.
Imports of coal, which India possesses in plenty, jumped by 57 per cent to $10 billion.
Even imports of pulses, which saw a healthy crop last year, jumped by 18 per cent.
It would thus appear that in spite of an overall healthy rise in exports, there are many traditional sectors which used to be the mainstay of India's exports in the past, but are now suffering from significant weaknesses.
Non-oil non-gold imports have seen a healthy rise, but there are serious concerns over an import rise in some sectors like electronic goods, coal and pulses.
In short, it is a bit too early to celebrate over India's foreign trade performance.
Photograph: Aly Song/Reuters