'All the three stakeholders will have to sacrifice their current position and find an amicable solution to the present predicament,' notes Himanshu Kapania.
Illustration: Dominic Xavier/Rediff.com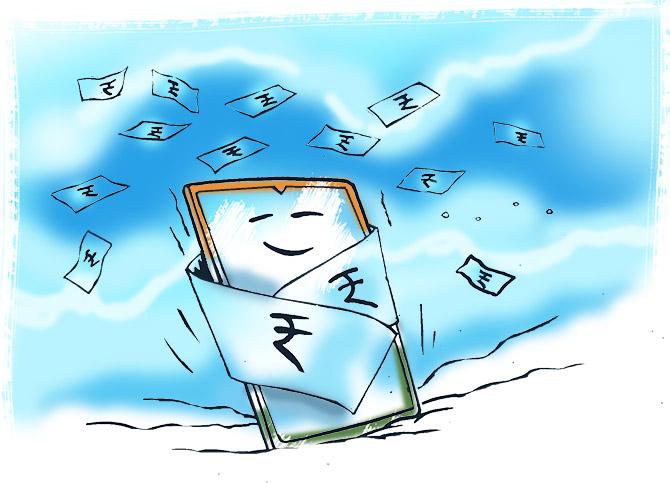 We are at the cusp of a revolution, fundamentally altering the way we live, work and relate to one another.
Today, digital Innovation is happening at an unimaginable scale and pace, empowering consumers and disrupting traditional business models.
For example, Uber, the largest taxi company does not own any vehicle and YouTube, the most popular media company does not create any content.
Digitisation is no more a choice but a necessity, for individuals, corporates and countries alike, to stay relevant in this fast changing world.
Our prime minister aptly identified the Digital India programme as a key impetus for doubling the country's gross domestic product to over $5 trillion and a bridge for empowering its masses.
While there are signs of economic slowdown, significant opportunity exists in India's digital economy, estimated to be unlocked from existing $200 billion to $1 trillion over the next five years.
Digital contribution to the Indian economy can potentially grow from current 7 per cent to 20 per cent by 2025, but this will involve early adoption of latest technologies by corporates, refreshed and bold regulatory framework suited for the new digital era and a collaborative approach among all digital ecosystem players.
The mobile sector will provide the bedrock infrastructure necessary to support the flourishing digital economy.
Telecom operators's connectivity revenue over the next five years can at best be $60 billion to $70 billion (present $21 billion), while the sector remains critical driver to unlock India's 'One Trillion Dollar Digital Economy'.
Let us study the emerging growth opportunities in Indian Digital economy.
One of the largest ICT consumer market
India's current single digit contribution of digital to its economy certainly appears low in comparison to the US and China where digital economy contributes 30 to 35 per cent of GDP.
Still, the upsurge in digital consumption in India during the last three years, has made the country one of the largest 'information and communication technology' (ICT) consumer market in terms of volume, though we lag behind in value.
For example:
India is the world's 2nd largest and fastest growing broadband market with over 650 million high speed broadband users, with significant future potential as Broadband penetration is still low at 55% of population.
Each broadband user is presently consuming over 10 gigabytes per month, making us globally the largest data consuming nation.
India is the largest market for Facebook (300 million users), WhatsApp (400 million), YouTube (265 million) etc, and second largest smartphone market.
The rapid pace of digital adoption has transformed the country into a big market for host of digital consumer services in entertainment, social, e-commerce, e-taxi, mobile payments, food delivery etc. It has attracted global giants like Amazon, Alibaba, Apple, Google, Facebook, Walmart, Uber, Netflix, Softbank, Tencent, Hotstar, Samsung, Xiaomi, Microsoft etc. and is supporting a plethora of Indian companies and start-ups.
Big opportunity for Indian enterprises
While consumers have been the biggest beneficiaries thus far, latest technological innovation will lead to a supply-side miracle, with long-term gains in efficiency and productivity.
Transportation and communication costs will drop, logistics and global supply chains will become more effective and the cost of trade will diminish, all of which will open new markets and drive economic growth.
Future technologies like 5G, artificial intelligence, machine learning, Internet of Things, blockchain and Big Data etc. hold potential to take India to newer heights.
The last four generations of wireless mobile service technologies have largely focused on consumers.
The introduction of 5G technology will not only augment consumer experience with enhanced capacities and speeds of up to 20 Gbps, it will also open a new domain for businesses and enterprise verticals, connecting nearly 10 billion devices, sensors & machines.
Ultra reliable, low latency 5G machine to machine communication will support new Enterprise Use Cases including
Transport vertical: Driverless cars, connected cars.
Manufacturing vertical: Robotics and sensors transmitting real-time data.
Media vertical: High definition video conferencing services and 4K live content streaming.
Healthcare vertical: Remote surgery, patient monitoring and other applications.
Smart Homes and Smart Cities: Linking multiple devices through a cluster of sensors for monitoring and connectivity.
Education vertical: Live remote classrooms transmitting content across geographies on 5G Network and Virtual & Augmented Reality devices.
While we can keep eulogising the power of these technologies, it is equally important to analyse who will lay the necessary digital infrastructure for highly capital intensive 5G services, with projected investments of over $150 billion (Over Rs 10,00,000 crore) for building nationwide dense 5G network.
The telecom sector crisis
Paradoxically, while the Indian telecom sector remains under deep financial stress, everyone including the government, India's citizens and its enterprises are once again looking forward to private sector mobile operators to launch latest 5G services -- India's evolution to a Gigabit society, thus help participate in the 4th Industrial Revolution.
There are three key stakeholders in the digital infrastructure ecosystem -- customers, government and telecom operators.
Out of the three, drawing reference to 'Porter's competitive 5 forces' model, two stakeholders are enjoying disproportionate benefits and power on the miseries of the third.
Currently, Indian consumers, due to brutal price competition, enjoy by far the world's lowest tariffs, though there is room for improvement in service quality.
In comparison, the Indian government earns nearly 35 per cent of the consumer's mobile bill as taxes and charges amongst the globally highest spectrum prices, accentuating telecom operators's costs.
The telecom sector crisis has reached a juncture in its lifecycle that needs a bold and refreshed regulatory framework suited for the new digital era, like the earlier NTP '99 Policy.
All the three stakeholders will have to sacrifice their current position and find an amicable solution to the present predicament.
One option is to pass the entire burden on to consumers, raise tariffs exorbitantly, three to four times from the present level, but it may in the long run impact India's digital aspiration.
Alternatively, the government accepts the China-like low taxation model, where spectrum is offered free of charge and overall tax burden on the industry is manageable.
I believe for digital economy growth, a forward looking regulatory intervention is paramount, which addresses industry challenges including a. floor price, b. lower taxes, c. affordable spectrum and d. resolution of legacy issues etc.
This will ensure a thriving competitive sector attracting large investments necessary for building India's 4G & 5G digital Infrastructure.
It is critical that this core sector returns back to its role of nation building and provide bedrock digital infrastructure for the entire range of digital services.
A bold policy intervention by the government can bring the sector back to profitability, attract necessary capital investments and pave the way for this 'Golden Digital Economy' era.
Himanshu Kapania is former managing director, Idea Cellular.