'Indian doctors have also been wary of patients learning about drugs and brand names.'
'Probably harking back to the Brahmanical tradition of preserving information and knowledge from getting polluted by the lower classes,' says Ambi Parameswaran.
Illustration: Uttam Ghosh/Rediff.com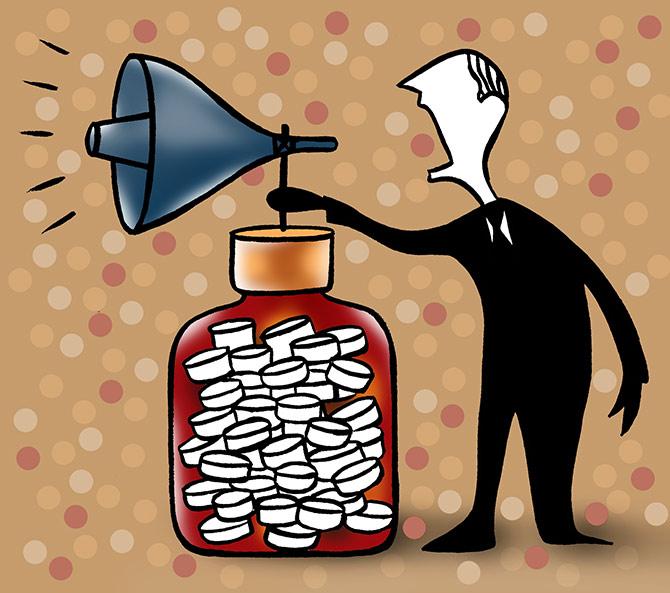 It is now 20 years since the US Food and Drug Administration allowed direct-to-consumer advertising of prescription medication.
This sector, known as DTC, has been the fastest growing sector in mass media advertising over the last decade and has been a heaven-sent blessing to beleaguered ad agency networks.
Blockbuster drugs like Viagra and Cialis have all had huge media budgets, asking patients to 'ask your physician' about the brand.
While DTC advertising is big business in the US, it is yet to gain favour in most other parts of the world.
Ethical marketing or what is known as doctor promotion has been the staple of prescription medication marketing )called Rx) the world over.
There is an inherent play of information asymmetry, a topic which won the Nobel Prize in economics for Joseph Stiglitz et al in 2001.
In short, the doctor possesses a lot more information than the patient. And plays on this information asymmetry.
Indian doctors have also been wary of patients learning about drugs and brand names. Probably harking back to the Brahmanical tradition of preserving information and knowledge from getting polluted by the lower classes.
There was a time when companies used to be wary of any form of media advertising for brands [that could be promoted in the media], lest doctors completely switch off prescribing the brand.
In the US the medical profession has accepted media advertising as part of the overall promotional mix of even prescription brands.
In fact, though Tylenol (Johnson & Johnson) was promoted in the media to consumers, doctors continued to prescribe it.
Not so in India in the past.
But that is changing rapidly. One, patients are today able to do a lot of research on the Internet before and after exiting the doctors' chambers. So the huge information asymmetry that existed till the 2000s is disappearing.
Secondly, doctors have woken up to the fact that it is not just information that they are privy to, they also dispense advice and trust.
Thirdly, the role of the chemist, too, is changing.
As a result of these changes in the Indian pharmaceutical industry, we are seeing the emergence of three types of communication platforms.
There is the classical Rx promotion.
Many prescription medicines can't be promoted in the mass media; they rely entirely on Rx or doctor promotion. So, thousands of medical representatives are deployed to repeat rote messages to doctors in the nanoseconds they get in the doctors' chambers.
Unlike in other parts of the world, India is almost completely bereft of doctor-specific media such as journals and medical practice magazines (is there an opportunity waiting to happen there, I wonder).
The second type is the classical over-the-counter brands.
These brands don't depend on doctors for their sales and focus all their efforts on consumers. It is, however, to be noted that doctors too may prescribe these brands, a phenomenon common in smaller towns where doctors routinely suggest brands like Horlicks and Strepsils.
The third emerging type is the OTx.
Here the brand is promoted to doctors just like Rx brands, but may be with a little less gusto. But there is a steady stream of advertising aimed at consumers.
In the 1990s this would have been suicidal. Doctors would have protested and stopped prescribing the brand immediately fearing an erosion of their 'information asymmetry.'
The medical representative might have been banned entry even. But not any more. Multiple brands are doing this double dipping.
In a general interest magazine I noticed a double-page spread that explained a lot of details about constipation, including the right posture to get the best 'bowel movement.' There was no mention of a brand, though the company name was visible loud and clear.
Interestingly, just a few pages later, in the same magazine was a half-page ad for the laxative brand from the said company. I thought that was an interesting move.
Indian pharmaceutical players need to experiment with such techniques to improve their own marketing efficiencies.
The number of doctors in this country is set to cross 950,000 and if we add other health workers, the number will be much bigger.
Putting in place a bigger and bigger medical representative field force, making them repeatedly call on doctors every week will hit a point of diminishing returns soon. There has to be other ways to be experimented with.
Targeting doctors with digital media is one emerging trend. Using a judicious mix of media advertising, OTx strategy may all need to be reviewed and tested.
Unfortunately, the global experience may not be applicable in India since we do have our own issues of the same molecule being marketed, often by a hundred companies.
So what is a brand in that setting? And how to do smart marketing of a brand in what is essentially a 'branded generics market'?
Some signs are already visible. The power of digital, mobile can be harnessed by companies to target messages at doctors.
The growing knowledge power of consumers offers its own opportunities to use a mix of media and digital assets.
Medical representatives need to be empowered to do more than just rote detailing.
The true winner in this market will be the companies which are willing to experiment with new marketing tools.
Or, as they say, that is what the doctor ordered.
Ambi Parameswaran is a brand strategist and founder, Brand-Building.com. He can be reached at ambimgp@brand-building.com
MORE ADVERTISING features in the RELATED LINKS below...