'Is the tech wonder of our times headed for trouble?' asks Ajit Balakrishnan.
Illustration: Dominic Xavier/Rediff.com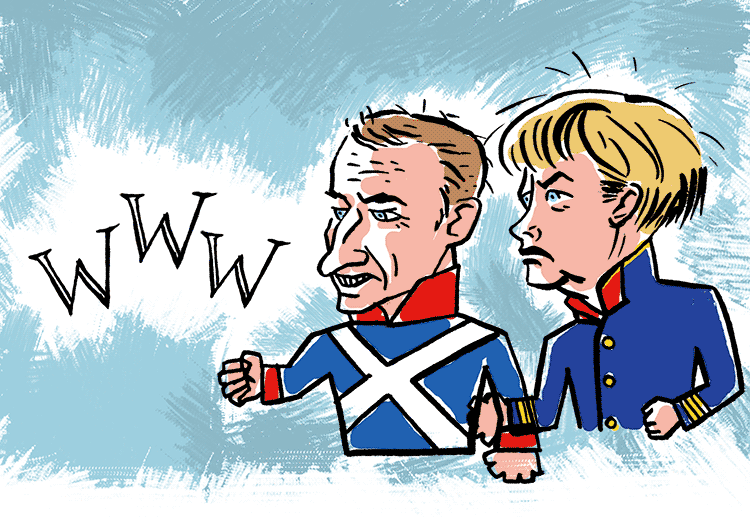 'Merkel and Macron warn against perils of digital imperialism'.
I rubbed my eyes in disbelief when I read this in the respected and normally balanced British newspaper, The Telegraph, reporting from the World Economic Forum at Davos a few weeks ago: Angela Merkel, chancellor of Germany, and Emmanuel Macron, president of France, warning the rest of the countries of Europe 'to prepare a joint defence against digital imperialism warning that the bloc risks being left behind as US corporate giants and the Chinese State fight for dominance over the information revolution'.
I needed to not only rub my eyes but also perhaps pour cold water on my head to wake up and tell myself that I was not imagining all this.
France, one of the most vicious colonisers of all not so long ago, warning others about a new wave of colonialism?
Germany, which spent most of the first half of the 20th century waging two World Wars, warning the world about imperialism?
This apparent rant comes on the heels of the European Commission's decision to fine Google a gigantic $2.7 billion for antitrust violations pertaining to its Google Shopping search.
According to the European Commission, Google has 'systematically given prominent placement to its own comparison shopping service and demoted rival comparison shopping services in its search results as a result of which rival comparison shopping services appear on average only on page four of Google's search results, and others appear even further down.'
In another bewildering twist, and from what I can make of it, at least half of America, the country that created the Internet and promoted it to the rest of the world, seems to be convinced that its presidential election -- the one that made Donald J Trump US president -- was tampered by the Russians using the power of the Internet.
As they would have it, but for this tampering by the Russians, Hillary Clinton would have been elected president!
Then comes the sad news that Sri Lanka's Buddhists and Muslims are at war with each other and that (this is from the tech enthusiastic site Engadget), 'in an effort to curb extremist violence in Sri Lanka, government officials have ordered some social networks to shut down... the blockage affects Facebook, Instagram, Viber, and WhatsApp, specifically', and, according to Engadget, in the past, Turkey has done similar, censoring tweets and condemning social media as 'the worst menace to society'.
'Late last year, Congo ordered cuts to the Internet and SMS to slow down protesters. And less than a day after that instance, Iranian officials blocked mobile access to Instagram and Telegram.'
My poor, weary eyes! By now I have rubbed and rubbed them in a vain attempt to make sense of all this.
Is it free speech that is being suppressed, as Engadget speculates, or is it that a small super-Westernised section of society in many different countries that is protesting, or is it that the mere availability of communication channels makes some sections of society make their protests sound disproportionately loud?
The Competition Commission of India has also chipped in, after being prodded for almost a decade by courageous Bharat Matrimony, and ruled that Google abused its dominant position and imposed a penalty on Google amounting to 5 per cent of the average revenue generated from India over the three years to FY15, an amount of Rs 1.35 billion, which has to be deposited within 60 days.
The CCI explained that the company 'was found to be indulging in practices of search bias and by doing so, it causes harm to its competitors as well as to users'.
And to cap it all, Tim Berners-Lee, the man who thought up the idea of the World Wide Web (guys and gals, that's what the 'WWW' in front of your personal or office Web site stands for), writes in Britain's The Guardian newspaper:
'The Web can be weaponised -- and we can't count on big tech to stop it... It's dangerous having a handful of companies control how ideas and opinions are shared. A regulator may be needed.'
'These dominant platforms are able to lock in their position by creating barriers for competitors. They acquire startup challengers, buy up new innovations and hire the industry's top talent.'
'Add to this the competitive advantage that their user data gives them and we can expect the next 20 years to be far less innovative than the last'...
'Today, I want to challenge us all to have greater ambitions for the Web. I want the Web to reflect our hopes and fulfil our dreams, rather than magnify our fears and deepen our divisions'...
'Let's assemble the brightest minds from business, technology, government, civil society, the arts and academia to tackle the threats to the Web's future. At the Web Foundation, we are ready to play our part in this mission and build the Web we all want. Let's work together to make it possible.'
Ajit Balakrishnan, chairman and founder of Rediff.com, is the author of The Wave Rider, A Chronicle of the Information Age.
You can write to him at ajitb@rediffmail.com