'The 24x7 power for all vision is inspiring, because as we've so often seen, where India leads, the world follows,' says Rajiv J Shah, President, The Rockefeller Foundation.
Illustration: Dominic Xavier.Rediff.com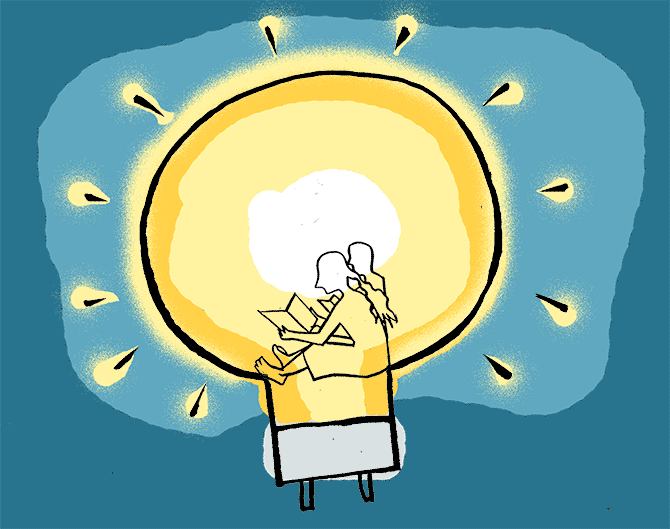 Under Prime Minister Narendra D Modi's leadership, India has set an audacious goal: To end energy poverty in India by ensuring 24x7 power for all its citizens in the next four years.
This is no small task. Today, nearly 300 million Indians — out of 1.2 billion people worldwide — live without access to electricity. As
a result, they cannot benefit from the power that lights our homes, brings information to our fingertips, refrigerates vaccines that protect us from diseases, and lets our children study longer.
And, perhaps most importantly, they are unable to use electricity as a means to lift themselves out of poverty and enter the modern economy.
The 24x7 power for all vision is inspiring, because as we've so often seen, where India leads, the world follows.
But for either to succeed in transforming energy poverty into economic prosperity, we need to be open to embracing change -- in setting global goals, in partnering with the private sector, and in choosing our approaches toward achieving universal electrification.
First, the world's goals for ending energy poverty have to be more ambitious.
Today the most common baseline metric for whether someone has 'access to modern electricity' is defined as 100 kilowatt-hours per person per year in urban areas and half of that for rural areas -- which is barely enough to light a single lightbulb for five hours a day and charge a mobile phone.
It doesn't measure quality, reliability or predictability. '
And it doesn't enable an underprivileged household to progress from enjoying important social benefits of electricity, to realising genuine livelihood gains and poverty reduction.
Well-planned and targeted electrification can be a huge enabler of economic development. But whether it drives real productivity depends on how, and how much, power is being consumed.
Significant gains in economic productivity come with the use of appliances, mechanised tools, and industrial machines, which consume progressively higher energy loads.
Given the essential relationship between energy consumption and development, all of us -- not only governments, but also foundations, companies, and the global community -- simply have to be more ambitious in our goals.
We need to rethink not only how we measure poverty, but also how we measure progress in a way that is more relevant to the aspirations of underserved people in the 21st century.
Second, we must recognise that any set of solutions for electrifying entire countries must be fundamentally grounded in deep collaboration between the public sector and the private sector.
No country on Earth has built a widely-accessed and low-cost power system without deeply subsidising it with public investment, or without working hand-in-hand with the private sector.
A recent Sustainable Energy for All report suggests that closing the gap on energy access will require $1.25 trillion, compared to today's investments of $400 billion.
Only through true partnership will universal energy access be achievable.
Third, we have to be willing to embrace new approaches that can help accelerate progress.
For several years The Rockefeller Foundation and our non-profit subsidiary Smart Power India have worked with a network of partners and private energy service companies to build rural mini-grids that serve off-grid populations for both domestic and productive uses.
In Smart Power villages, microenterprises report a 37 per cent increase in revenue.
Across India, more than 120 mini-grids -- the largest cohort of mini-grids in India, and by some counts the world -- are energising more than 5,000 enterprises in the most energy-starved states, transforming the lives of more than 45,000 Indians.
We remain committed to supporting the growth of the decentralised energy sector in India because they can have an enormous impact on social and economic life.
But we also know mini-grids won't always be the most cost-effective solution -- especially where grid infrastructure is closest and rapidly expanding.
In recent years, India's central government has done an impressive job extending the grid, and faster than expected.
In the last five years, transmission lines grew by nearly 30 per cent, and substations by over 40 per cent.
Meanwhile, renewable generation capacity doubled and total capacity exceeded targets for the first time in decades.
This helped reduce India's energy supply deficit so much that in 2017 India enjoyed an energy surplus for the first time.
But this rapid progress has also exposed the challenges in last-mile distribution.
Today only one in five distribution companies is meeting the government's target for controlling technical and commercial losses.
And in three of India's five most populous states, more than 45 per cent of rural households are still unelectrified.
Getting power into homes and businesses at the village level is a very different challenge, and ultimately the defining one for ending energy poverty.
That's why today we see a unique and exciting opportunity to build on our mini-grid experience by partnering with government agencies, distribution companies, and rural energy service companies to develop, test, and grow new rural electricity distribution franchises.
By leveraging private-sector expertise with expanding grid infrastructure and government incentives, we can bring down costs and accelerate last-mile electrification for not only tens of thousands, but tens of millions of unserved and underserved Indians.
I am confident that the solutions we build together here in India have the power to light the way for the world.