What was the RBI doing, what was the PNB top management doing, what were the auditors doing, asks Debashis Basu.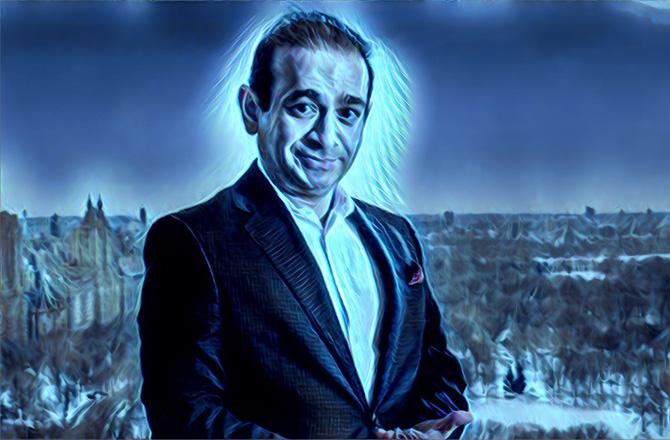 Illustration: Dominic Xavier/Rediff.com
To the collective dismay of the public, there is one more bank scam, which, not surprisingly, involves a public sector bank -- Punjab National Bank.
Nirav Modi, a flamboyant jeweller, and his uncle Mehul Choksi (a one-time favourite of foreign institutional investors) have allegedly pulled off a daring heist of over Rs 110 billion and run away to the US, leaving the country astounded by the audacity of the duo and the stupidity of bankers.
Just before this, the State Bank of India, the premier public sector bank, confessed to over-reporting its profits by 36 per cent and under-reporting bad loans by Rs 232.39 billion or 21 per cent.
The typically angry (and justified) response to such monumental scams and breathtaking incompetence is looking around for who is responsible.
What was the Reserve Bank of India doing, what was the bank top management doing, what were the internal, statutory and concurrent auditors doing, and so on.
Dr K C Chakrabarty, former RBI deputy governor and former PNB chairman, says the bank's systems were flawed; they need to be fixed.
All these solutions are centred around fixing responsibility and accountability, but without changing the ownership and control of banks. They are all useless.
PSBs are in a perpetual mess because of the way they are owned and controlled.
Ever since Narendra D Modi became prime minister, there has been a lot of rhetoric about 'fixing' them. For three years I have been saying over several columns that he will not succeed.
In December 2014, I wrote, 'I am afraid he will not make much headway in reforming the financial sector... PSBs need equity capital of Rs 2.4 lakh crore (Rs 2.4 trillion) by 2018 to meet Basel III norms. The top 30 bad loans account for Rs 87,368 crore (Rs 873.68 billion) ie 35.9 per cent of total Gross NPAs of PSBs.'
'Behind such colossal numbers lie problems of government ownership leading to corruption, meddling politicians, crony capitalism, regulatory failure and repeated 'recapitalisation'. If tough questions are not asked, the Gyan Sangam will tinker at the edges and preserve the status quo while the heart of Indian economy, the government-owned banking system, will continue to beat weakly.'
This is exactly what has happened.
Along with fruitless Gyan Sangams, the Modi government launched an Indradhanush project and a Banks Boards Bureau, whose job was top-level appointments and also reviewing bad loans.
In August 2015, I wrote that this amounts to useless tinkering. Sadly, this too turned out to be correct.
What is the government missing? The answers may lie in two different approaches, separated by 700 years: One, a best-selling title of 2014, Just One Thing, by Gary Keller and Jay Papasan, and two, a medieval philosophical idea called Occam's Razor.
The book proposes that you can dramatically improve the outcome of your time, money, and effort by asking a simple question on every issue and every timeframe: What is the one I can do such that by doing it, everything will be easier or unnecessary?
This question can lead you to answer not only 'big picture' questions (Where am I going? What target should I aim for?), but also 'small focus' ones as well (What must I do right now to be on the path to getting the big picture? Where's the bull's-eye?).
If the policymakers were to apply this in the case of PSBs, they would ask themselves, 'What is the one thing we need to do with PSBs, so that everything else (such as reducing bad loans, improving efficiency, and preventing scams) becomes easier or unnecessary?' We will come to the answer in a minute, but let's first see how Occam's Razor helps us.
As some of you know, Occam's Razor, or the 'law of parsimony', is a problem-solving approach attributed to William of Ockham (1287–1347), an English philosopher.
It suggests that when choosing from an array of answers to a problem, choose the one that has the fewest assumptions.
Now to fix the problem of PSBs, one can have two approaches.
One, keep the ownership and control the same and expect changes in systems and top-level staff to deliver a clean, efficient organisation. This involves too many assumptions.
Two, change the ownership and pass on the responsibility to the new owners to fix the problems and face the consequences.
This involves no assumption at all because this is not a set of solutions to intractable problems. It is getting rid of the problem altogether!
In other words, to get back to the suggestion of the book, 'the one thing the government needs to do (to) fix the problem of PSBs by doing which, everything will be easier or unnecessary, is change the ownership'.
The fact remains that all corruption and inefficiency of cases like in PNB and bad loans in banks flow solely from government ownership.
There is less inefficiency and corruption in private banks because there is inherent accountability. But that is not the point.
The point is if there is a scam in private sector banks, it is shareholders alone who suffer and, to a limited extent, depositors.
The PSBs are perpetual leaking buckets. The solution is to pass on the bucket, not heroically try to throw precious public money every now and then when they spring a leak.
Debashis Basu is the editor of www.moneylife.in