'There is merit in appointing people with ability and energy, then leaving them to do the job.'
'The Modi government would have had a better record if it had stuck to this formula from the beginning,' argues T N Ninan.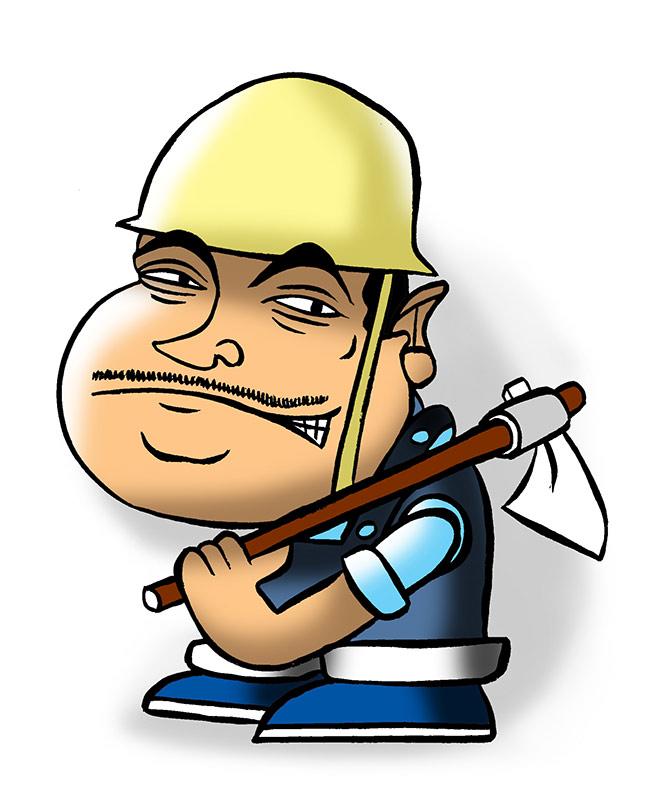 Illustration: Uttam Ghosh/Rediff.com
If a prize had to be given to the most effective ministers in the Narendra D Modi government, with the focus on those in charge of what one might call the 'executive' rather than 'policy' or purely 'administrative' ministries, the first would probably have to be given to Nitin Gadkari, the man in charge of road transport and highways.
He has been a bundle of energy and ideas, and delivered on the ground.
It is no mean achievement to have more than doubled the speed of highway construction over the past four years, after having inherited a landscape pockmarked by stalled projects and disputes over PPP (public private partnership) contracts.
Building 27 km of highways every day, as is said to have been done in 2017-2018, is equivalent to building the Delhi-Jaipur highway in 10 days flat, or other equivalent stretches like Bengaluru-Chennai and Kolkata-Jamshedpur in similar time.
Of course, Gadkari suffers from a tendency that he shares with some of his ministerial colleagues, of exaggerating his achievements while putting down the work of his predecessors, but that does not take away from what he has managed to deliver.
Some other 'executive' ministers have been active, too, like Suresh Prabhu when he was in charge of the railways, and Piyush Goyal in power and renewable energy.
Prabhu brought a new energy to the railway portfolio, and initiated change across an impressive range, helped by the provision of large budgets.
But rail projects like the high-speed freight corridors and the induction of more powerful engines, need time to fructify, so the results of his efforts are yet to be seen by the travelling public.
Goyal, in turn, was action-oriented in power and coal, and came up with interesting solutions -- like the scheme to fix rational power tariffs in states, lower capital costs and freeing the discoms of debt.
Unfortunately for him, the scheme has had only partial success as has been the case with the auctioning of coal mines, because projects have been slow to take off and therefore have not delivered the promised revenue.
He had more success with both the renewable energy programme and the drive to introduce LED bulbs so as to save on power consumption.
Unfortunately for Modi, he has not had enough action-oriented ministers like this trio.
Without that support, or perhaps by choice, he has relied on officials to deliver the goods.
This has worked with the Swachh Bharat programme, which has been driven by a committed civil servant, but not with some others because many areas of government need effective political leadership.
For instance, the civil aviation minister (who stepped down recently) should have moved three years ago on privatising Air India, and on creating new airport capacity before the existing ones reached choke point in terms of traffic.
Likewise, the Ganga cleaning programme needed proper leadership from the beginning if it was to make any real headway, while the skills development programme has been a let down, even as the communications minister has presided over value destruction in the sector.
The defence ministry, a complex charge ripe for reform in a variety of ways, has had part-time ministerial oversight for some of the time, and only short stints so far for full-time occupants.
The result is that most of the old problems remain.
In key areas like health, education and agriculture, it is hard to see much positive change over four years, and hard to readily name the ministers in charge though Smriti Irani has managed to hit the headlines in education and elsewhere.
Among the recent appointees, Alphons Kannamthanam tries too hard to build an image for himself, while Hardeep Puri, while energetic at urban development, gives the impression of being focused primarily on Delhi.
All of this makes it obvious why there is merit in defining at the outset clear mandates for the key ministries, appointing people with ability and energy, then leaving them to do the job.
The Modi government would have had a better record at this stage if it had stuck to this formula from the beginning.