Naik, who completes 50 years at L&T on March 15, talks to Shyamal Majumdar and Malini Bhupta about the three things that worry him most in the run-up to his retirement.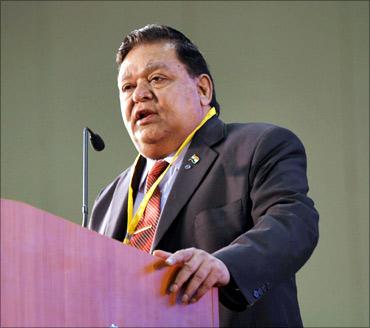 Anil Manibhai Naik says he has never been nervous about anything in life, but three things worry him a great deal in the run-up to his retirement in September 2017 when he turns 75.
One, his successor has to be "much better than him", as the complexities of running a behemoth like Larsen & Toubro (L&T) have increased manifold; two, he has to simplify the "chaotic structure" of the company that runs too many businesses; and three, he hopes the leadership after him would be strong enough to safeguard the company from predators.
We are at the executive chairman's cabin at the Powai headquarters of the country's biggest engineering and construction conglomerate, a place that has a great sentimental value for him. It was in this cabin that Naik was interviewed in November 1964.
He joined L&T as a junior engineer on March 15, 1965, which means he would complete 50 years of service on Sunday, which is a matter of great pride for him. Though Naik will be in Kuwait on a business trip that day, his colleagues have planned a grand celebration a week later.
Among other things, the highlight of the evening would be Naik himself singing his all-time favourite - "Jeena yahan marna yahan/Iske siva jaana kahan", from the 1970 film Mera Naam Joker. The choice of the song shouldn't be a surprise for a man who has been living and breathing L&T for the past 50 years of his life.
As tea and biscuits are served, we go back to the three things that are on top of his mind. The first one seems tricky, if you go by what L&T's feisty lifer says.
"Which chairman will be ready to give his life to L&T as I have?
By the way, it's not my 50th year in L&T; it's actually 100 years, considering that I have worked seven days a week for 14 hours a day," he says, adding that an industry like engineering is anyway hopelessly short of talent, as youngsters do not want to dirty their hands anymore.
He would spend the remaining time as chairman to make things easier for his successor by simplifying the corporate structure by setting up 14 verticals, each of which will have a separate CEO.
"Running L&T is not easy; it's too de-focused and is into all kinds of unrelated businesses," he says.
So, he would create a structure that is a lot easier to manage.
That means culling businesses that are either sub-scale or unrelated - and below the internal benchmark of at least a billion-dollar top line.
What he doesn't say, however, is that while his own stature went up significantly in the structure he created, all the reins have ended up in his hands.
That brings us to the second point, and we ask whether he should take part of the blame since he has himself set up 60 per cent of the businesses.
Naik is candid enough to admit his failings and says he wasn't forceful enough at times in stopping his colleagues from starting new businesses, some of which have piled up total losses to the tune of Rs 1,500 crore. "Had I been the owner of L&T, I could have forced people to fall in line.
But a chairman in a professionally-managed company is just the first among equals," he says, adding that he has sold many non-core businesses such as cement, shoe-making and so on. His other weakness, he claims, is that some of the businesses (like defence and shipping) were ahead of their time, though he is sure his successor would thank him for providing him the platform for future growth.
We shift to his third worry point after he retires - possible takeover attempts. Naik says as long as he is alive, he would "come out on the road" and behave like a wounded tiger if L&T ever becomes the target of any hostile takeover bid.
But he hopes his successor would have the wherewithal to fight such bids as he did - not once but twice - from the two most powerful business families in the country - the Reliance group and the Aditya Birla group. He doesn't want to talk about the first attempt since he was not on the L&T board at that time.
But it is public knowledge that the Ambanis, who wanted executive chairmanship, were not very keen on having Naik as CEO of L&T in 1991.
He is, however, more forthcoming on the move made by the Aditya Birla Group. He remembers he was in Chicago and got a call from Anil Ambani at 1.00 a m local time sometime in 2001, informing him of the plan to sell stake in L&T to the Aditya Birla Group.
"You must be happy as you didn't want us to be here anyway," Ambani had said.
That was followed by another call from Kumar Mangalam Birla at 7.00 a m in the morning.
"You did not come to us, but we are coming to you," Birla joked, referring to his grandfather and father's repeated attempts to hire him in the past. Birla also said the purpose of his purchase of the stake held by the Ambanis was to invest in L&T shares because of a potential upside. But the real purpose became evident later when Birla wanted the cement business to be hived off from L&T, and eventually take control of L&T. Grasim Industries, the company through which the Birlas held their stake, filed a prospectus for an open offer for L&T shares.
The battle and deal-making that followed saw the cement unit finally being hived off to the Birlas in 2003, which Naik thinks was a small price to pay for saving the company.
That was the year when he became chairman. While he set up the L&T Employees Foundation (which has a block of about 18-19 per cent of the L&T stock) in 2005 to safeguard the company from predators, the best protection from such takeover bids, he says, is creating shareholder value - something he has been tirelessly telling his fellow L&T-ites. Naik has clearly walked the talk - evident from the Rs 1,70,000 crore market capitalisation of L&T.
Ever since he took charge in 1999, he has also grown his company over seven-fold to Rs 85,000 crore-plus.
It's almost two hours into the meeting, but Naik is in a mood to talk more.
Money, he says, means nothing to him and he doesn't even look at his monthly pay slip. His secretary (he even calls the gentleman into the room to prove his point) withdraws Rs 30,000 every month from his account, which is enough for meeting his household expenses. Since other expenses such as conveyance and so on are taken care of by the company, his annual expenditure never crosses Rs 10 lakh a year, including what he calls capital expenses, such as his wife's saris, his clothes and so on.
But the one area where he clearly does not like penny-pinching is philanthropy, where his total contribution so far has been over Rs 100 crore.
Under the umbrella of the Naik Charitable Trust, several philanthropy projects are run and managed. In Surat, the trust runs the Nirali Memorial Medical Trust, which is named after his grand-daughter who died of cancer at a very young age.
While the Kharel Education Society is focused on educating the disadvantaged sections of society, there is a technical training centre for school dropouts named after him. Naik has four new projects lined up - a Sanskrit school in Gujarat, a new school complex in his village and another cancer hospital. His final legacy to L&T will be a state-of-the-art hospital at the Powai campus, which he will inaugurate before hanging up his boots.
"The hospital will be my monument and legacy to L&T," Naik says. The A M Naik Hospital will make sure that no one is able to take Naik out of L&T just the way it is impossible to take L&T out of the man.