The cable TV industry has connected more than 100 million households in the country. If a feasible business model is worked out for cable operators, they will not only build the last-mile networks, but also market them among the local population telling people the benefits as well as how to utilise them, says T V Ramachandran.
Illustration: Uttam Ghosh/Rediff.com.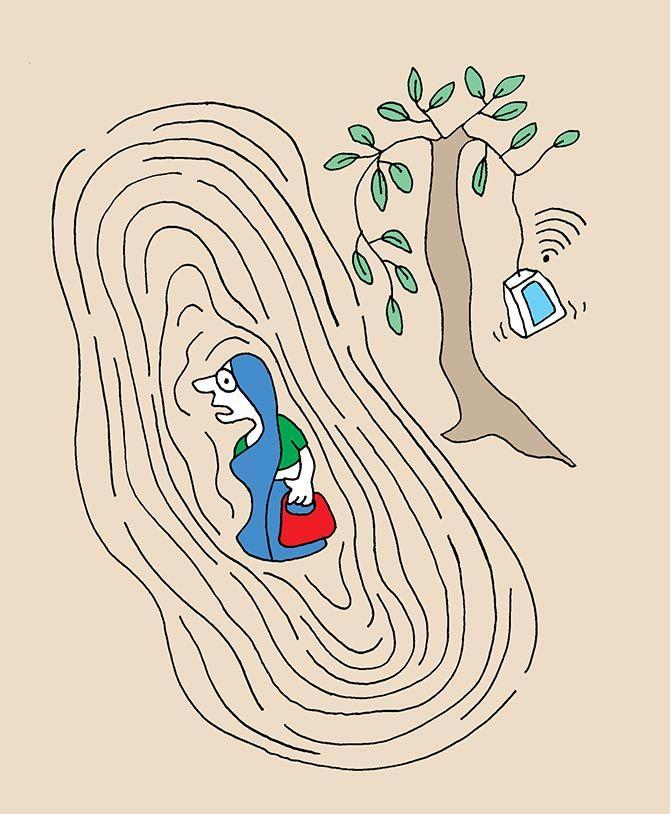 With the announcement by ACT Fibernet in March this year, Hyderabad has become India's first city to offer one gigabyte per second speed in wired broadband connectivity. Such high-speed connectivity means the customer can start quality viewing of TV and other rich content thanks to cable broadband.
This is a form of broadband internet access in which infrastructure previously used solely for cable television carries digital internet signals as well.
Though India ranks second in the world in terms of the number of internet users (462 million), after China (731 million), it does not figure in the top 10 list for internet speed. South Korea ranks first, with an average internet speed of 29 megabytes per second; India has an average speed of 2.5 mbps.
Fast access to the internet is an important factor in the development of a digital economy.
The demand for faster broadband is rising due to the use of internet technology in providing a range of communication services, rapidly increasing volumes of internet video traffic, growing numbers of smartphone and other mobile devices, the connection of billions of smart objects through the Internet of Things, and access to applications and data stored remotely in the cloud.
The cable TV industry has connected more than 100 million households in the country. Today, there is hardly an inhabited place with electricity where a cable operator does not exist. Cable networks have the capacity to carry high-speed broadband signals.
The government has planned to use cable broadband networks to uplift the economy and empower citizens. Multi-service operators and cable operators can play a crucial role in increasing broadband penetration in rural and disadvantaged urban areas and help bridge India's widening "digital divide".
Cable operators are small entrepreneurs and are used to working with low profits and in smaller business units. So, they are successful even in rural areas where they use local resources including manpower. Linking them with a national fibre-optic network to provide broadband to their subscribers will give them additional income, provide employment to people, including those in rural areas, apart from helping to improve the national economy.
If a proper and feasible business model is worked out for these cable operators, they will not only build the last-mile networks, but also market them well among the local population telling people the benefits as well as how to utilise them.
These services are at the core of the National Broadband Plan proposed by the Telecom Regulatory Authority of India and telecom policies. Initiatives of the information and broadcasting (I&B) ministry to digitalise all cable networks will act as a catalyst for increasing broadband penetration.
A task force has been constituted to steer the remaining two phases, that is, phases III and IV of digitisation in India. This will pave the way for implementation of digitisation initiatives in India, which will see digitisation of about 80 million cable TV homes in India.
It is also a step towards the prime minister's dream of a Digital India as digitisation will enable quick penetration of broadband connectivity in India.
Regulation of content by private TV channels, facilitation in the implementation of digitisation of the cable TV network and strengthening of community radio movement in India are other key functions.
Audio-video campaigns have been mounted to raise awareness on Swachh Bharat Mission through cable and satellite channels.
The question is, what kind of policy intervention and support are needed for spreading cable broadband network across the country.
Policymakers should set goals for broadband availability and seek ways in which investment in broadband can be stimulated, such as providing a regulatory environment that encourages market players to invest in broadband infrastructure.
Our broad recommendations are:
MSOs who provide cable broadband generally have the internet service provider (ISP) licence. Hence, the Department of Telecommunications (DoT) gazette notification issued on November 18, 2016, on Right of Way (RoW), applies to them automatically. They merely need to leverage this for speedy roll-out of optical fibre in a cost-effective manner.
For MSOs and local cable operators (LCO), who do not have an ISP licence, suitable gazette notification should be issued by the I&B ministry for enabling RoW under the Cable Act.
The government should support MSOs and LCOs through the Universal Service Obligation Fund for broadband provisioning in rural areas. Further, financial support through banks/institutions should be facilitated.
Tax rebate on broadband equipment import should be considered.
The government should recognise/identify already laid cable infrastructure and support LCOs to provide broadband to panchayats and municipalities, thereby integrating these networks with Bharat Net.
As was done for mobile electromagnetic fields by DoT, the government should go for nationwide awareness programmes for cable operators to enhance their skills and knowledge for high-quality broadband provision.
Incentive schemes to cable operators for upgrading services to consumers.
Broadband, being a key utility, is now of tremendous importance for the nation to achieve vital economic goals and Digital India objectives. As the World Bank has shown unambiguously, a 10 per cent increase in broadband penetration boosts annual gross domestic product by 1.38 per cent.
The vast cable infrastructure already available to 100 million and more homes in India needs to be urgently leveraged to accelerate India's journey on the broadband highway.
The author is honorary fellow of the IET (London) and president of Broadband India Forum. The views expressed here are personal.