'The whole country supports the government.'
'The exceptions are only two -- those who thrived on black money and those who are inimical to Indian interests,' argues Major General Mrinal Suman.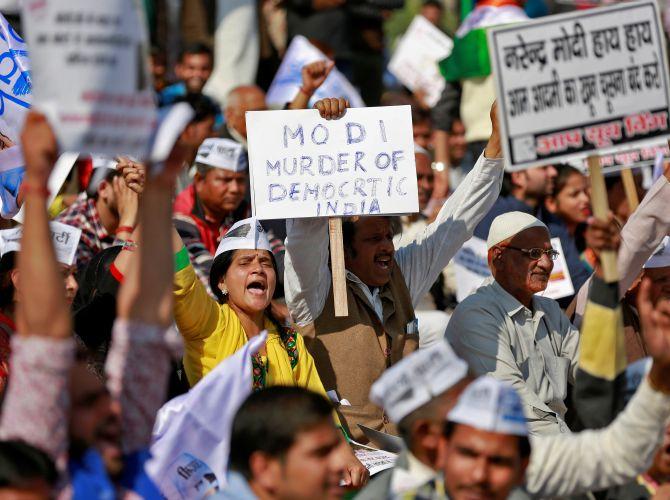 Life is full of surprises, nay shocks. When Manmohan Singh slammed demonetisation as 'organised loot and legalised plunder,' one did not know how to react.
The man who facilitated the generation of maximum black money was accusing the Modi government of 'monumental mismanagement' -- some brazenness!
Manmohan Singh virtually pawned national assets to the coalition partners in exchange for the prime ministerial chair. Some ministries had become dens of corruption. He expressed helplessness, taking shelter under the unscrupulous plea of coalition compulsions.
In a way, it was an open admission that he would lose his chair if he took action against his corrupt colleagues. Therefore, it was most incongruous for him to talk of loot and plunder.
One does not know why the Congress party fielded him to speak during the demonetisation debate. Did it really think he was their trump card, being a renowned economist and an ex- prime minister, or was it done in jest to embarrass him?
More surprising is the fact that he agreed to speak on the subject. He made a laughing stock of himself with his homilies, inviting sniggers from viewers. His track record, both as head of the government and pragmatic economist, is appalling.
The Congress party appears to be at its wits' end. It does not know how to respond to Modi's initiatives. The party joined the whole country in lauding the surgical strikes across the LoC.
When it realised that Modi was gaining popularity, it started questioning its occurrence. Most ridiculously, it demanded that proof be made public. When scoffed at by the whole country, it started claiming that it had also allowed similar strikes when in power.
Demonetisation evoked a similar response. The initial reaction was muted. However, with Modi acquiring iconic status as a crusader against black money, the Congress quickly changed track.
Having failed to find a convincing economic argument against demonetisation, it has started resorting to the dishonourable tactic of disrupting Parliamentary proceedings.
Most laughingly, the Congress has declined to debate the issue without the prime minister's presence in the House. It is not satisfied with a statement from him, but wants his presence throughout the debate -- an unprecedented and irrational demand.
A new low has been reached in India's Parliamentary conduct -- issues are not important, individuals are. It shows a total bankruptcy of ideas and logical thinking.
Taking a cue from the Congress party, other Opposition parties have also joined the bandwagon of protests and bandhs. They are expressing their Aakrosh (anger), ostensibly for the discomfort being caused to the common man.
Can there be a more ridiculous excuse? Actually, it is the political leadership that is getting discomfited.
The common man supports the decision and is willingly enduring the temporary hardship for the long-term good of the nation. People standing in long queues for hours showed no anger at all. The responses sought by Modi on his app showed overwhelming support for the step. True to its wont, the Opposition dismissed it as a contrived poll.
A survey was conducted by C-Voter across different age and income groups on November 21. It covered nearly half the country's parliamentary constituencies.
Almost 87 percent of respondents supported the move against black money while 85 percent felt the inconvenience was worth the effort. Therefore, which common man's discomfort is bothering the Opposition parties?
Even if the survey is dismissed as non-representative, how do the Opposition parties explain the BJP's sweeping victories in recent civic elections in Maharashtra and Gujarat? These were held after demonetisation and the people had already endured cash difficulties.
The truth is obvious to all. Elections are an expensive business. Political parties had hoarded huge stocks of ill -gotten cash to fight elections and bribe voters. They are feeling 'cheated' and their anger is explicable.
How will they arrange liquor and other freebies to influence voters?
How will they gather supporters for their rallies?
Who will pay for the fleets of buses to transporting supporters, arrange their meals and cash rewards?
Hiring of helicopter fleets and cavalcades of vehicles to flit across various constituencies will become difficult.
Some political parties collect huge funds by auctioning party tickets for elections to the highest bidders. Needless to say, such donations were always made in cash.
Demonetisation has dealt a fatal blow to this trafficking of electoral rectitude.
As there is no cash, there are no takers.
Any wonder then that many political leaders are shrieking in such a manner? Their treasure chests have been demolished.
In addition to some politicians, some builders, traders, smugglers, hawala operators, presstitutes, lawyers, doctors, private hospitable, schools/colleges and such other segments of society have also been thriving on black money. Therefore, their opposition to demonetisation is understandable.
However, what is not acceptable is their incendiary agenda. Pictures of long queues (including those outside cinema halls) are being circulated as of cash starved restless crowds. Every unfortunate death anywhere in the vicinity of a bank/ATM is being attributed to demonetisation.
A heart patient died at home while getting dressed before going to the bank. The headline read, 'Man dies of fear of long wait at the bank.' Absurdity has no limits.
According to jurisprudence, all decisions taken in good faith must be accepted accordingly. Everyone knows that demonetisation is a colossal step towards ridding India of the menace of black money.
The whole country supports the government. The exceptions are only two -- those who thrived on black money and those who are inimical to Indian interests.
As regards the latter, they are incorrigible. Anti-nationalism is a part of their DNA. Every progressive step towards a better India has to be opposed by them and that is India's misfortune.
IMAGE: A protest against demonetisation in central Delhi, November 28, 2016. Photograph: Cathal McNaughton/Reuters