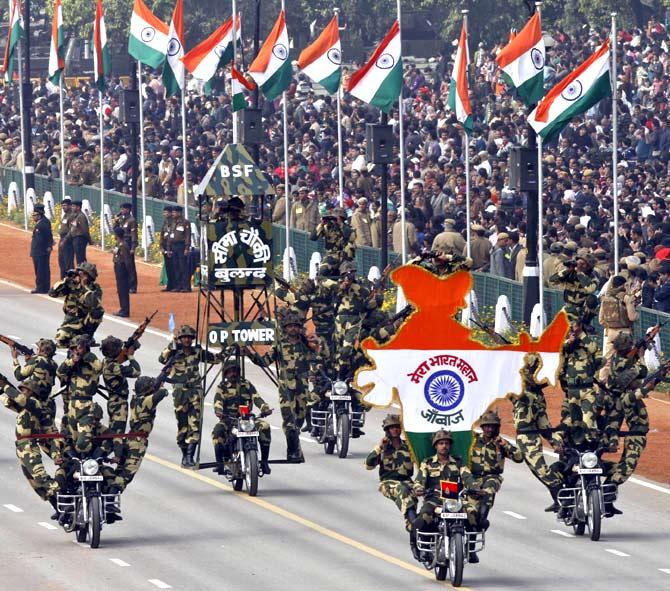 Some states have made good progress with regard to positioning a proper institutional framework for PPPs, notes M Ramachandran
At a time when the country badly needs a huge infrastructure investment push, recommendations made by the Vijay Kelkar committee on revisiting and revitalising the public-private partnership model, if acted upon quickly, could make a significant difference in encouraging more such projects.
While the report deals with more prominent sectors like roads and ports, which have seen more PPP activity, this article is an attempt to focus on the urban sector -- where too the generation of additional resources is actively dependent on having workable PPP projects.
Both the 100 'smart cities' project with a central provision of Rs 48,000 crore (Rs 480 billion) over a five-year period and the Atal Mission for Rejuvenation and Urban Transformation covering 500 cities with a central provision of Rs 50,000 crore (Rs 500 billion) call for substantial additional generation of resources if they are to succeed.
It would be worth recalling that the earlier urban mission, JNNURM, included the encouragement of PPPs as one of 23 reforms to be implemented during the seven-year mission period by states and urban bodies.
Private sector participation in development, management and financing of urban infrastructure was to be clearly delineated and states were to leverage central funds to generate additional resources from the private sector as well.
Did the states create an enabling environment to expand, broaden and deepen private sector investments in urban infrastructure, or were they just content to state that the implementation of this reform was complete?
It is worth examining how many such projects were taken up, how many were completed, how many faced the problems listed in the Kelkar committee report and what ways forward the states worked out.
In our cities, some projects have been taken up in the solid waste management sector, a smaller number in the drinking water sector, some in the e-governance area -- but mostly, the provision of buses under Bus Rapid Transit systems or even the organised city bus system was, as usual, done by the private sector.
As regards the metro system, Delhi Metro's experiment with a partial PPP for the airport line failed, and now we will have to see how the substantially private Hyderabad Metro shapes up.
There have been isolated initiatives of building bus stations and implementing housing programmes; but it is a fact that PPPs in the urban sector have not really taken off or flourished as they should have, considering the huge infrastructure gaps in our city infrastructure.
Of course, some states have made good progress with regard to positioning a proper institutional framework for PPPs.
Gujarat, Punjab and the composite Andhra Pradesh created specialised institutions.
Madhya Pradesh opted for sector-specific specialised agencies with private sector participation.
Odisha and Karnataka formulated a PPP policy -- though they did not go to the extent of having a separate agency or a specified nodal agency to conceptualise and take forward such projects.
Over a period of time in many other states -- and sometimes as the political complexion of governments either at the state or city level changed -- projects taken up through the PPP mode became victims of inquiries or soft-pedalling, thereby sending out a message that it is better that no one takes pro-active initiatives.
Since there was no focussed attention and no institution of the type referred to in the Kelkar committee report for stimulating private investment in infrastructure, no conscious efforts were made to analyse the positives and negatives of PPP contracts taken up for implementation.
Nor was it felt necessary to take definite steps towards positioning legally empowered sector-specific regulators for the urban sector. India's urban sector has much potential for PPP projects.
But, until the state governments clearly lay down the contours within which these can be structured at the city level and empower city bodies to finalise such projects, nothing much is going to happen.
Also, local initiatives are going to be impeded by the very factors that the committee flagged.
So, what next?
Of the 1,200-plus PPP projects the committee listed as being under development and implementation with an estimated investment of Rs 7.2 lakh crore (Rs 7.2 trillion), it will be useful to identify those that are in the urban sector and how spread out they are in our 4,000-plus urban bodies.
The committee has underlined the point that, since India's 400-odd cities with a population of 100,000 and above face a severe shortage of services and finances, as well as management and governance issues, building urban infrastructure calls for an integrated development strategy.
This should include mass rapid transit systems, drinking water and sanitation, solid waste management, urban roads and other city infrastructure -- with the involvement of citizens and the participation of the private sector.
The high-powered expert committee which had looked into the resource requirements of cities had projected investment in urban infrastructure at Rs 39.2 lakh crore (Rs 39.2 trillion) over a 20-year period, raising the level of such investment from 0.7 per cent of gross domestic product to 1.1 per cent.
It had rightly underlined the point that PPPs in the urban sector, still at a nascent stage and few in number, could bring about better service delivery if they were structured well and risks were appropriately assigned to the two parties.
There are various other points for action as well in the report.
One sincerely hopes that the government of India will act on the Kelkar committee recommendations in a time-bound manner.
Once the national PPP policy document is given shape, the states will do well to outline their own PPP strategies with clarity, so that cities benefit from the new urban development programmes that have been launched.
M Ramachandran is a former secretary in the Union urban development ministry
Image: India's Border Security Force 'Daredevils' motorcycle riders perform as Republic Day parade in New Delhi. Photograph: B Mathur/Reuters