The culture clash isn't the only issue - most of the founders are still wary of risky bets while the new management thinks calculated aggression is necessary in the new world of business, says Shyamal Majumdar.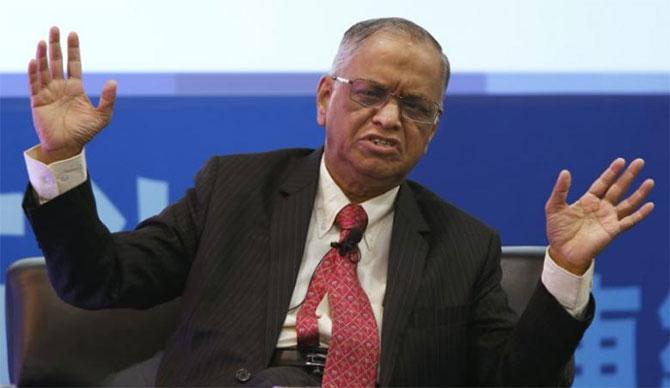 N R Narayana Murthy has been angry with the Infosys brass for quite some time now. The company's annual report must have added fuel to the fire, prompting him to reiterate his pet theme of "compassionate capitalism" in a couple of television interviews on Thursday.
There is a solid reason why the Infosys co-founder was upset once again: According to the annual report, generous stock-based incentives boosted the total compensation of four senior executives by over 50 per cent in the previous fiscal year. The increase was mainly in the form of performance-based stock incentives that will vest over four years.
It was only last month that Murthy had slammed the steep hike in compensation to Chief Operating Officer U B Pravin Rao, though Infosys defended it strongly, saying such hikes in executive compensation are necessary to attract and retain talent.
That is where the clash of cultures comes in. People familiar with the discussions between the Infosys board and the founders say times have changed and the board can't be expected to have a head-in-the-sand approach.
For example, the person says each of the top executives, who got a substantial hike in their pay package in the last financial year, has at least one offer from global giants with much better pay packages and had to be convinced to stay back.
"Do we respond to this new reality or ask them to follow what the founders call Indian standards of compensation," he asks, adding that all the pay hikes followed a comprehensive survey of best practices and benchmarking of senior management compensation with key Indian and global companies.
Besides, Infosys needs to attract top talent from across the world at a time when traditional business models are beginning to be disrupted by new technologies and ideas. In this new approach, there is hardly any place for Murthy's vision that the ratio between the highest compensation in the company and the median salary should ideally be 50 to 60.
But bridging this difference in perception is proving to be a difficult task as the old guard still believes in frugal salaries and low-key lifestyles while the new management thinks better lifestyles and globally benchmarked compensation structures should not be seen as luxury in a fiercely competitive market for talent.
One of Infosys' old-timers says much has been made out of Sikka taking chartered flights. The fact is that during the whole of 2016, such flights were 3,000 miles out of the total 103,000 miles he clocked, which is less than three per cent. In any case, what's wrong in the managing director of a company taking chartered flights if that helps in squeezing in more meetings?
The culture clash isn't linked to lifestyles alone - most of the founders are still wary of risky bets while the new management thinks calculated aggression is necessary in the new world of business.
There are other areas of friction, too. While Murthy was upset with the appointment of Punita Sinha, wife of Minister of State for Civil Aviation Jayant Sinha, as an independent director on the ground that Infosys had never invited the spouse of any active politician to the board, the new management has a completely different take on it: Her husband's political leanings shouldn't matter as she is eminently qualified, having been a fund manager with some of the world's biggest companies.
Infosys isn't alone as such a clash of cultures is common in many companies. For example, as the business grows, companies may develop a diverse group of employees, which enriches the workplace, but can bring a host of complications as well.
This is more pronounced in mergers and acquisitions, as culture, which is so difficult to measure or manage, is all too often overlooked. This is dangerous as according to SHRM, over a third of mergers fail because of simple culture incompatibility.
What Infosys is now facing is something that India's promoter-driven companies are quite familiar with. More often than not, the values of the promoter or owner are the expected values and culture of the organisation.
According to Deloitte, the lack of a proper governance framework, which quite often negatively affects the ability of the organisation to control its actions, results in inconsistencies in the way business is conducted. Outside leaders frequently find themselves tied up in the day-to-day operational aspects, while the founder fosters a paternalistic culture and has the final say on all strategic matters.
Before it's too late, both camps in Infosys have to work out an arrangement to minimise the adverse impact of such a culture clash. An informal arrangement is being put in place to understand each other's views. Hopefully, it will work.
Photograph: Bobby Yip/Reuters