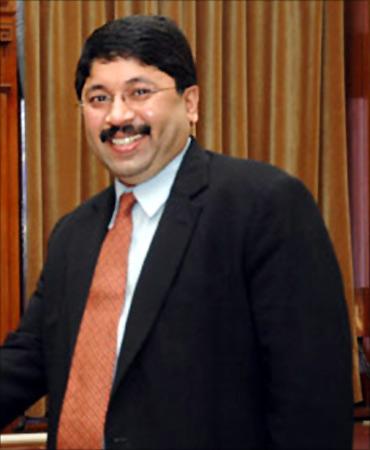 Was something bigger and better getting transmitted from the illegal telephone exchange set up in the residence of former telecommunications minister Dayanidhi Maran in Chennai? M R Venkatesh analyses...
The startling details of a secret and possibly illegal telephone exchange set up in the residence of former telecommunications minister Mr. Dayanidhi Maran in Chennai are in public domain for over three years. In fact, it is part of political folklore in Tamil Nadu.
The UPA Government, despite its avowed zero tolerance policy towards corruption, has maintained a stoic silence on these allegations. The PM, as is his wont, not spoken anything on the charge.

Yet, the CBI continues to "relentlessly investigate" the matter since 2007 without reaching any definitive conclusions. Left to itself, it may well do so for eternity.
All this when a preliminary report of the CBI dated as early as 10th September 2007 prima facie established that Maran had set up a telephone exchange with 323 high-speed telephone lines. Importantly, these were set up in the name of Chief General Manager of BSNL apparently to be used as a ruse at a later date.
Interestingly, these 323 high speed telephone lines were (stealthily?) linked through separate and exclusive cables laid down by BSNL to the office of Sun TV Network (a company promoted by his brother Mr. Kalanithi Maran and located a few kilometers away from his residence) for its commercial use in January 2007.
Consequently, the aforementioned arrangement allegedly facilitated data transfer requirements of Sun TV Network and caused a whopping loss of Rs 440 crore to BSNL and national exchequer (estimated by CBI) with a possible concomitant gain to Sun TV Network.
Thanks to a family feud, it may be recalled, Maran resigned as minister in May 2007.

What is galling to note that while these information were with the PM (remember CBI reports to the PM) as early as September 2007, Maran was re-inducted into the Union cabinet in May 2009 by Dr. Manmohan Singh. Witness UPA's zero tolerance to corruption!
Mr. S Gurumurthy exposed the fraud in a series of articles in the New Indian Express [NIE] on 02.06.2011, 04.06.2011 and 09.06.2011. Further, the NIE published the file noting of BSNL which clearly demonstrated not only the existence of the telephone exchange but also attempts to suppress its very existence.
Maran initially issued a notice of defamation to the author of these articles and NIE.
Amusingly, after his initial show of bravado, Maran has remained silent. And once Maran became the cabinet minister in 2009, expectedly the CBI too became silent.
It is obvious that the investigations into these allegations have been virtually aborted purely on political grounds. And this is UPA's zero tolerance to corruption!
It is in this connection, a Writ Petition was filed by Gurumurthy in the Hon'ble Supreme Court seeking a free and fair probe by the CBI on the matter. The Court has recently issued notice to the parties concerned.
But questions arise. Does it require direction of the highest Court of the land in 2013 to the CBI on a matter in which the CBI itself had come to a preliminary adverse finding in 2007? Or is it that given the involvement of a powerful political personality, CBI is programmed to diffuse the matter over a period of time?
Or is it something more than what it meets the eye? But first the facts of the case.
Understanding the fraud
According to the petition filed in Supreme Court, the preliminary report of CBI concludes that  installation of 323 lines "was programmed in such a way that no one other than the authorized BSNL staff were aware of the existence of such an Exchange created for his exclusive use."
Accordingly, the report further adds that by "such an arrangement, it would appear as if all the lines were used in the residence of the former Minister, but actually the cable laid facilitated SUN TV Network to utilize the service of BSNL provided at his residence."
The CBI had inquired into the fraud and sent their preliminary report to the Telecom Secretary in September 2007, disclosing complete details of the fraud and estimating the loss involved.
Incidentally all these telephone lines were ISDN lines, which are used for mass transfer of data, voice and video. Out of these, 23 lines were provided with Basic Rate Access facilities, which would facilitate communicating one socket to three channels, which can be used for transmission of signaling information.
All these amounted, in effect, to creating a separate telephone exchange – yes an exchange - at the residence of Maran and probably for the exclusive benefit of Sun TV.
Now why would Sun TV network want to save money on a few phone lines? Well, it wasn't just that. Remember they were no ordinary lines. Recall these were ISDN lines which could carry programs faster than even satellites to any part of the world.
These lines, experts point out, are normally used by commercial enterprises to meet special needs such as video conferencing, transmission of huge volume of digital data - precisely the facility that Sun TV would need for its operations. For this, the Sun TV would have paid huge cost. But it got it all free; at government's cost.
As a sample study, it is learnt that 48,72,027 units of calls have emanated from one Telephone no. 24371515 in the month of March, 2007 alone, which is indicative of massive multi-media transfers from the underlying connections. This clearly gives credence to the Sun TV network angle.
It is also learnt that similar service connections with ISDN facilities have been provided at the office of Dinakaran, a Tamil daily, belonging to the Sun TV group at Madurai, though the specific telephone numbers are unknown.
Needless to emphasize, the joke doing rounds in political circles in Tamil Nadu is that BSNL is a wholly owned subsidiary of DMK.
Another Dimension
Now extrapolate this to 323 lines for a 4 month period when the lines were reportedly operative – we have an astounding consumption of 630 crore call units. At a rate of 0.70 rupee per call, this works out to a staggering Rs 440 crores. In turn, that implies a savings in excess of Rs 1,300 crores for a full year for Sun TV Network.
But there is a flaw in this argument. The total turnover for Sun TV for 2006-07 was a mere Rs 678 crores. Surely, Rs 1,300 crores cannot be a presumptive expenditure (or potential savings) under one head of viz., data transmission. Surely, something is seriously amiss.
The CBI report allegedly points out that there are 23 lines with '2437' as the first four digits with the following numbers, namely, 2211 to 2213 (3 lines); 2222; 2233; 2244 to 2246 (3 lines); 2255 to 2257 (3 lines); 2266 to 2268 (3 lines); 2277 to 2279 (3 lines); 2288 to 2290 (3 lines); 2299; 2300; 2301 and 300 lines starting with 1500 and ending with 1799.
Further, sources within the BSNL confess that "no information" was "available about these numbers" as such details were neither with the computer cell nor with Public Grievances cell. It implies that these 323 numbers had been kept out of the exchange system itself and hence was not known even to the telephone department. But pray why?
Obviously, the idea was not only to deny the existence of the lines but suppress its existence to everyone including the telephone department. Surely such subterfuge gives clue to a different dimension altogether.
Put pithily, as per the CBI preliminary inquiry a telephone exchange did exist in Maran's residence in Chennai, it was linked using ISDN lines and the exchange in turn was hooked to the offices of Sun TV. But as argued above these lines could not have been used only by Sun TV to send their programs and data. The mathematics simply does not add up.
To that extent Sun TV using all lines for its commercial use looks far-fetched.
That takes us to the next logical question – was the telephone exchange used for some other purposes? Was something bigger and better getting transmitted from these telephone lines?
Or better still, was Maran using this exchange for eavesdropping on some of India's most powerful and influential?
Is that why the CBI is reluctant to act despite being in the know for the past five years? Is that why the PM is loath to act on this matter? Is that the reason why UPA government is coerced into inaction? Does that explain why the hunter has become the hunted in this matter.
Before one dismisses all this as a figment of my imagination let us not forget that in this day of advanced communication technology, eavesdropping is easy, especially if one has telephone exchange at his residence connected to 323 ISDN lines. Can someone come with a better explanation? 
Whatever be it, the debate in political circles now is on the end use of this telephone exchange, not on the telephone exchange itself. And probably, this time around, one can explain the silence of our PM.
A classical case of M for Manmohan, M for Maran and M for Mendacity too!
The author is a Chennai-based Chartered Accountant. He can be contacted at mrv@mrv.net.in