This year, forecasts suggest sub-par monsoon and its impact is not restricted to agriculture alone, notes Devangshu Datta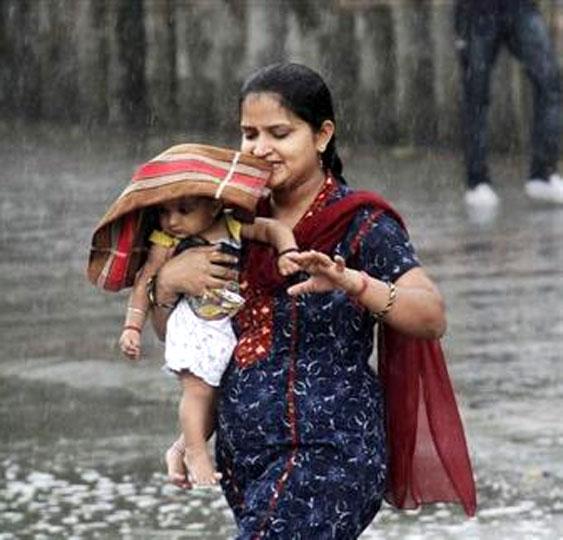 Weather forecasts have notoriously large error margins.
But, in recent times, climate scientists have improved upon their predictive models.
They have vastly increased computing resources and better data at their command.
Forecasts are tracked obsessively because productivity everywhere depends to some extent on weather.
The gross domestic product is adversely affected even in advanced economies of North America, Japan and Europe if there are very long, very cold winters.
India's monsoon dependence is well-known.
This year, the forecasts suggest a sub-par monsoon -- the second deficit monsoon in succession.
That might have a negative effect on gross domestic product growth, and inflation.
At first glance, the monsoon dependence should have reduced.
In many parts, there is multi-cropping, and agriculture contributes only about 18 per cent of GDP.
But about 47 per cent of the population depends directly on agriculture and about 68 per cent of the population lives in rural areas.
What is more, irrigation systems are inefficient and water supply is generally stressed with just about 40 per cent of farmland under irrigation coverage.
About half of food production is monsoon-dependent.
If agro productivity is low, rural demand ebbs.
Given high levels of farmer-indebtedness, there are often rising trends of suicide in such circumstances.
At the least, agro-credit from banks has to be written off.
India's food production is sufficient. But the supply chain is rigid and badly managed.
Food doesn't necessarily reach where it should.
Given a poor monsoon, inefficiencies can cause local scarcities.
Drops in production push up food prices.
Ironically, schemes such as the Mahatma Gandhi National Rural Employment Guarantee Scheme, which have reduced rural poverty, have also meant higher food prices.
In the long term, many hard decisions must be implemented to change agriculture.
Jobs must be created in manufacturing and services.
Large investments must be made in irrigation, in water resource management, in re-skilling farmers to handle such resources better, in genetic research to create higher yield crops, cold chains, etc.
The current procurement processes need to be reviewed and junked, or radically altered.
Until such time as those reforms happen, the links between a poor monsoon, food inflation, and poor rural demand will remain.
Traditionally, tractors, light commercial vehicles, two-wheelers, big ticket white goods, all see lower demand if there's a poor monsoon. There is usually a drop in the off-take of fertilisers.
The demand for jewellery and precious metal tends to slow down.
Hydropower generation can be affected.
Specific agro-industries such as sugar may be hard hit.
In a broader perspective, the economy still appears to be in a phase of the cycle, where multiple industries did not show much in the way of growth in 2014-15.
The 2014 monsoon was not satisfactory.
There was a rain-deficit year.
Tractors, LCV and sugar for example, are not in good shape due to poor rural demand from last year.
Demand for new vehicles is low.
Sugar mills have not been able to pay farmers for last year's crop.
Other industries such as real estate and construction are also in the doldrums and continuing low rural demand could mean a slower recovery for them.
Fertilisers have seen a good year however, due to falling crude and gas prices, which helped to reduce raw material costs.
In general terms, the full-year results so far suggest that earnings growth has not been high for most industries.
A second poor monsoon in succession could mean earnings growth remains under-par for the next two quarters at least.
Projections would need to be adjusted downwards in many cases, to the bottom end of consensus expectations.
The macroeconomic consequences are the most difficult to judge in such cases.
Will there be major food inflation if there is a poor monsoon?
Last year, food prices remained under control. If inflation does spark off in the food basket, it could change the RBI's monetary perspective to more hawkish.
It could be a double whammy if agricultural loans go sour at the same time.
The expectations of a poor monsoon will mean that share prices are tempered in industries that are known to be vulnerable.
Investors will steer cautiously into such sectors.
There could be a point where the value conscious could begin bargain hunting.
All of this assumes that the 2015 monsoon predictions will be fairly accurate.
They might not be.
There is inherent inaccuracy with weather predictions.
If the monsoons are actually better than projected, there could be a positive surprise across such industries.
But the perspective must be long-term and it would take the negative monsoon predictions into account.
Image: A woman carries her child through a heavy rain shower in Chandigarh. Photographs: Ajay Verma/Reuters