Once considered a surefire bet to appreciate against the dollar, the renminbi is likely to depreciate for some time.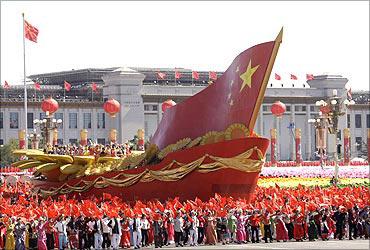 The bad news on China's economy just keeps coming.
The year began with the default of a property developer in the southern city of Shenzhen, underlining the risks of the high debt in the economy incurred, in particular, by property developers in a slowing, if not declining, property market.
On Sunday, the country's export and import numbers for January were released, showing that they had fallen 3.3 per cent and 20 per cent respectively.
January and February data for China, however, need to be treated with caution as comparisons are skewed by when the week-long Lunar New Year holidays fall.
Last year, the holidays were in January, while this year they are in February.
Even allowing for such anomalies, the numbers out of China do not suggest an economy growing at anything close to the 7.4 per cent growth rate in gross domestic product, or GDP, in 2014.
Beijing may say the new normal is closer to seven per cent; more sceptical observers say the economy is likely growing at 4.5 to five per cent.
Given that China's economy is close to five times India's, even this slower rate of growth is not necessarily bad.
The trouble is, as the decline in commodity prices across the board has shown, commodity producers in an interdependent world have already been hard hit as China's voracious appetite for iron ore, oil and much else slows.
The more serious impact of this slower growth, however, could be first felt at home and then like the SARS virus did a few years ago, travel quickly overseas.
In an economy in which total debt amounts to a staggering 240 per cent of GDP, slower growth will likely expose a number of financial weaknesses in the Chinese economy, starting with the indebtedness of many of its companies and of its local governments whose debts account for about a third of gross domestic product.
Half of new local government debt, borrowed by urban municipalities to finance property developments and fancy new expansions to cities, goes towards rolling over existing debt.
Many of the loans are not backed by an assessment of a borrower's capacity to repay them but on how well-connected the entity is politically.
Chinese President Xi Jinping's drive to root out corruption also means that different corporate groups may find their political, and, therefore, their financial, capital has dwindled.
The risks of a cascade of defaults are high.
At least the rest of the world can be assured that the Chinese government's low levels of central government debt and humungous foreign exchange reserves of $3.8 trillion are sufficient to prevent a contagion effect.
But, here, too, there is slightly unsettling news in a rapid build-up in short-term overseas debt to about $850 billion in September last year.
Once considered a surefire bet to appreciate against the dollar, the renminbi is likely to depreciate for some time, causing stress for those who took low-interest dollar loans. China's leadership has shown that it possesses the financial acumen and the firepower to ride out a downturn, but the challenges are mounting with every month.
Image: A parade in Beijing. Photograph: Reuters