Farmers are inextricably tied to their land. Deprived of it, they have little else to fall back on for their livelihood, says Hasmukh Shah.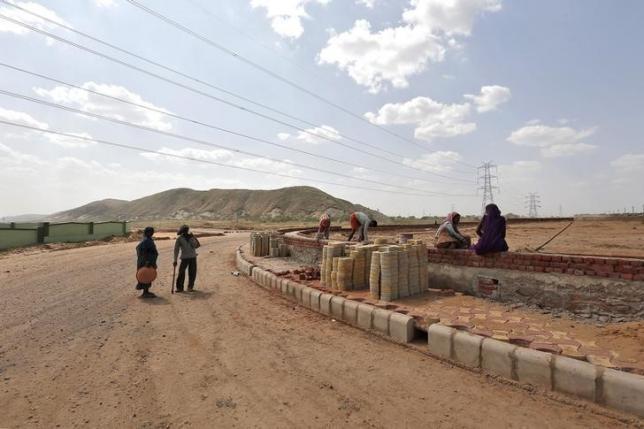 "This land is your land."
Woody Guthrie wrote this great song in the 1940s.
I was to realise its tremendous significance 50 years later when I had to acquire land in Maharashtra and Gujarat for the expansion of what was then Indian Petrochemicals Corporation Ltd (IPCL).
We had wanted 1,600 acres in Dahej in Bharuch district of Gujarat for the Gandhar campus of IPCL.
A polycarbonate complex was to be established there as a joint venture with GE.
Before taking up the task, I made a study of the earlier land acquisitions of IPCL near Vadodara in the 1970s and at Nagothane in Maharashtra in the late 1980s, and what became of those who sold the land.
Farmers are inextricably tied to the land. It defines their existence.
Deprived of it, they have little else to fall back on for their livelihood. When they part with land, they lose their identity and standing in the society.
Money alone cannot always compensate for this loss.
Farmers could seldom hold on to the money. Such compensation, as the small farmers received, did not last even for a couple of years.
Repayment of various debts, some payment to intermediaries and some to meet immediate needs of house repair or a daughter's marriage left little over for productive investments.
Even those with large holdings found it difficult to invest money. Farmers, like most ordinary people, know little of subjects other than their own.
My later efforts to persuade the Dahej farmers to invest in IPCL's fixed deposit scheme, even with higher interest rates, met with no success.
They normally did not reinvest in land away from the village, being deeply rooted in their own soil.
Some, like the late Raojibhai Patel of Ranoli village near Vadodara, bought good land at a distance of eight km, but could not put it to much use. And, what about the landless who subsist on land? They had nowhere to go, no one to champion their cause.
They became even more marginalised than they already were.
Unscrupulous elements took the seller of the land for a ride and turned him into a pauper very soon.
Some farmers opened a chai shop or a small restaurant, because they believed they could manage them.
These enterprises soon failed. Many a farmer was on the road once divested of the ownership of the means of livelihood.
The children of the displaced farmers worked as waiters at the chai shop, but were unemployed when that folded. At times, one member of the family got a job in the new industry, mostly a public sector one, but others did not.
Even that created a sociological problem, when the workers soon shifted to the township, making others of the same family second-class citizens.
In most instances, even this little relief was not available. We needed to adopt a humane and imaginative approach.
The question that had to be addressed was: how to give gainful employment to all able-bodied women and men of the area, which would permit them to lead a life of dignity without resorting to migration.
We planned to set up a training institute to train local people in various maintenance and other services needed by the industry and the neighbourhood.
These were in civil and electrical engineering, refrigeration and air-conditioning, auto repair, furniture repair and maintenance, security in non-plant areas, materials handling and transportation, horticulture, gardening, nursery, animal husbandry and vegetable growing using greenhouses.
Organising such programmes on a need-based criteria required management commitment and continuous efforts, though the cost would have been modest in the context of overall investment.
Such an approach, we felt, would help transform the local skill set to make it relevant and enable each member of the society to earn a livelihood without getting uprooted. With this background, we called a village meeting.
The land involved was salinity-affected and distress sales for as little as Rs 6,000 an acre were not unknown.
The state government agency responsible for land for industries, Gujarat Industrial Development Corporation (GIDC), estimated the price to be Rs 15,000 an acre.
Farmers expected Rs 20,000 and their brokers demanded Rs 30,000 in the expectation of settling on around Rs 20,000. Farmers were annoyed at GIDC.
The district collector asked me to address the meeting. I asked a young man to state his expectation. He said Rs 35,000, perhaps with the future in mind.
I encouraged him to ask for more, but he could go no higher than Rs 55,000.
I finalised the deal at Rs 56,000. At that price, land was a mere 2 per cent of the total project cost.
We acquired 2,000 acres and created great goodwill among the sellers.
But the tenure of a public sector chief is rather short to enable him to implement such projects where his personal involvement is critical. It, therefore, needs to be institutionalised.
The process of acquiring more than 5,000 acres for IPCL taught me these very valuable lessons.
When the subject of land for the proposed special economic zones was being discussed in 2006,
I wrote to Manmohan Singh, the then prime minister, summarising the issues.
That letter was not even acknowledged, which is a testimony to the official concern we were paying then and through the rest of the tenure of that government.
Many of these issues are still relevant, as the current debate on the revised land acquisition enactment shows.
But voicing them alone would not suffice. We need to put in practice Guthrie's refrain: "This land was made for you and me."
Photograph: Reuters
---
Hasmukh Shah is ex-chairman, IPCL. He has also served as joint secretary to Prime Minister Morarji Desai.